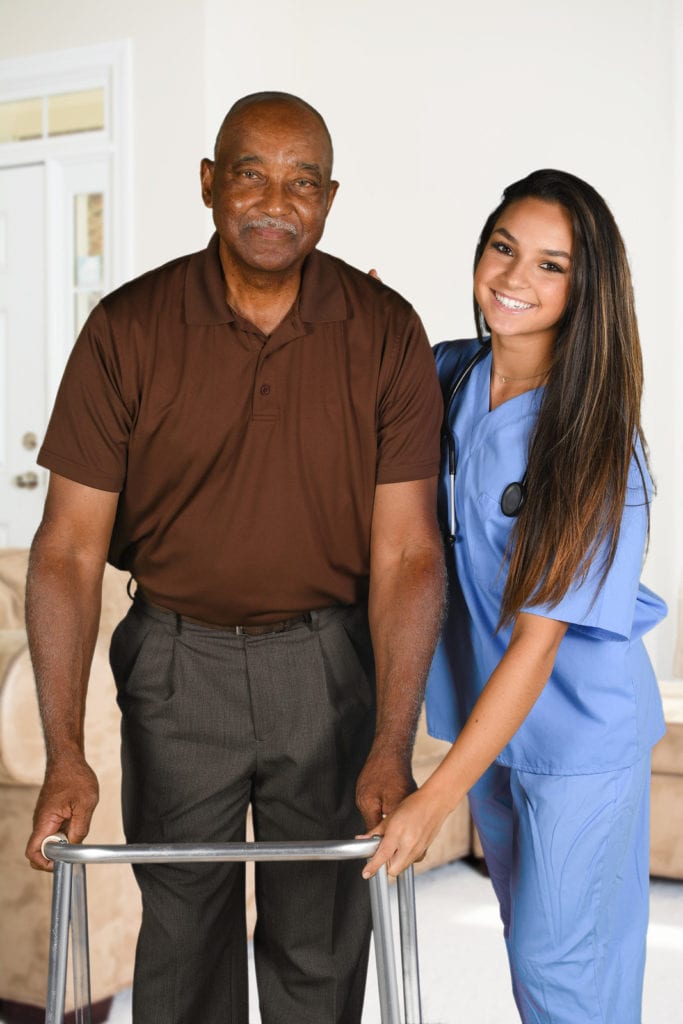 A nursing assistant or nurse aide assists patients with day-to-day activities such as feeding, bathing, dressing, and mobility under the supervision of a licensed nurse. A CNA may also assist doctors and nurses with the administration of diagnostic procedures and technical treatments. The role and responsibilities are guided by state and federal guidelines and employer policies. Principal duties include charting, observation and reporting, and sharing significant concerns with the nursing staff. The aging population, advancement and healthcare technology, and the prevalence of chronic illnesses have increased demands for healthcare professionals. The Bureau of Labor Statistics estimates that the demand for Nursing Assistants will grow 17% by the year 2024. Although the work is physically demanding, nursing assistants benefit from job security, flexible schedules, and the satisfaction of caring for others. Also, many CNAs decide to use their experience to enroll in nursing programs to pursue a career as a licensed practical nurse or registered nurse.
Care One Health Training Institute
The CNA I program at Care One covers the training adults need to be proficient in personal care, vital signs, rehabilitative care, safety and emergency procedures, interpersonal skills, and mental health to achieve success on the State Competency Exam. The curriculum covers 105 clock hours including 65 classroom and lab hours and 40 hours of clinical experience. Day, evening and weekend schedules are available. Day classes meet Monday through Friday from 9:00 am to 2:30 pm for four weeks. Evening classes meet Monday, Tuesday, and Thursday from 6:00 pm to 10:00 pm for seven weeks. An online hybrid class is also available. Full attendance is required for all students to complete the program. Admission is open to all on a first come served basis.
Admission criteria:
Be 18 years or older
Submit a completed application
Have a high school diploma or GED equivalent
Provide proof of completing eighth grade
Provide two forms of ID
Submit evidence of satisfactory physical health and TB test
Complete a criminal background check
Provide immunization records and drug test.
Tuition and books cost $625. The non-refundable registration fee must be submitted with the application.
Address: 1830 Owen Drive, Suite 204, Fayetteville, North Carolina 28304
Phone: (910) 229-3242
Fayetteville Technical Community College
The Nurse Aide program at Fayetteville Technical College prepares students to provide nursing care under the supervision of a licensed nurse. The program is approved and regulated by the Division of Health and Human Services. The curriculum covers topics such as personal care, growth and development, vital signs, communication, medical asepsis, fire safety, employment skills, therapeutic activities, family resources, catheterization, dressing changes, oxygen therapy, nutrition, and legal scope of practice for nursing assistants. Other topics include the physical needs of the elderly, patients rights, disease and disorders, patients rights, human body structure and function, the process of aging, and basic nursing skills. Graduates of the program will receive a Nurse Aide Certificate and can apply to take the state competency exam to become a Certified Nurse Aide. The program requires completion of 17 credits. The program can be completed in two semesters.
Admission criteria:
CPR certification
TB screening and vaccinations
Background check – those with felony convictions will have limited certification and employment opportunities.
Tuition for the program is $1,388.
Miller-Motte College
Miller-Motte College's Nursing Assistant program prepares adults to become an entry-level member of the healthcare team. The curriculum emphasizes personal care and clinical skills that are essential to caring for patients in hospitals, nursing homes, and home health environments. It includes 130 clock hours of theory, hands-on lab, and clinical experiences. Students will learn how to transfer patients from the bed to the wheelchair and vice versa, safety and infection control, medical terminology, dressing and grooming patients, collecting and handling lab samples, and restorative treatments. Graduates will receive a Certificate of Completion and will be eligible to take the state competency exam.
Admission Criteria
Be 18 years or older
Have a high school diploma or GED
Undergo a criminal background check
Submit to drug testing before commencing the practicum experience
Complete the health and immunization requirements
Tuition for the program is $700. Job placement assistance is available for graduates.
Address: 3725 Ramsey Street, Fayetteville, NC 28311
Phone: 910-238-3077
Fast Track Career Prep, Inc.
The Nurse Aide I program at Fast Track Career Prep is a hybrid program. Students will complete the first two weeks of classes online. The final 8 days will be completed in a traditional format: 4 days of skills lab on campus and 4 days of direct care experience in an approved nursing facility. The program prepares students for an entry-level career in health in just 4 to 5 weeks – based on the schedule chosen. Graduates are eligible to take the North Carolina NNAAP exam administered by NACES. Day and weekend classes are available. Day classes meet for labs Monday through Thursday from 8:00 am to 4:30 pm during the third week. Clinical times are 7:00 am to 3:30 pm Monday through Thursday during the fourth week. The weekend classes run for 5 weeks. Students meet in the lab and clinical site from the second to fifth weekends.
Admission criteria:
Completed application and enrollment agreement
High school transcript or GED
Two forms of ID – social security card and driver's license, ID, or passport
Criminal background check and drug test
TB test
CRP certification
Immunization
Proof a Hepatitis B vaccine or signed vaccination declination form
Malpractice insurance
Tuition for the program is $350.00. Students must purchase uniform and supplies before the clinical. An in-house payment plan is available to all students.