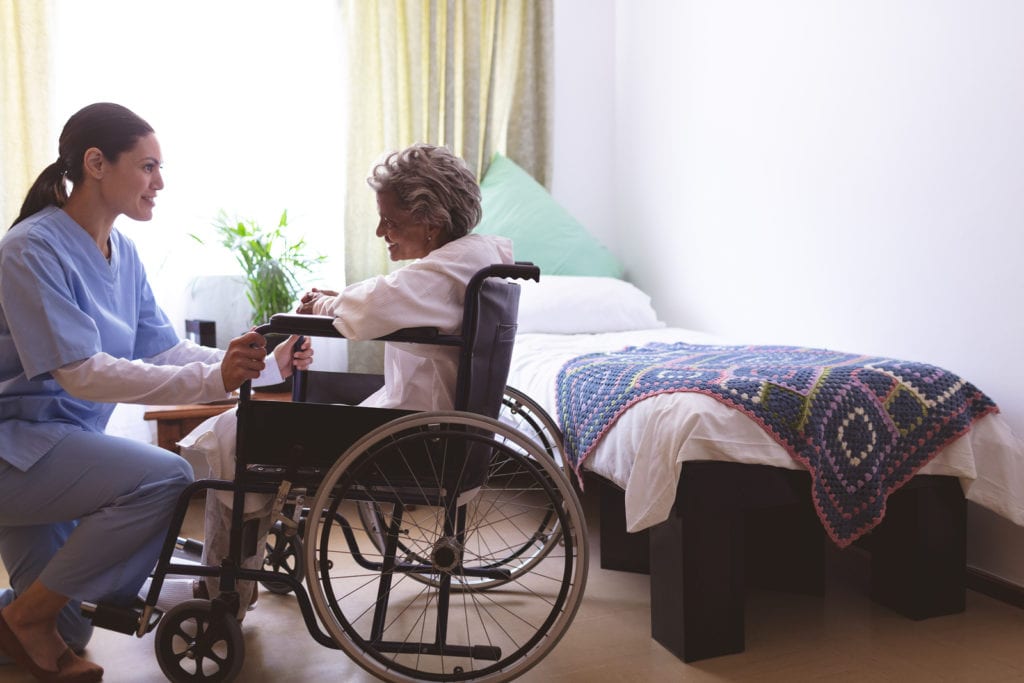 Training and experience as a Certified Nursing Assistant provide a great way to start a career in healthcare. The profession will provide flexibility and experience if you want to pursue a career in nursing. A CNA program provides essential training that will help you develop the skills to provide direct care in long-term care facilities. The training may also be a prerequisite for entry into a licensed practical or registered nursing program.
Federal law requires that you complete nurse aide training and pass a state competency exam and be listed on the Pennsylvania Nurse Aide Registry before you begin working in a skilled nursing facility. Nurse aide training includes classroom theory in basic nursing skills, personal care, safety, and legal guidelines for practice and hands-on experiences in the school's lab and a medical facility. The National Nurse Aide Assessment Program Examination administered by the American Red Cross includes a written exam and skills evaluation. You must pass both components of the exam to be added to the Nurse Aide Registry.
Job opportunities for nursing assistants are prevalent in long-term nursing facilities. CNAs assist patients with the activities of daily living, turn and position patients, answer call lights, measure and record vital signs, and observe patients and report any abnormal responses to treatment.
HCR ManorCare
HCR ManorCare offers Nursing Assistant training in Wilkes-Barre. The program will include hands-on training and theory to prepare students for employment. The training is free and includes assistance for the cost of taking the state certification exam. Applicants must have strong communication skills, excellent organizational skills, good observation, and a strong desire to care for others. The program will provide opportunities for adults to turn their desire to provide care into a rewarding career where they would provide basic nursing care in a long-term care setting. Program graduates will have the opportunity to commence employment at HCR ManorCare and receive competitive benefits, further opportunities for free training, and career advancement. Course topics include medical terminology, basic nursing skills, the role and responsibility of the nurse aide, infection control, vital signs, communication, nutrition, personal care skills, range of motion exercises, and safety and emergency procedures.
Admission criteria:
Provide proof of high school diploma or GED
Have prior experience in healthcare (recommended)
Be able to communicate effectively
Be able to follow directions
Tuition is free.
Address: 4063 Hampton House, Wilkes-Barre, PA
Phone: 570-288-9315
Luzerne County Community College
The comprehensive nursing course equips students with the basic knowledge and skills needed to care for the elderly. Students will be able to provide personal care, use basic nursing skills, recognize signs and symptoms of common illness, and maintain a clean and safe environment for patients. Upon completion of the training requirements, graduates will be eligible to sit for the state competency exam administered by the American Red Cross. They will know how to communicate effectively, function within the role and guidelines of a nurse aide, use safety measures to prevent accidents, recognize and report abnormal signs and symptoms, assist residents with the activities of daily living, maintain a safe and clean environment, and identify normal range for TPR and BP. Classes meet Monday, Tuesday, Wednesday, Thursday, Saturday, and Sunday for one month. Monday through Thursday classes meet from 5:00 pm to 9:00 pm. Saturday and Sunday sessions meet from 7:00 am to 4:00 pm for the clinical activities. The total program covers 120 hours.
Admission criteria:
Attend an Intake Session (2 hours) and pass the entrance assessment
Submit a completed Continuing Education Application
Have a high school diploma or GED
Complete medical history and physical exam
Provide a negative 2-step PPD or chest x-ray
Submit to a criminal history record check from the PA State Police or an FBI background check
Provide documentation of professional liability insurance
Complete all the necessary paperwork before the class starts
Tuition for the program is $1,250.
Address: 1333 South Prospect Street, Nanticoke, PA 18634-3899
Phone: 1-800-377-5222
Email: admissions@luzerne.edu
Keystone Job Corps Center
Students enrolled in the Certified Nurse Assistant program at Job Corps will learn how to control infections, assist patients with daily activities like bathing, eating, and dressing, take and record vital signs, position and turn patients, follow safety guidelines in patient care, and care for patients with Alzheimer's disease and dementia. Areas of study include basic anatomy and physiology, medical terminology, infection control, observation and reporting, range of motion exercises, communication, nutrition, safety and emergency, personal care skills, patient rights and independence, and basic nursing skills. Students have up to 18 months to complete the program. Graduates of the state-approved program must take the Nurse Aide Competency Exam to be added to the Nurse Aide Registry.
Admission criteria:
Must be between the ages of 16 to 24
Comply with the background check requirements and have no felonies or other offenses
Have a high school diploma or GED equivalent
Demonstrate and reading and math proficiency
Training is free for students who complete the admission criteria. Job Corps will cover the cost for textbooks, uniforms, nursing supplies, and the state exam. Students may also receive a stipend throughout the program.
Penn State Hazleton
Penn State Hazleton hosts a Nurse Aide (NA) program to prepare students with the skills to provide safe and competent care in the role of a nurse aide. Program graduates will also have the essential preparation to take the Competency Evaluation test to be added to the PA Nurse Aide Registry. The program will cover 128 hours of theory in the classroom, skills lab training, and supervised patient care experiences in a long-term care facility. Course topics include an introduction to health care, restorative care, basic nursing skills, personal care skills, care of cognitively impaired clients, behavioral health and social service needs, medical terminology, safety and emergency procedures, hospice care, feeding and nutrition, and patients' rights. Full-time and part-time schedules are available. The part-time program meets Monday, Tuesday, Thursday, and Friday from 4:00 pm to 9:30 pm for 26 days. The full-time program meets Monday, Tuesday, Wednesday, and Thursday from 7:00 am to 3:30 pm. The duration of the program is one month. Students must attend all 128 hours. Absenteeism or tardiness will lead to dismissal from the program.
Admission criteria:
Must have or be pursuing a high school diploma or GED
Demonstrate good physical health by submitting a satisfactory physical exam report
Provide documentation of up-to-date immunizations
Obtain TB clearance
Pass a criminal background check
Submit a completed application and fee
The program cost of $950 includes tuition, books, and criminal history record information report. A payment plan is available for all students.
Address: 76 University Drive, Hazleton, PA 18202
Phone: 570-450-3000
Lackawanna College Scranton Campus
The Nurse Assistant program at Lackawanna College is directed by a registered nurse with experience in long-term care. The program covers 128 hours of classroom theory, hands-on practice, and supervised clinical experience. Students will cover 40 hours of instruction in the classroom, 44 hours in a simulated lab, and 44 hours at a clinical site. An additional 32 hours are offered for specialized training and will include CPR, practice hours in the lab to prepare for the National Nurse Aide Assessment Program Examination, and scheduled tours in various long-term care facilities. Graduates of the Pennsylvania State Department of Education accredited program will be eligible to apply for the National Nurse Aide Assessment Program Examination. They will be able to work in various health care environments, including hospitals, nursing homes, and home health care.
Admission criteria:
Submit proof of high school graduation or GED
Have a state driver's licensure or photo ID and second form of qualifying ID
Submit payment a Pennsylvania criminal history background check
Sign and submit the Essential Functions of the Nurse Aide document
Schedule and attend an on-campus interview
Obtain a satisfactory grade on the entrance exam
Submit a completed physical exam with a physician's confirmation of the ability to perform the duties of a Nurse Aide
Pass a two-step PPD test
Tuition assistance is available for eligible students.