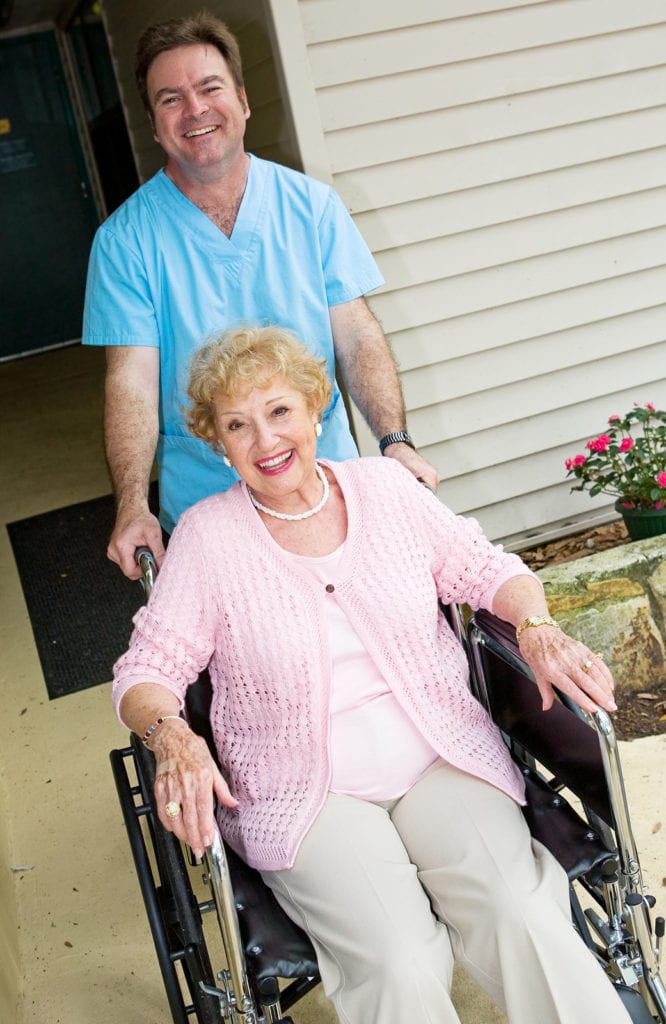 Certified nursing assistants provide basic care to patients who are unable to care for themselves. They perform a range of duties under the supervision of a licensed nurse. Their duties range from measuring and recording vital signs to emptying bedpans. The physically and emotionally demanding job is also quite rewarding. CNAs spend a lot of time with patients, forming close relationships with those who need care over the long-term. Many nursing assistants derive a sense of satisfaction from making patients feel cared for and loved.
Working as a CNA may also be professionally rewarding. CNAs work closely with nurses and other health care professionals who can provide valuable insight into the educational preparation for these career pathways if they decide to advance their careers. More than that, nursing assistant training and certification may be essential for enrolling in licensed practical nursing and registered nursing programs. In cases where CNA certification is not required, it will provide an advantage to candidates applying to programs with competitive admissions.
CNA classes are short-term and affordable, providing a perfect opportunity to explore the health care sector without sacrificing too much time and money.
Columbia Basin College
The Nursing Assistant Certificate program at Columbia Basic College prepares adults for certification as a nurse assistant in Washington. The curriculum adheres to the training guidelines of the Nursing Home Reform Act (OBRA 1987). Graduates will receive a Certificate of Completion and will be eligible to take the National Nurse Aide Assessment Program (NNAAP) examination to demonstrate their ability to perform the role and responsibility of an entry-level Nursing Assistant. Successful completion of the program requires uninterrupted attendance of both the lecture and clinical components of the program. Students will meet three times weekly for lecture and hands-on labs for the first four weeks to complete the required hours. Instruction will cover infection control, promoting resident independence, personal care skills, safety and emergency procedures, communication and interpersonal skills, basic restorative care, basic nursing skills, mental health and social services, resident rights, cultural awareness, and dementia. Students will also cover the required 7 hours of HIV/AIDS training, bloodborne pathogens, first aid and CPR, and care of the cognitively impaired. Upon completion of the requirements, the instructor will schedule the clinical rotations at healthcare facilities in the community. The clinical component requires the completion of 50 hours of supervised patient care including a minimum of 36 shift hours at facilities in the Tri-City. Clinical hours vary but shifts can begin as early as 6:00 am. Students must have reliable transportation to get to and from the clinical site. The course admits new students in the fall, winter, and spring quarters.
Admission criteria:
Attend a Nursing Assistant Information Session
Have current placement test or exam scores to place into Math 84 or higher, Reading 99 or higher, and English 98 or higher
Must be a CBC student to enroll
Have current American Heart Association BLS Provider CPR card
Have a current First Aid card
A letter of reference indicating work or study habits
Complete at national background check at a college-approved vendor – upon acceptance to the program. The background search fee is $89.75
Provide documentation of current immunization records
Use the details below to get a current schedule of information sessions.
Columbia Safety, LLC
The Nursing Assistant Certified Program at Columbia Safety follows an accelerated plan for students who want to enter the field of healthcare in the fastest time possible. The curriculum will prepare students to pass the Washington State Nursing Assistant exam. Course topics include basic nursing skills, range of motion, personal care skills, resident rights and independence, mental health and social services, communication and interpersonal skills, dementia, personal hygiene, feeding and nutrition, cultural diversity, and infection. The curriculum will also include the 7-hour HIV/AIDS certification, AHA Healthcare Provider CPR, and First Aid.
Admission criteria:
Be 18 years or older
A completed Student Application
A high school diploma or GED diploma or pass an entrance exam
Complete a criminal history records check
Provide immunization record at the start of class
Pay the registration fee of $100 – will be applied to the tuition
Tuition and registration cost $980. It includes HIV/AIDS certification, AHA CPR/First Aid certification, identification badge, one pair of scrubs, BP cuff, stethoscope, gait belt, and professional resume building.
Tri-Tech Skills Center
The Pre-Nursing program at Tri-Tech Skills Center is designed for high school students who want to explore a career in the medical field. The one-year program prepares students for initial certification as a Nursing Assistant and further study in the field of nursing. The training will include classroom lectures and opportunities to apply their knowledge in a clinical setting. Key skills will be measuring blood pressure temperature, pulse and respiration, bathing, grooming and dressing residents, assisting with meals, turning and positioning bedridden patients, and assisting with exercises. Human body structure and function, signs and symptoms of common diseases, and safety and emergency procedures are some other points of learning. Graduates will be eligible to take the state exam to become a Nursing Assistant Certified in Washington. They will earn 8 college credits that can be applied to an Associate of Applied Science Degree at CBC.
Admission criteria:
Must be a high school junior or senior. Priority will be given to seniors.
Complete successful screening by the Washington State Patrol
Have reliable transportation to the clinical sites
Morning and evening schedules are available.
Address: 5929 W. Metaline Ave., Kennewick, WA 99336
Phone: (509) 222-7300
Yakima Valley Technical Skills Center
The Nursing Assistant Certified program prepares students for entry-level employment, continuing healthcare education, and eligible to take the NAC test. The training will begin in the classroom and simulated lab. Topics of study will include basic nursing skills, nurse aide role and responsibility, range of motion, basic restorative services, infection control, vital signs, personal hygiene, anatomy and physiology, medical terminology, safety and emergency procedures, nutrition, communication, and special care procedures. After completing the classroom requirements, students will participate in a clinical rotation comprising of 90 hours of supervised patient care in a health care environment. Classes meet in the morning from 8:00 am to 10:30 am or 12:00 noon to 2:30 pm. The duration of the program is one year. College credits may be available to those who qualify.
Address: 347 Barnard Blvd, Sunnyside, WA 98944, USA
Phone: 509-837-2466