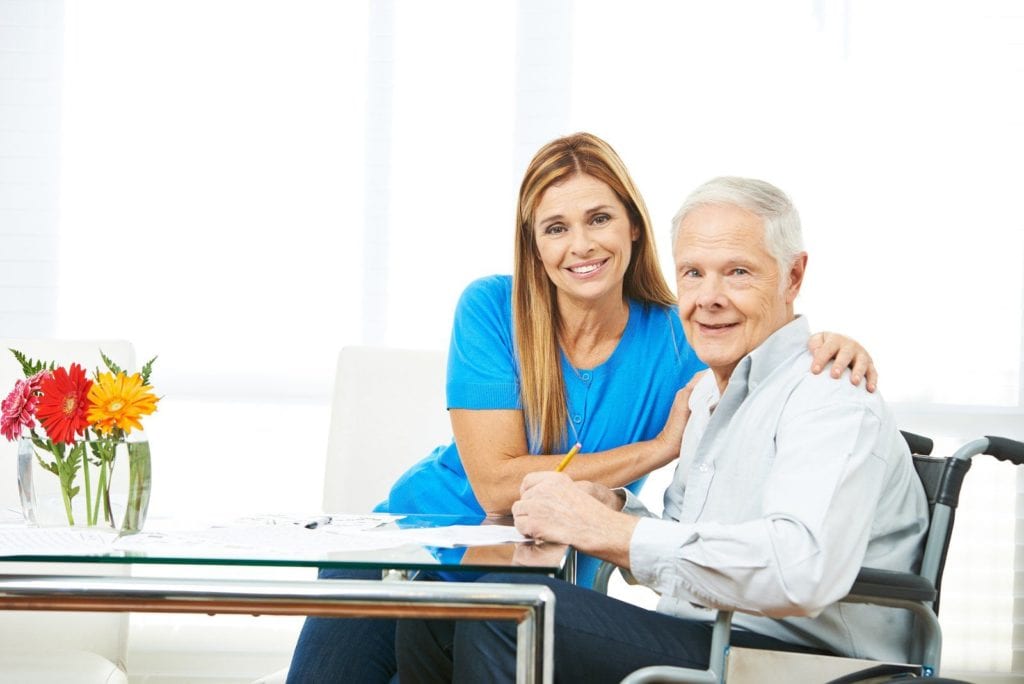 The Certified Nursing Assistant (CNA) works in hospitals and long-term care facilities to assist patients with daily living tasks such as bathing, grooming, dressing, toileting, bed making, catheter care, and vital signs. CNAs differ from Home Health Care Aides and Personal Care Aides in that they work under the supervision of a registered nurse or physician to perform medical-related tasks such as changing dressings, administering treatments, cleaning catheter, and controlling infections.
In Washington, CNAs must be registered by the Washington State Department of Health. A prospective CNA must complete at least 85 hours of approved nursing assistant training, which includes lectures and a clinical externship. The instruction must also include at least 7 hours of HIV/AIDS training. Following the training, graduates must pass a two-part nurse aide competency evaluation. There's a great demand for certified nursing assistants, so much that the profession is growing faster than the average of all occupations nationally. In metropolitan parts of Washington employment levels are at an all-time high. The number of jobs for CNAs is expected to grow by 17 percent from 2014-2024, according to the U.S. Bureau of Labor Statistics. Median pay nationally is $26,590 although the rate of pay varies by employer, locality and experience.
Westfield Nursing Assistants Training Institute
Westfield Nursing Assistants Training Institute Tuition is approved by the Board of Nursing to facilitate the nurse assistant training program. Through a combination of classroom lectures and practical learning experiences, students will receive the knowledge and skills to provide patient care in long-term and acute care facilities. Graduates are eligible to take the certification exam to become a Certified Nursing Assistant. The Institute maintains small class sizes to allow for active participation and personalized instruction. It also allows the instructor the freedom to cover the physical skill set individually with each student. Applicants must receive a passing grade on the test for English (reading), pass a background check, provide proof of negative TB/Chest X-ray, and be able to lift at least 50 lbs. Students must purchase uniform, comfortable shoes, and a gait belt for the clinical experience. Tuition costs $720 and does not include the textbook and supplies.
Address: 5031 168th ST SW, SUITE 150, Lynnwood, WA 98037
Phone: 425-236-5530
Edmonds Community College
The nursing assistant program at Edmonds Community College provides the training adults need to provide all aspects of resident care and obtain certification as a Washington State Nursing Assistant. In addition to instruction in the classroom and practical instruction at the on-site lab, students will participate in a clinical externship at acute and long-term care facilities. Students must complete the prerequisite courses which will include Exploring Health Careers, The Human Body: Structure and Function, Medical Terminology, PC Basics, HIV/AIDS and AHE, CPR/First Aid. The prerequisite courses cover 17 credit hours and are offered every quarter. Students with healthcare experience may apply for a waiver for some prerequisites. The two modules for the core program are Basic Patient Care Skills and a CNA Clinical Externship – both covering a total of 8 credit hours. The total cost of tuition (25 credits) is $2,568.75. Books cost an additional $515.40 and labs fees cost $354.70. Students should expect to incur additional costs for miscellaneous fees, criminal background check, uniform, and clinical supplies.
Address: 20000 68th Ave. W Lynnwood, WA 98036
Phone: 425.640.1459
Nursing Assistant Training Institute
The nursing assistant program at the Nursing Assistant Training Institute is approved by the Washington State Department of Health and the Washington State Aging and Disabilities Services Administration. Students who successfully complete the program will be eligible to take the State Competency Test for nursing assistants. The training includes the HIV/AIDS instruction and Healthcare Provider CPR as well a free review to prepare students for the state test. Course topics include personal care skills, basic technical skills, mental health, basic restorative services, social service needs, promotion of rights and independence, communication and interpersonal skills, infection control, safety and emergency procedures, rules and regulations, patient transfers, and nutrition. The instruction covers a total of 97 hours – 40 hours in the classroom and 57 hours in a clinical setting. Morning, evening and weekend schedules are available. Normal class meeting times are 9 am to 1 pm for the morning sessions, 1pm to 5 pm for midday sessions, and 6 to 10 pm for the evening and weekend sessions. Students complete the clinical requirements in 5 days comprising of 8 hours each. For successful completion, students must attend all classes, achieve a final passing score of 80 percent or better, provide a negative TB test report, and pass the state Competency Test for certification by the state. Applicants must pass a reading comprehension test, complete the background inquiry form, be able to lift at least 50 lbs, provide state-issued photo identification and a social security number. A record of disqualifying crimes could impede the student's ability to work in the field. The tuition of $725 is due at the first day of class and does not include the $70 registration fee. Tuition includes textbook, testing supplies and supplies for the clinical. Additional costs include gait belt, watch with a second hand, uniform, and the State Competency Test.