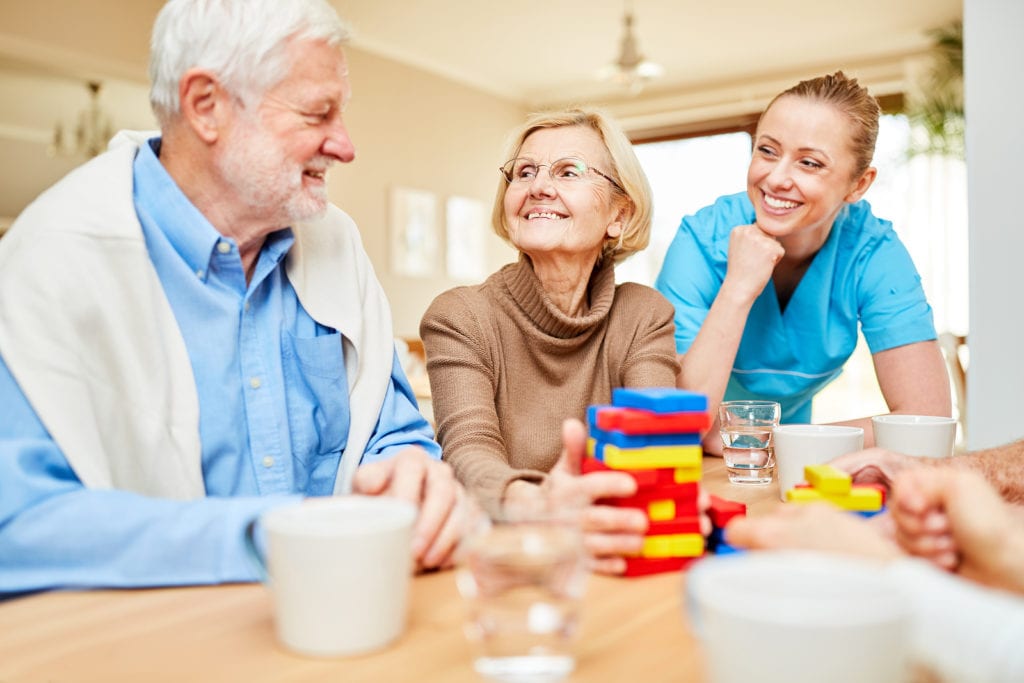 You can qualify for a rewarding and meaningful position in healthcare in just four to six weeks by enrolling in a Certified Nursing Assistant class. Success in this position is guaranteed if you have a strong desire to help others and want to care for those who are sick, injured, or disabled. As a CNA, you'll assist the elderly with everyday activities and meet their health care needs. You'll work under the direction of a registered nurse or licensed practical nurse to provide basic bedside care, turn and position patients, clean wounds, check vital signs, and measure fluid intake and output. Job opportunities are available in assisted living facilities, patients' homes, adult daycare centers, hospitals, clinics, and nursing homes. The educational preparation is much shorter than degree programs making this an excellent choice for those who want to begin patient care in the fastest possible time.
CNA graduates must take and pass the Arizona State skills and written exams to be recognized by the Board of Nurse. There are two levels of recognition. The CNA credential is issued to a person who passes the state exam and provides proof of legal residence to be listed on the Nurse Aide Registry. The LNA (Licensed Nursing Assistant) credential is issued to a person who has completed CNA training, passed the state exam, submitted an application with fingerprint and fees to the Board of Nursing, and met the requirements for licensure.
Medstar Academy
The Certified Nursing Assistant Training program at Medstar Academy prepares students for the Arizona Board of Nursing exam to receive a CNA License. The curriculum will cover 6 weeks of classroom and hands-on training in a skills lab and health care facility. Students must participate in the mandatory externship, which gives them the opportunity to provide direct patient care services under the guidance of a licensed nurse instructor. Course topics include medical terminology, infection control, human body structure and function, range of motion exercises, patient transfers, patient rights and independence, safety and emergency procedures, rehabilitation techniques, communication, feeding and nutrition, and vital signs. The curriculum covers 120 contact hours – 80 hours in the classroom and lab and 40 hours at the facility designated for the clinical rotation. No additional training is needed for graduates who want to become Licensed Nursing Assistants. LNA licensure requires an application fee and background check fee paid to the State Board. Morning and evening schedules are available. Day classes meet three days a week – Monday, Wednesday, and Friday from 8:00 am to 1:00 pm. Evening classes meet Monday, Wednesday, and Friday from 5:30 pm to 10:30 pm.
Admission criteria:
Must be at least 16 years old
Provide proof of citizenship – a state ID, driver's license, or passport and social security card
Take and pass the admission evaluation
Obtain medical clearance from a physician
Have no felony convictions in that past 5 years
Obtain TB clearance
Pass a 5-panel drug screen
Have current BLS/First Aid certification
Complete an Arizona DPS fingerprint clearance card or application
Tuition for the program is $1,250 and includes scrub set, gait belt, and blood pressure cuff and stethoscope. Additional costs include registration, books, 5-panel drug test, fingerprint rolling fee, TB test, state board exam, Basic Life Support/First Aid, and fingerprint clearance card. A flexible payment plan is available for all students – requires a deposit of $250 at the time of enrollment.
Mesa Community College
Students who complete the Nursing Assistant program at Mesa Community College will be prepared for certification as a Nursing Assistant. Students will acquire the knowledge and skills to launch a career in health care. The curriculum combines classroom instruction with clinical lab sessions, skilled care and acute care experiences in a long-term care facility. The training will focus on the special needs of the elderly client and will cover vital signs, anatomy and physiology, medical terminology, vital signs, observation and reporting, range of motion exercises, communication and interpersonal skills, basic nursing skills, personal care, laws and ethics, patient transfers, safety and emergency, and hospice care. Graduates will be eligible to take the written and skills exam to become a Certified Nursing Assistant. Persons interested in enrolling in the program must attend an Advising and Information session to obtain vital information related to enrollment and academic. A one-on-one session with a Nursing Advisor is available for persons who attend the Information Session.
Admission criteria:
Submit a completed application for admission
Must be compliant with Maricopa County Community College District Supplemental Background Check policy
Provide a copy of an Arizona Department of Public Safety Level One Fingerprint Clearance Card
Have and maintain CPR card for Health Care Provider throughout the program
Submit a completed Health Provider Signature Form signed by a licensed health care provider
Obtain a negative urine drug screen
Have a high school diploma or GED
This program is not eligible for financial aid.
Address: 1833 West Southern Ave, Mesa, AZ 85202
Phone: 480-461-7000
Career Success Schools
Accord Healthcare Institute offers the CNA program in collaboration with Career Success High School. This collaboration gives high school students the opportunity to complete the program while still enrolled in high school classes. They will have the advantage of licensure as a CNA by the time they complete high school. The curriculum includes modules that combine theory and practical skills to prepare students for entry-level employment. It covers 120 hours of instruction in 6 to 8 weeks. Areas of study include the role of the CNA, infection control, body systems, personal care, safety and emergency principles, positioning and turning, perinneal care, fluid intake and output, and Alzheimer's Care. The skills lab sessions are designed to facilitate the development of clinical skills before students participate in one-on-one interactions with patients in a long-term care facility. Graduates will be prepared to take the Arizona Board of Nursing CNA Exam. Students can also apply for the LNA.
Admission criteria:
Be 16 years or older
Be enrolled at a high school student at Career Success School
Pass a drug test
Be in good and regular standing
Tuition is free for eligible students.
Glendale Community College
The nursing assistant course at Glendale Community College prepares students to care for patients within the nurse assisting scope of practice. Students will develop essential skills such as communication, problem-solving, critical thinking, and interventions to promote the health and safety of clients. Instructors will emphasize holistic care and the special needs of patients in acute and long-term care facilities. Opportunities in the classroom and lab will support the development of basic nursing skills. Graduates will receive a Certificate of Completion and will be eligible to take the written and skills components of the Nurse Aide Exam to obtain certification from the Arizona State Board of Nursing.
Admission criteria:
Obtain admission to Glendale Community College
Attend a scheduled Nursing Assistant Information Session
Schedule and attend an appointment with the Nurse Aide Intake Coordinator
Complete a college placement exam and obtain an exemption from CRE101 and MAT082 or complete RDG091 and MAT082 with a grade C or higher. HESI A2 English and Math scores of 75% or better are also accepted
Complete a Level One DPS Fingerprint Clearance Card
Complete a supplemental criminal background check and signed MCCD Criminal Background Check Disclosure Acknowledgement form
Have a current Healthcare Provider BLS (CPR) card
Provide documentation of meeting the health and safety requirements – proof of immunizations
Submit a completed Healthcare Provider Signature form
The program cost is $1,624.50. It includes tuition, fees, supplies, uniform, Level One Fingerprint Clearance Card, supplemental background check, CPR, shoes, stethoscope, and CastleBranch/myClinicalExchange.
Address: 6000 West Olive Avenue, Glendale Arizona 85302
Phone: (623) 845-3000
Arizona Medical Training Institute
The Certified Nursing Assistant/Licensed Nursing Assistant course at Arizona Medical Training Institute caters to persons who are new to healthcare as well as those with years of experience. The fast-paced program prepares students for state certification or licensure to practice in acute and long-term care facilities. Students will learn in the classroom, lab, online, and at a local health care facility. New students will receive credentials to log into the eLearning portal to complete the online requirements before attending the first classroom session. Areas of study include physiology, anatomy, introduction to healthcare, infection control, basic nursing skills, basic psychology, safety and emergency, and positioning and turning. The classroom sessions account for 80 hours of the curriculum. A passing grade of 80% or higher is required to progress through the program. The clinical externship covers another 40 hours and facilitates direct patient care experiences under the guidance of a licensed nurse instructor. Students must earn a grade of 80% or higher on the clinical experiences. After passing the final exam, students will be eligible to apply to sit the AZ Board of Nursing final exam to earn the CNA credential. Daytime, evening, and weekend schedule options are available. The daytime class meets for 4 weeks from Monday through Friday from 7:00 am to 4:00 pm. The evening class meets Monday through Thursday from 5:00 pm to 10:00 pm for 6 weeks. The weekend class meets for 7 weekends on Saturday and Sunday from 7:00 am to 5:00 pm. The clinical sessions are typically 12-hour shifts.
Admission criteria:
Take and pass a CNA/LNA Admission Test to demonstrate English, reading comprehension, and math proficiency
Have no active Felony or Unprofessional Conduct in the past 3 years
Provide proof of citizenship or legal residency – a state-issued driver's license or passport
Complete the AMTI Health Declaration Form
Provide proof of CPR certification
Provide documentation of immunizations and clearance
Be able to meet all the essential functions of a health care provider
Pass a TB test or provide results of a test conducted within the last 6 months
Tuition for the program is $1,355 and includes books and supplies. Flexible payment plans are available for all students.
Star Canyon School of Nursing
Star Canyon School of Nursing aims to produce competent and caring nursing assistants to fill healthcare positions in the state. The program includes classroom theory, hands-on labs, and clinical externships in various nursing facilities. Course topics include anatomy and physiology, basic nursing skills, the role of the nurse aide, infection control, observation and reporting, personal care, medical terminology, positioning and transfers, feeding and nutrition, and hospice care. Various scheduling options are available to accommodate busy students. New classes begin every month. Classes meet four days a week in the classroom and 8 hours for the clinical sessions. Clinical sessions meet 1 to 2 days on the weekends.
Admission criteria:
Have a high school diploma or GED or vocational training
Be able to communicate effectively in English
Have no felony convictions in the past 3 years
Be physically capable of performing the functions of a nurse aide
Provide documentation of immunizations
Have current CPR certification
The total cost of the program is $1,250. It includes the enrollment and registration fee of $300. A flexible payment plan is available for eligible students.
Address: 8900 N. Central Avenue, Suite 107, Phoenix, AZ 85020
Phone: 602-935-6628
Fax: 602-943-0864