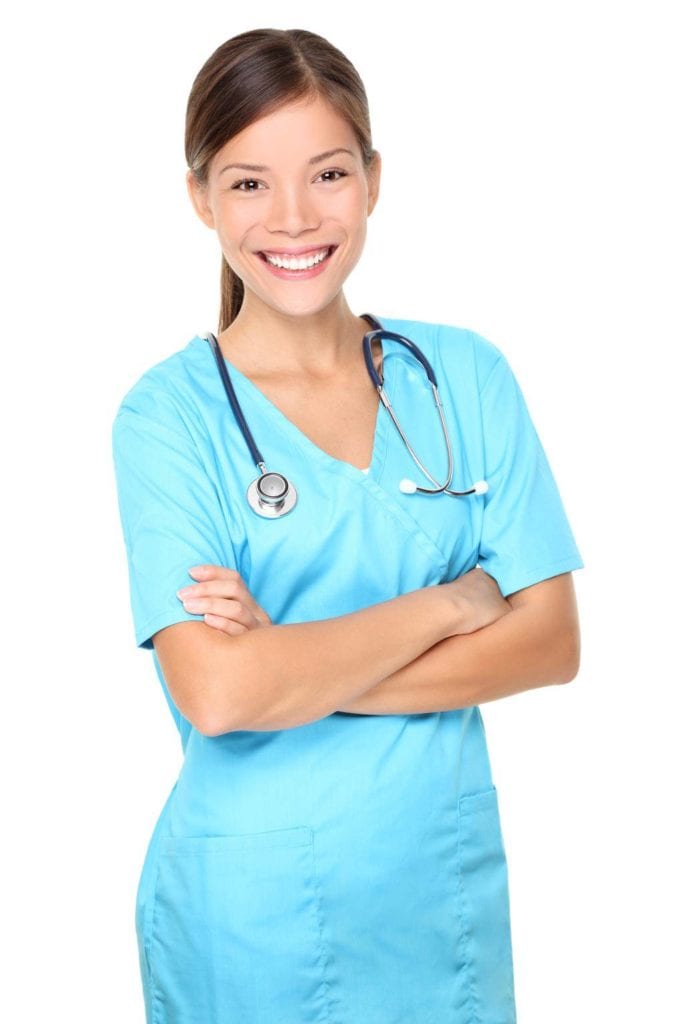 California nursing assistants who find work in Medicare or Medicaid funded nursing homes and skilled nursing facilities must acquire state certification. The certification process involves completing a 160-hour state-approved nursing assistant course and passing the state competency exam administered by Pearson Vue. After obtaining certification through the California Department of Health, CNAs work in hospitals, nursing homes, home health care agencies and assisted living facilities. California CNAs earn an average of $29,400 per year. However, location, more than any other factor, has a significant impact on the final salary. For instance, CNAs in Eureka earn below the national average at $23,711 per year, while those in San Francisco earn upwards of $33,683 yearly. More than 75 percent of CNAs work in nursing homes, where they earn less than those who find work in other settings. CNAs can pursue further education and training to become licensed nurses and increase their annual earnings.
Advanced Pro Nursing Institute
Advanced Pro Nursing Institute offers a 6-week nursing assistant course for students who attend the day classes. Students meet daily (except Wednesday) from 8:30 am to 3:00 pm. Evening students meet from 2:30 pm to 6:30 pm and also complete the curriculum in 6 weeks. A weekend schedule is also available – classes meet Saturday and Sunday for 12 weekends. Applicants must be at least 16 years, have a minimum eight-grade level schooling, understand a minimum fifth-grade level English and have no criminal records. The school expects students to submit a physical exam with a TB skin test, live scan fingerprints, and ARC, CEP by the first week of classes. The registration fee is $75. Tuition is payable in three installments. Graduates are eligible to take the state competency exam for inclusion on the registry. The Advanced Pro Nursing Institute also offers an acute care nurse assistant course for CNAs who want to gain the competency to work in an acute care setting.
Mission Valley ROP
Mission Valley ROP nurse assistant training comprises of 20 credit units. Flexible morning or afternoon options are available; students meet for two hours Monday through Fridays. The training prepares students for success on both the written and skills components of the state exam. Classroom instruction covers professional ethics, CPR, first aid, food and nutrition, medical terminology, infection control, safety principles, vital signs and body mechanics. On-the-job training is a critical aspect of the course as students put their skills to work by caring for patients in local community hospitals and skilled nursing facilities. Before commencing the clinical training, students must provide details of their health history, current TB screening, and fingerprint record. Students must provide scrubs and other materials for the training. The instructor will provide textbooks on loan.
Medical Career College
At the end of the nurse assistant training at Medical Career College, students will know how to work closely with patients and assist with the activities of daily living. The program comprises of 50 classroom hours and 100 clinical hours – MCC awards students one credit hour for every 15 contact hours completed. Applicants must be at least 17 years and have at least a fifth-grade math and English skills. Morning and evening schedules are available. A live scan fingerprint and TB skin test must be completed as a requirement for enrollment. MCC administers an entrance exam to all prospective students. Tuition is $1000 plus $100 for registration. Tuition includes textbooks, live scan, and a pair of uniform. Graduates are eligible to take the state exam.
 International School of Nursing – Milpitas Campus
The nursing assistant class at the International School of Nursing comprises of theory and practical training to prepare students for success on the state exam. Students meet in the classroom for 50 hours, followed by 100 hours in a clinical setting. Day students complete the training in just 22 days while evening students require 30 days to complete the training. Applicants must be at least 17 years old and have a high school diploma or GED – those who do not meet this requirement must pass the ATB exam. A live scan fingerprint, TB screening, physical exam, and valid California ID are the other requirements for entry. Tuition is $1,176 plus registration, textbooks, uniform, and state exam fee for a total cost of $1,495.50. The fee is payable in three interest-free installments.
Opportunities for free CNA training may be available at the following facility:
Windsor Park Care Center of Fremont
Address: 2400 Parkside Drive, Fremont, CA 94536
Phone: 510-793-7222

Fax: 510-793-4361
Email: ccruz@windsorcares.com