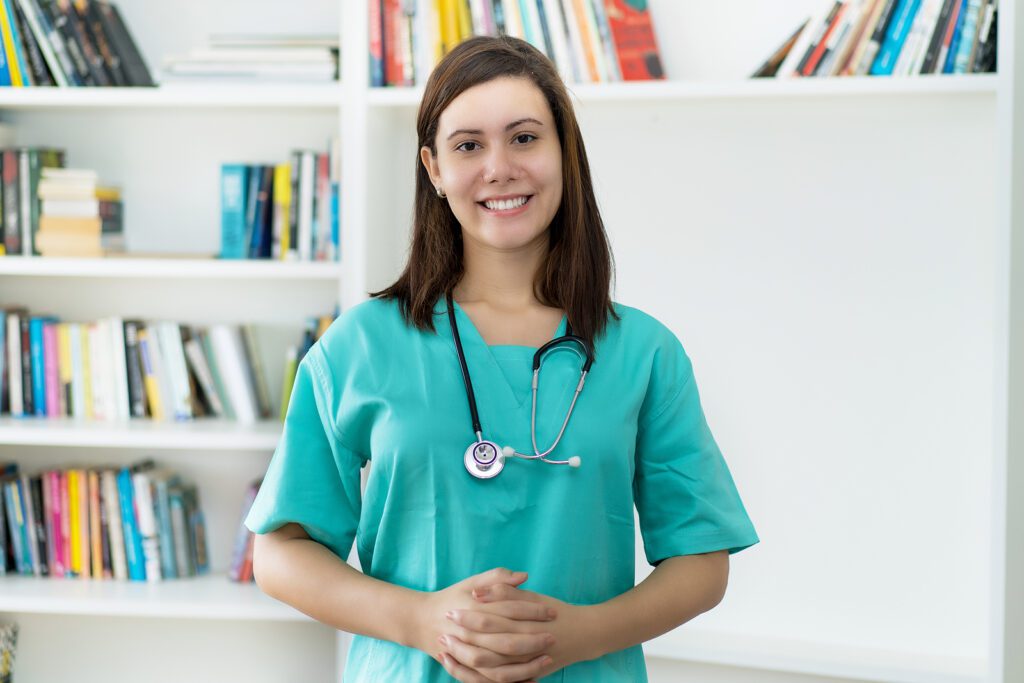 Caring for patients as a nurse assistant is a rewarding experience. This pathway provides fast and easy access to a career in the healthcare industry. The California Department of Public Health (CDPH) is the governing body for nursing assistants and training programs that prepare adults for a career as a CNA. In light of the worldwide Covid-19 pandemic, the CPDH has given approval to training providers to deliver part of the content via online/distance learning to limit contact between students and instructors wherever possible. Online CNA classes offer the convenience of studying at home without loss of the personalized support provided in traditional on-campus programs. Online programs are not delivered completely online but include in-person live sessions at a clinical site.
South Bay CNA School
The Certified Nursing Assistant program at South Bay CNA School is approved by the
California Dept of Public Health. The program is delivered via online/distance learning giving students the opportunity to complete 19 out of the scheduled 22 days online. The final 3 days will be completed onsite. The experienced instructor, who has more than 20 years' experience as an LVN/Charge Nurse, will provide unlimited support to help students succeed on the state exam and in their role as a CNA. Theory and clinical instruction cover infection control, medical terminology, body structure and function, caring for seniors, mental health, restraints, positioning and turning, basic nursing skills, measuring and recording vital signs, observation and reporting, communication techniques, and safety and emergency procedures.
Admission criteria:
Must be at least 16 years old
A high school diploma is not required
Complete a criminal background check
Complete a satisfactory drug screen
Obtain a negative TB test
Submit record of immunizations – Hepatitis B, varicella, Tdap, MMR
Submit a completed application for admission and a registration fee of $234
Tuition for the program is $800.
Website: https://www.southbaycnaschool.com/
Address: 2575 E 8th St, National City, CA 91950
Phone: 619-251-6782
Email: southbaycnaschool@gmail.com
San Diego Medical College
San Diego Medical College CNA School offers a Nurse Assistant Training and Assessment Program prepares students for certification in the State of California. The curriculum includes theory and practical instruction according to federal and State training requirements. The program is delivered in a traditional format on campus. Online schedules are also available which will give students the option to complete most of the program online. Clinical rotations are conducted at a local health care facility. Students will learn how to provide basic nursing care to seniors, offer physical and social support, make beds, transfer patients from the bed to a wheelchair, assist with personal care and grooming, work as a member of the health care team, measure and record vital signs, monitor patients and report any irregularities, and control the spread of infections. Upon successful completion of the program, graduates will be eligible to take the National Nurse Aide Assessment Program (NNAAP) exam. San Diego Medical College is an approved testing setting so students have the opportunity to take the exam in a familiar environment.
Admission criteria:
Must have a driver's license and social security card
Must be at least 16 years of age
Complete covid testing before classes commence
Provide a copy of a physical exam report conducted by a licensed health care provider
Submit negative TB test results
Complete fingerprinting
A high school diploma or GED is not required
Must have current BLS (CPR) training for health care provider
Submit a completed application and registration fee of $185
The program cost of $975 includes Live Scan fingerprinting, CPR certification, textbook, PPE, study guide, state exam review, and skills videos.
Website: https://www.sandiegomedicalschool.com/
Address: 821 Kuhn drive suite #103, Chula Vista, CA 91914
Email: sandiegomedicalcollege@gmail.com
Phone: 619-271-0700
Eastlake Medical College
The CNA program at Eastlake Medical College is offered in online format. It is approved by the CDPH and includes both theory and practical instruction. The theory will be delivered via online/distance learning. The practical sessions will be scheduled at a local health care facility. Areas of study include medical terminology, infection control, basic nursing skills, the role and responsibility of the nurse aide, body structure and function, range of motion exercises, nutrition and feeding, communication and interpersonal relationships, and patients' rights. Eastlake offers small class sizes, flexible schedules, free exam review, job placement assistance, bilingual instructor, and state-approved training. Program graduates are eligible to apply to take the NNAAP exam. Eastlake Medical College offers the convenience of on-campus testing.  Weekday, evening, and weekend classes are available. Weekday classes meet Monday through Friday from 7:00 am to 5:00 pm for 16 days. Weekend classes meet Saturday and Sunday from 7:00 am to 7:00 pm for 14 days. Evening classes meet Monday through Saturday from 5:00 pm to 10:00 pm for 29 days.
Admission criteria:
Must be 16 years or older
No high school diploma or GED required
Must have a driver's license or government photo ID and social security card
Pay the registration fee of $185 and down payment of $500
Complete the physical exam and TB form
Attend a mandatory orientation
Complete Live Scan fingerprint
The program cost of $1,160 includes tuition, books, uniform, and registration fee. Other costs for CPR certification, TB test, drug test, background check, and physical must be covered by the student.
Website: https://www.eastlakemedicalcollege.com/
Address: 2572 Waterline Way, Chula Vista, CA 91914
Phone: (619) 591-9358