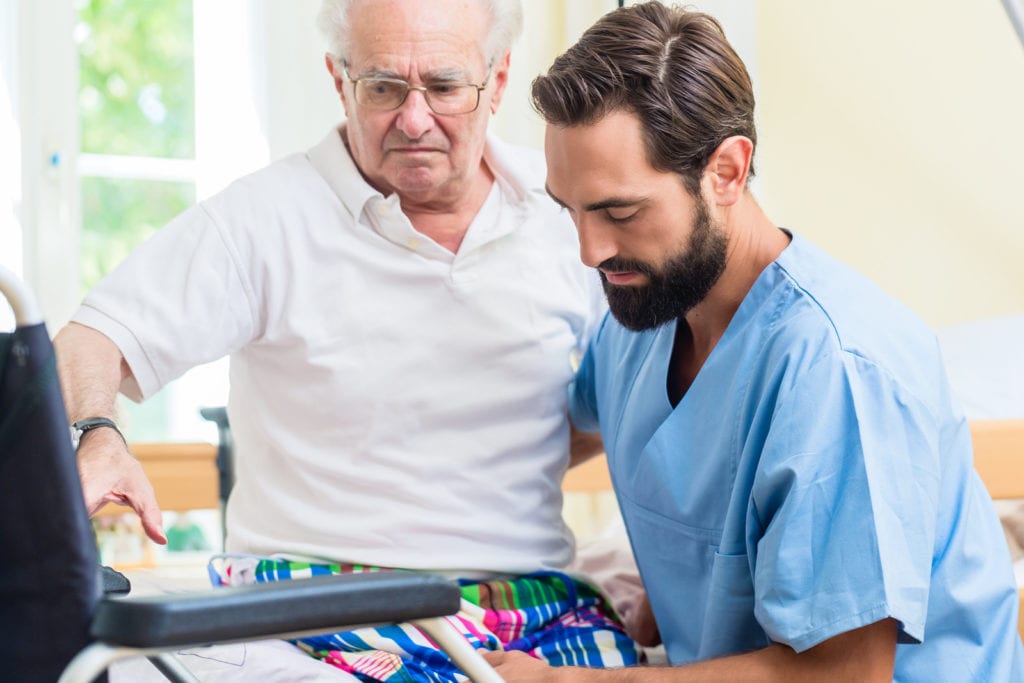 If you possess a naturally caring personality and would like to be a part of a team committed to improving the lives of patients, you should consider a career as a Certified Nursing Assistant. As an important member of the healthcare team, certified nursing assistants (CNAs) provide direct care to patients or residents in long-term facilities under the direction of a licensed practical nurse or registered nurse. In long-term care, their activities include assisting residents with the activities of daily living, responding to patients' calls, making beds, measuring fluid intake and output and vital signs, assisting patients with mobility, and participating in rehabilitative treatments. Since they spend a great deal of time with patients, they might also observe patients closely and report any adverse reactions to nurses or physicians. All their duties are related to the care, comfort, and safety of patients.
A CNA's role is physically demanding, so it is essential that you be physically up to the task of lifting, bending, and standing for long hours. Patients can be aggressive and unpredictable, but your desire should always to be to treat them with dignity and respect. A clear understanding of the role and position of a CNA in healthcare will shield from unpleasant surprises when you commence practice. For dedicated healthcare professionals, the rewards more than surpass the challenges. The training and experience you receive from CNA classes will lay the foundation for other careers in healthcare, and the knowledge will last a lifetime.
Kansas College of Nursing
The Certified Nursing Assistant program at Kansas College of Nursing adheres to the guidelines of the Kansas State Department of Health and Environment, so graduates are eligible to sit the Kansas State Certified Nurse Aide examination. The program comprises of 90 hours of theory, skills lab, and supervised clinical practicum in a long-term care facility. Students complete part of the coursework online and the rest in a classroom and clinical setting. Course topics include medical terminology, basic nursing skills, role and responsibility of nurse aides, vital signs, infection control, patient hygiene, nutrition and feeding, and patient rights and independence. Day, evening, weekend, and hybrid classes are available. Day classes meet Monday through Wednesday from 8:00 am to 2:30 pm for 5 weeks. Evening classes meet Monday through Wednesday from 4:00 pm to 9:00 pm for 6 weeks. Weekend classes meet Saturday and Sunday from 7:00 am to 2:30 pm for 6 weeks.
Admission criteria:
Be 16 years or older
Make a down payment of at least $400
Be able to push and pull 50 lbs.
Provide a copy of driver's license or valid photo ID
Provide a copy of negative TB skin test
Tuition costs $790. Students will need to purchase the textbook, gait belt, and navy blue scrub.
Address: 7721 Quivira Rd., Lenexa KS 66216
Phone: 913-248-2838
Alt Phone: 316-516-3359
Fax: 913-248-2808
Delores Homes Training Center, Inc.
Delores Homes Training Center prepares adults to meet the need for healthcare providers in long-term care. The curriculum follows the guidelines of the state and includes instruction in the classroom, skills lab, and supervised patient care in a long-term care facility. Day, evening, and online schedules are available. The school offers an occasional weekend schedule to meet the needs of working adults. Class sizes are limited to offer personalized attention to each student.
Admission criteria:
Provide a photo ID and social security card
Applicants without a high school diploma or college transcript must obtain a Work Keys Reading Test Score of 4 or higher
Be 16 years or older
Payment of the deposit of $375
Participation in the clinical practicum requires a background check, sound physical health, TB clearance, and drug screen
The cost of the program is $750 and includes the state exam fee and state registration fee. Additional costs for the TB test, scrubs, gait belt, non-skid shoes, flu shot, and textbook must be covered by the student.
Website: https://www.deloreshomes.com/
Address: 6613 Parallel Parkway, Kansas City, KS 66102
Phone: 913-299-9534
Fax: 913-299-9531
Mid-America Nursing & Allied Health Institute
The CNA training program at Mid-America Nursing & Allied-Health Institute covers 90 hours of lecture and practical instruction. The program is designed to give adults with no experience in healthcare the opportunity to develop the skills to enter the field of health. Core learning topics include mobility assistance techniques, nursing assistant care, patient safety, body mechanics, nutrition and diet, human anatomy, monitoring patients' vital signs, assisting patients with the activities of daily living, and communication skills. Day and weekend schedules are available.
Admission criteria:
Be 18 years or older
Have current CPR certification
Provide vaccinations record
Provide a copy of state ID and SSN
Attend an admission interview
Submit a completed admission package
Complete a TB skin test or negative chest x-ray result
Tuition costs $700 and includes a free e-text. Students must purchase uniform, blood pressure kit, stethoscope, gait belt, and shoes.
Johnson County Community College
The 96-hour nursing assistant program at Johnson County Community College delivers classroom and clinical instruction to prepare for a career in health. Students have the option to take the course in the traditional classroom setting or the hybrid format where part of the coursework is delivered online. Students learn daily hygiene, measuring and recording vital signs, patient positioning and transfers, bedside care, observation and reporting, infection control, safety and emergency procedures, and basic nursing skills. Students will attend clinical practice sessions where they will care for patients in a long-term care setting under the supervision of a registered nurse instructor. Attendance to all classroom and clinical sessions is critical. Students who successfully complete the program will be scheduled to take the Kansas State CNA examination.
Admission criteria:
Pass a reading level assessment
Provide copies of a social security card and state ID
Have CPR for Healthcare Providers
Provide documentation of a current negative TB test
Use the contact information below for a current schedule and the cost of tuition.