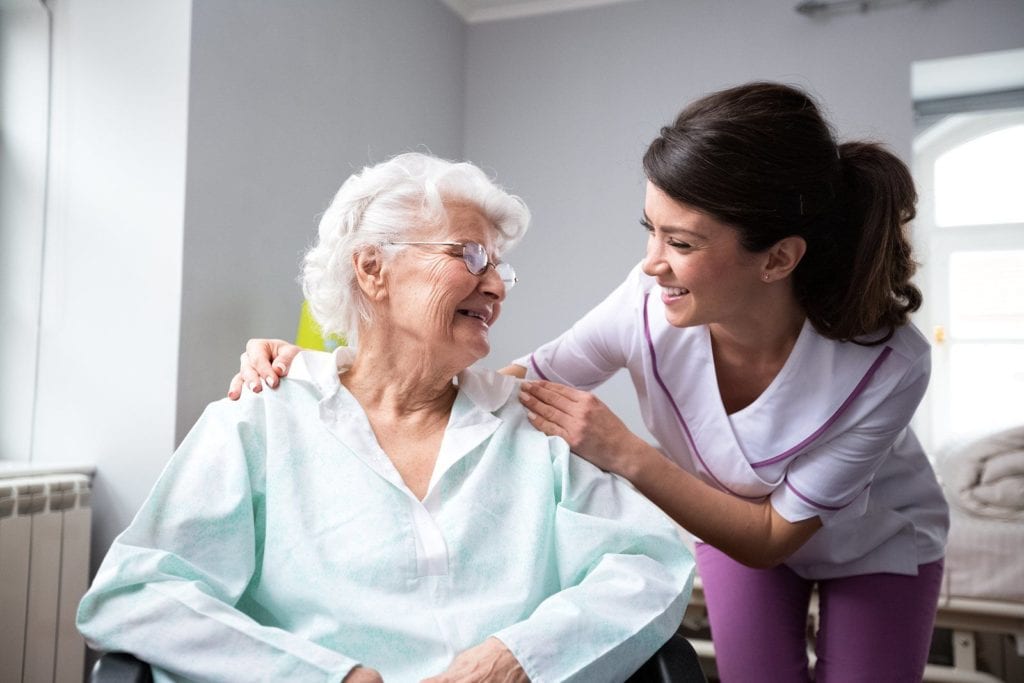 Certified Nursing Assistants (CNAs) have a vital role in shaping the lives of millions of seniors across the nation. Patient care is a team effort, requiring contributions from physicians, nurses, and CNAs who provide support and work under nurses to restore health. CNAs work on the front lines of care in long-term facilities. They maintain a clean environment in patients' rooms, bathe, feed, and dress them, transfer them from the bed to a wheelchair, listen to their problems and offer emotional support, answer call lights, measure vitals signs, and manage the day to day care of the patient. They must also keep a watchful eye on patients to monitor changes in their physical being and mental status. They are in the best position to identify potential problems as they spend more time with patients that even a doctor or nurse can. A career as a nursing assistant is bright and rewarding though the responsibilities are demanding. It is an excellent option for those who want to serve others and enjoy working with those in need of care.
Delaware Technical Community College – Owens Campus
The Nursing Assistant Certificate program at Delaware Technical Community College prepares students to perform basic nursing skills under the direction of a licensed nurse. Program graduates will be eligible to take the state competency exam for certification as a nursing assistant. The curriculum covers 150 hours of theory and practical instruction. In the classroom, students will learn anatomy and physiology, the role of the nurse aide in long-term care, medical terminology, infection control, personal care skills, range of motion, rehabilitation and restorative techniques, patients' rights and independence, nutrition, communication, safety and emergency procedures, and hospice care. In addition to classroom instruction, students will also develop hands-on experiences in a simulated lab. The classroom and lab experiences will prepare students to provide direct care services under the supervision of a registered nurse. Classes meet Monday, Wednesday, and Thursday from 8:30 am to 5:00 pm. There program covers 19 sessions in 7 weeks.
Admission criteria:
Attend an information session
Be 18 years or older
Pass a reading and math placement test
Tuition for the program is $2,098. It does not include textbook, drug screening check, criminal background check, fees, and supplies.
Address: 21179 College Drive, Georgetown , DE 19947
Phone: 302-259-6344
Sussex Tech Adult Education
The nursing assistant program at Sussex features 150 hours of instruction in the classroom and supervised clinical experiences in a skilled nursing facility. The goal of the program is to prepare students for Nursing Assistant Certification in the State of Delaware. The curriculum requirements include 75 hours of theory and practical instruction on campus and 75 hours of supervised patient care in a local healthcare facility. Course topics include anatomy and physiology, medical terminology, infection control, the role and responsibilities of a nurse aide, vital signs, nutrition, communication and interpersonal relationships, personal hygiene, patient transfers, range of motion, Alzheimer's care, and restorative techniques. Classes meet Monday through Friday from 7:30 am to 3:30 pm for 4 weeks. Clinical times are Monday through Friday from 7 am to 3 pm. The evening schedule meets from Monday through Thursday from 5:00 pm to 8:30 pm for 8 weeks. Clinical times are Monday through Thursday from 5 pm to 9 pm. A Nursing Assistant Enhanced Certificate is also available and requires completion of an additional 72 hours to cover three essential skill areas: phlebotomy skills, EKG skills, and Dementia care. Tuition for the program is $2,225. The total cost with the Enhanced Certificate is $3,375. Tuition includes the cost of books, drug screen, certification exam, TB skin test, criminal background check, and uniforms.
Address: 17099 County Seat Hwy, Georgetown, DE 19947
Phone: 302-856-9035
Fax: 302-856-7875