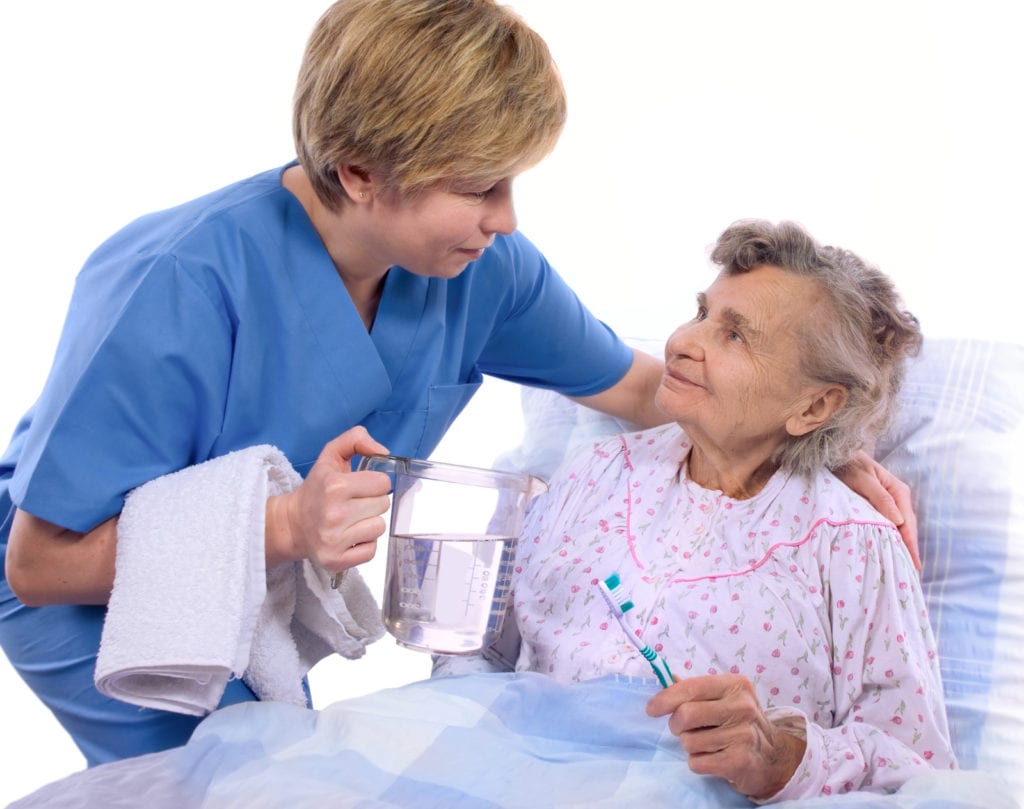 The need for capable caregivers increases in response to the growth in the elderly population. Many of the nation's seniors are in need of long-term care and assistance in the management of chronic illnesses. Certified Nursing Assistants undergo short-term training in preparation for a role where they would care for those who are unable to care for themselves. The assist patients with the activities of daily living, ensure their comfort and safety, and provide emotional support under the direction of a licensed nurse. Though their primary role involves the care of the elderly, they can also care for children and adults. Certification as a nursing assistant in California requires training (at least 160 hours of theory and practical instruction) and certification. CNA classes cover the physical and social aspects of caring for patients. Students learn the state and federal laws that govern practice, the role of the nursing assistant, how to recognize and respect patients' rights and confidentiality, and recognize signs of depression, dementia, and other conditions. Few members of the healthcare team have direct and intimate contact with patients as CNAs do. Therefore, the role requires compassion, patience, empathy, and a strong desire to help others.
Although the job may be rewarding, long hours and strenuous activities can be challenging – even to those who are generally optimistic. It is for this reason that many CNAs use the career as a stepping-stone to other professions in healthcare. CNA training and certification may be a requirement for admission to licensed practical and registered nursing programs.
Pass Institute
The Nurse Aide Training Program at Pass Institute meets the minimum training requirements outlined by the California Department of Public Health. The curriculum covers a total of 150 contact hours: 50 hours of theory and 100 hours of supervised clinical experiences. Graduates will receive a Certificate of Completion and will be eligible to sit the state competency exam to become a Certified Nursing Assistant. Students will acquire the skills and knowledge to care for patients in long-term care settings or residential care homes. Course topics include anatomy and physiology, infection control, medical terminology, vital signs, communication, personal hygiene, mental health, basic nursing skills, and patients' rights and independence. Students must be willing – sometimes for several hours – to travel to the clinical sites. The clinical training is a critical part of the program as it gives students the opportunity to apply the theoretical principles in a real-world setting. Students must have an active BLS for Healthcare Provider card from the American Heart Association to participate in the clinical experience.
Admission criteria:
Be 16 years or older
Have a valid social security card
Be proficient in English – reading, writing, and speaking
Take and pass an admission exam with a score of 75 percent or above
Complete a Live Scan (fingerprint) for criminal background clearance
Tuition for the program is $1,495. Registration costs $195. Additional costs include uniform, books, state exam, and BLS card. A flexible payment plan is available for all students.
Advanced Medical School of Nursing
Advanced Medical School of Nursing provides nurse assistant students will the skills and knowledge to pass the State Board Exam and start a career as a Certified Nursing Assistant. The training includes theory and clinical training in accordance with the state's requirements. Students learn how to assist patients with personal care, measure and record vital signs, observe patients and report critical changes in the patient's physical or mental well-being, transfer patients from the bed to wheelchair, set up medical equipment, and keep patients' rooms tidy. Day and evening classes are available. Day classes meet from Monday through Friday from 8:00 am to 4:30 pm for 19 sessions. Evening classes meet Monday through Thursday from 4:45 pm to 10:00 pm for 35 sessions.
Admission criteria:
Be 16 years or older
Pass a background check
Complete a 2-step PPD test
Complete a physical exam
Pass an assessment test
Obtain a flu shot if enrolling between the months of October 1 to March 31
Tuition costs $1,449 and includes one set of scrubs, class textbook, and Live Scan. Registration costs $150. Additional costs include CPR, gait belt, stethoscope, blood pressure cuff, supplies, Red Cross testing, and state exam.
Hillendale Home Care, Inc
Hillendale Home Care prepares students to take the California state exam for nursing assistants. The curriculum covers 7 weeks of theory (60 hours) and clinical instruction (100 hours) to prepare students to provide care under the direction of a licensed nurse or physician. Graduates will be committed to the rehabilitation, restoration, and maintenance of health and improving upon career ladder opportunities in the field of nursing. Course topics include patients' rights, introduction to nursing assistant, communication and interpersonal skills, patient care skills, medical and surgical asepsis, body mechanics, patient care procedures, vital signs, and nutrition. Other topics include emergency procedures and safety, care of the long-term resident, death and dying, rehabilitative nursing, observation and charting, and death and dying.
Admission criteria:
Be 16 years or older
Have a social security card
Have valid identification with a recent picture
Take a TB test
Complete a physical exam
Complete FBI fingerprints within the first week of the program
Pay the non-refundable registration fee of $200.
Tuition for the program is $1,195. Additional costs include fingerprinting, textbook, supplies, state exam, physical exam, and CPR certification.
Pittsburg Adult Education Center
Pittsburg Adult Education Center prepares students for state certification as a CNA in just 12 weeks. The curriculum includes lectures, group work, demonstrations, and supervised clinical experiences in long-term care facilities. It delivers a total of 160 hours in the classroom and practical work in a real-world setting. Areas of study include basic nursing skills, nutrition and feeding, communication techniques, observation and reporting, infection control, vital signs, medical terminology, patients' rights and independence, range of motion, and hospice care. Graduates will receive a Certificate of Completion and will be eligible to sit the state exam for nursing assistants. Interested persons must attend one of the scheduled orientations.
Admission criteria:
Be 18 years or older
Complete Live Scan fingerprint for background clearance
Take a TB test
Have a valid ID and social security card
A physical exam and necessary immunizations
The class fee includes liability insurance, textbook, CPR training, and fingerprinting.
Address: 1151 Stoneman Avenue, Pittsburg, CA 94565
Phone: 925-473-2400
Fax: 925-473-4470
Other schools offering CNA classes close to Antioch, CA.
Liberty Adult Community Education Center