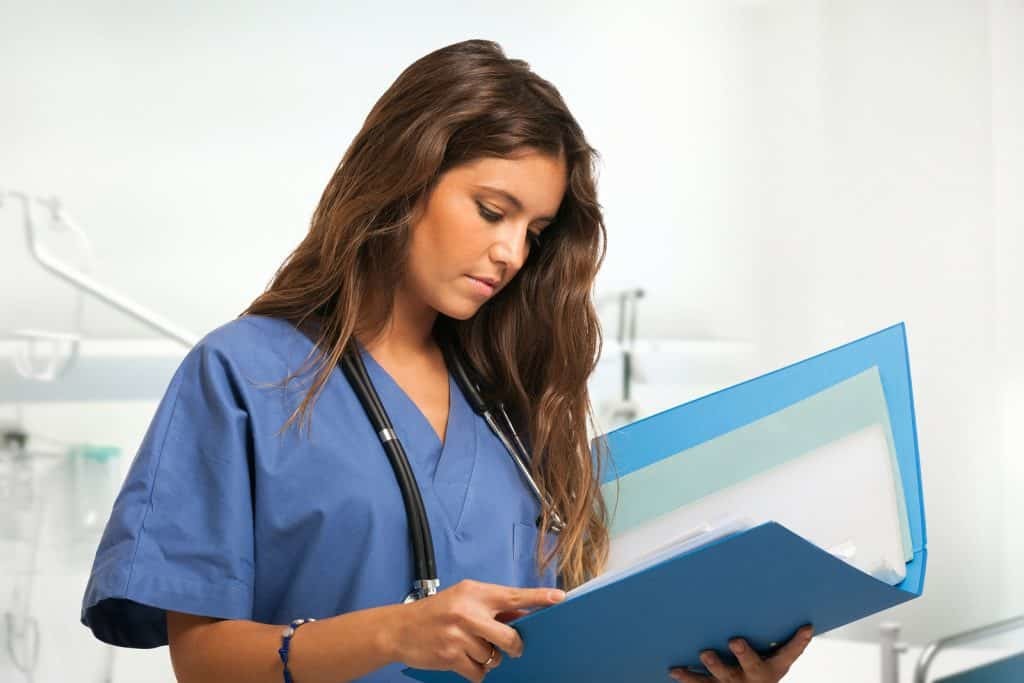 The CNA Skills Evaluation is the most challenging part of the CNA exam for more than 65% of test-takers.
While the state-approved training program will do all it can to prepare you for the test, a large part of your success depends on what you do before (preparation) and on exam day.
In most states, you'll probably take the written, multiple-choice exam before the skills evaluation – most likely on the same day as the skills test. The format of the test also varies by state, but most require candidates to demonstrate five essential skills for an evaluating nurse.
It would be surprising if you were not anxious about the test – as most candidates are. A huge part of the anxiety arises from not knowing beforehand the skills you'll have to demonstrate. Handwashing is a guaranteed skill for most state exams. Some states will also include Recording a Measurement (although there's no way of knowing which one you'll be asked to perform) as another mandatory skill. There other 3 to 4 skills will be randomly selected, and you won't know until the proctor hands over the card with your list of skills.
So how do you prepare for the unknown? First by preparing for what you do know.
Following are 7 easy steps to prepare for the CNA skills test and boost your confidence in your ability to provide safe and efficient patient care.
Know your Skills
You'll be familiar with the skills during training. Since there's only so much you can accomplish in the classroom and the clinical experience, you have to practice a lot at home, in the car, on your way to work, at work, and, basically, everywhere you go. The goal is for the skills to become second nature. There's at least 23 of them – and as much as 28 in some states. Review the skills list and practice the steps for each of them. Here's a brief outline of some of the skills that may be included on the list for your state. Note, all are skills that you'll use every day as a CNA.
Handwashing
Indirect Care
Ambulate the resident using a gait belt
Assist resident with use of a bedpan
Change the bed linen white the resident remains in bed
Change resident's position to a supported side-lying position
Dress a resident who has a weak arm
Empty the contents of a urinary drainage bag
Feed a resident who is sitting in a chair
Measure and record a resident's radial pulse
Measure and record a resident's respirations
Provide catheter care to a female resident who has an indwelling urinary catheter
Provide foot care to a resident who is sitting in a chair
Provide mouth care to a resident who has a denture
Provide mouth care to a resident who has teeth
Provide resident hand and nail care
Provide resident a partial bed bath and back rub
Transfer the resident from the bed into a wheelchair
Provide a modified bed bath
Range of motion exercises
Practice Brings Confidence
Memorizing the skills is only half the preparation. You need to understand all of them for the exam and even more for your future in the profession. But your preparations shouldn't stop there as you will be evaluated on your performance rather than what you know. This is the reason practice is so essential. You must practice the steps -even more than you memorize them- to develop the confidence to succeed on the practical exam. When the steps become second nature rather than a memory, you'll have confidence in your ability and will be more aware of the patient's needs during the evaluation. For evaluators, your demonstration of confidence and attention to patient safety, rights, and needs is a priority.
If possible, visit the nursing assistant school's lab and practice as much as possible. An internship at a nursing home will also provide opportunities to hone your skills. When all else fails, you can ask a friend or family member to act as a patient while you go through the steps for each skill.
To be certain you're practicing the correct skill, get a checklist from the testing provider (Prometric, Pearson Vue, Headmaster, Credentia, your nursing assistant program, or the state board) and carefully study and practice the steps until you can do them without hesitation.
Use The Resources
The internet provides a wealth of resources that will help you to prepare for and succeed on the skills assessment. YouTube is home to host of videos that you can view for each and every skill that CNAs perform. Do a general search for "CNA Skills" or narrow your search to the specific skill you need to review. With some persistence you can uncover tons of valuable information that will aid your success.
The key is to not get distracted. First, you must know what you're searching for and stay on track. YouTube hosts billions of videos on every imaginable subject, which will increase your chances of finding just what you need. When in doubt, stick to trusted channels – you can easily spot these based on the number of subscribers, content, and interactions. Stick to videos that are short and to the point. Finally, take time to engage with the community and read the comments. You can find just as much useful information in the comments as in the videos themselves.
Other valuable resources include the Candidate Handbook for your state. Your nursing assistant textbooks and state nurse aide registry and other resources that you should not overlook.
Check your State's Requirements
There are similarities in the skills evaluation across state borders. Your training provider will provide specifics on the mandatory skills, such as handwashing, recording a measurement, and indirect care. Pay attention to your performance on those mandatory skills and half the battle will be won. Mess up on those skills, and you'll fail the exam.
Handwashing may be administered as an independent skill or as part of other demonstrations. There are several skills that fall under the category of taking a measurement, so learn each of the possible options. Indirect care requires attention to the resident's rights, your communication techniques, and major details such as the resident's needs and comfort.
State requirements also outline whether you'll have to bring a resident actor to the test site or if another candidate will play the role. It's essential that you get the facts before going into the exam.
Sweat the Small Stuff
In your anxiety, you might give much attention to the key steps in each skill and overlook the smaller, critical elements that will affect your success. Do not spend so much time trying to impress the proctor with your clinical abilities that you forget to wash your hands, address the resident, or close the curtains. The majority of failures on the skills exam are due to the candidate's oversight of the critical elements related to the patient's privacy, rights, or safety.
An easy solution is to always keep your role in mind. Treat the resident actor as a real patient. Let him/her know what you're doing, be courteous and respectful, be vigilant, and always maintain a safe environment.
Dress the Part
Dress code is important. Clean and neat uniform or scrubs, flat, close-toed non-skid shoes, and a watch with a second hand are the basic dress requirements. Keep long hair out of the way by tying it back. Keep your fingernails short and limit jewelry – no rings, long earrings, and heavy chains. First impressions last, so make sure to dress the part.
Taking the Test
Double check your test date and time and make sure you arrive on time (at least 30 minutes before) with the proper identification.
The proctor will give you a card with the list of skills you'll have to perform. Pay attention to the instructions the proctor gives and make sure you understand by getting any questions you may have clarified before you begin. Check to see that all the required equipment is available for you to complete the tasks.
Always greet the resident by name and announce what you're about to do, then wash your hands thoroughly before you begin.
If you make a mistake during your demonstration, don't try to cover it up or ignore it. Tell the examiner your mistake and wait for directions. You'll either have to redo the task from where you messed up or provide a verbal explanation of the right thing to do. You can only correct mistakes during the skills – not afterward.
Exam results may be available on the same day or a few days later, depending on the center. With the right approach, you will pass the test and start a rewarding career in direct patient care.