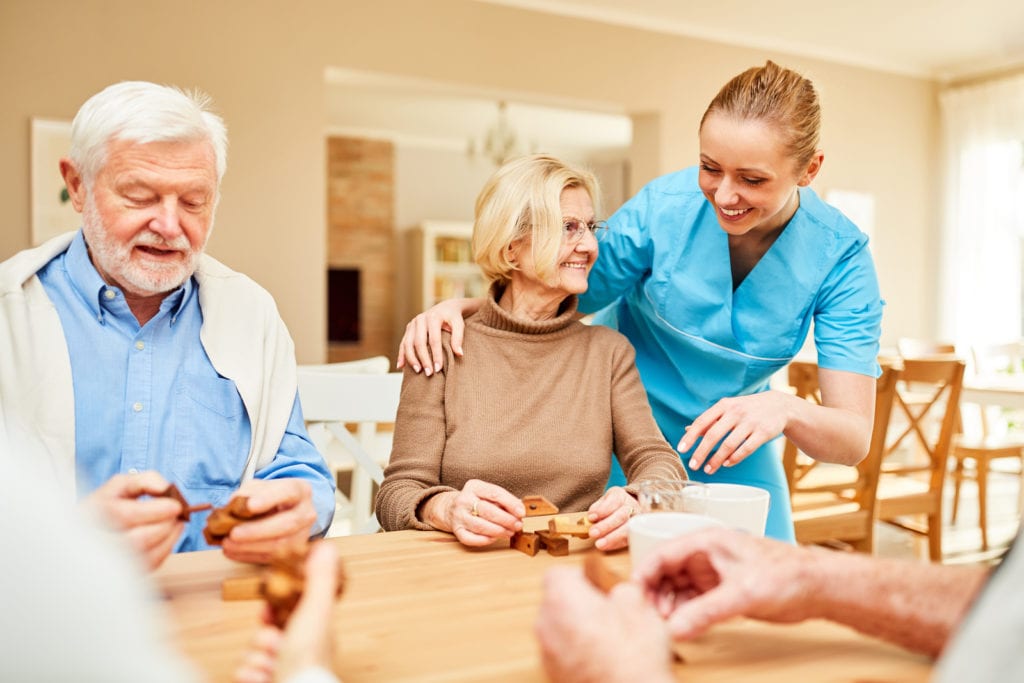 A strong desire to care for others is the first criteria for a career as a health professional. Certified Nursing Assistants help patients or residents maintain their health, well-being, and dignity under the supervision of a registered nurse. They assist with daily living activities, such as bathing, grooming, dressing, feeding, and toileting. While there are many options for employment, the majority of CNAs work in long-term care facilities, assisting residents who need round the clock supervision. Like other health care jobs, the position requires flexibility to work days, evenings, weekends, nighttime, and holidays.
Prospective nurse aides in Florida may apply to challenge the Florida State Certification Exam without completing an approved training program. If you want to improve your chances of success on the first attempt, you should enroll in a state approved nurse aide class or a shorter review course to cover the knowledge and skills practice that will be assess on the written and skills components of the nurse aide test.
Center For Career Training
The CNA program at the Center For Career Training is designed for adults who want to care for residents or patients in nursing homes, clinics, retirement homes, home health care agencies and other health care settings. Students will learn basic patient care that will enable them to take and pass the Nurse Aide Certification Exam and provide safe and competent care in acute and long-term care settings. The curriculum will cover 95 contact hours of classroom lectures, laboratory, and supervised patient care in a skilled nursing facility. Course content includes body systems, orientation to healthcare, personal care skills, vital signs, medical terminology and abbreviations, Alzheimer's care, assisting with medication administration, special care skills, common disorders, and career skills. Students will also learn of HIV/AIDS, HBV, Bloodborne pathogens, domestic violence, resident rights, and elderly abuse. The Center for Career Training has a pass rate of close to 90%. Classes meet Monday through Thursday from 8:30 am to 2:30 pm for 4 weeks. The evening class meets Monday through Thursday from 6:00 pm to 10:00 pm for 5.5 weeks.
Admission criteria:
Attend a program orientation – must schedule an appointment beforehand
Complete a physical exam and submit the report
Physical must include proof of immunization
Submit to a background check – from an approved vendor
Submit to a drug screen – approved vendor only
Register for the class during open enrollment
Tuition costs $495 for combined CNA and HHA training.
Website: https://www.centerforcareertraining.net/classes/cna/
Address: 3915 W. Oakland Park Blvd., Fort Lauderdale, FL 33319
Phone: (954) 731-7475
Fax: (954) 731-7429
Email: centerforcareertrainingpromo@gmail.com
Abba Healthcare Training
Abba Healthcare Training offers nursing assistant students flexible training hours and a spectacular pass rate on the Nurse Aide Competency Exam. Experienced and patient instructors work with students' unique learning styles and pace to ensure they understand the content. Students who successfully complete the program will receive a Certificate of Completion and will be eligible to sit for the state exam to become a Certified Nursing Assistant. Students who fail the state exam will receive free additional instruction until they pass the exam. Morning, evening, and weekend classes are available. The morning class meets from 10:0 am to 1:00 pm. The evening classes meet from 6:00 pm to 9:00 pm. The weekend class meets Friday from 6:00 pm to 9:00 pm and on Saturday from 9:30 am to 11:30 am. The duration of the program is two weeks.
Admission criteria:
Must be 18 years to take the exam
A high school diploma is not required
Attend a program orientation
Submit a report from a physical exam
Provide proof of immunization
Take and pass a criminal background check
Have a negative drug screen
Tuition costs $397. The school will process students' application for the state exam. The state test fee is not included in the cost.
Website: http://www.abbahealthcaretraining.com/
Address: 269 N. University Drive, Pembroke Pines, Florida 33024
Phone: 954-418-2193
Beacon Hill Career Training
Beacon Hill Career Training prepares nursing assistant students to meet the need for healthcare professionals to work in nursing homes, rehab facilities, hospitals and other health care institutions. The program incorporates the use of modern technology for students to achieve excellence in the healthcare field. The prep courses may be completed in just two weeks. Graduates will be prepared for success on the state certification exam and for practice in various healthcare facilities. Morning, evening and weekend classes are available. The morning class meets Monday through Wednesday from 10:00 am to 1:00 pm for two weeks. The evening classes meet Monday through Wednesday from 6:00 pm to 9:00 pm for two weeks. The weekend class meets on Saturdays from 10:00 am to 2:00 pm for four weekends. Beacon Hill is an approved testing center, so graduates will have the advantage of taking the FL State Licensing Exam in a familiar facility.
Tuition for the program is $299.
Website: https://www.beaconhillcareertraining.com/
Address: 201 W. Sunrise Blvd #2C, Fort Lauderdale, FL 33311
Phone: 954-719-6767
Fax: 954-944-1863
E-mail: info@browardcna.com