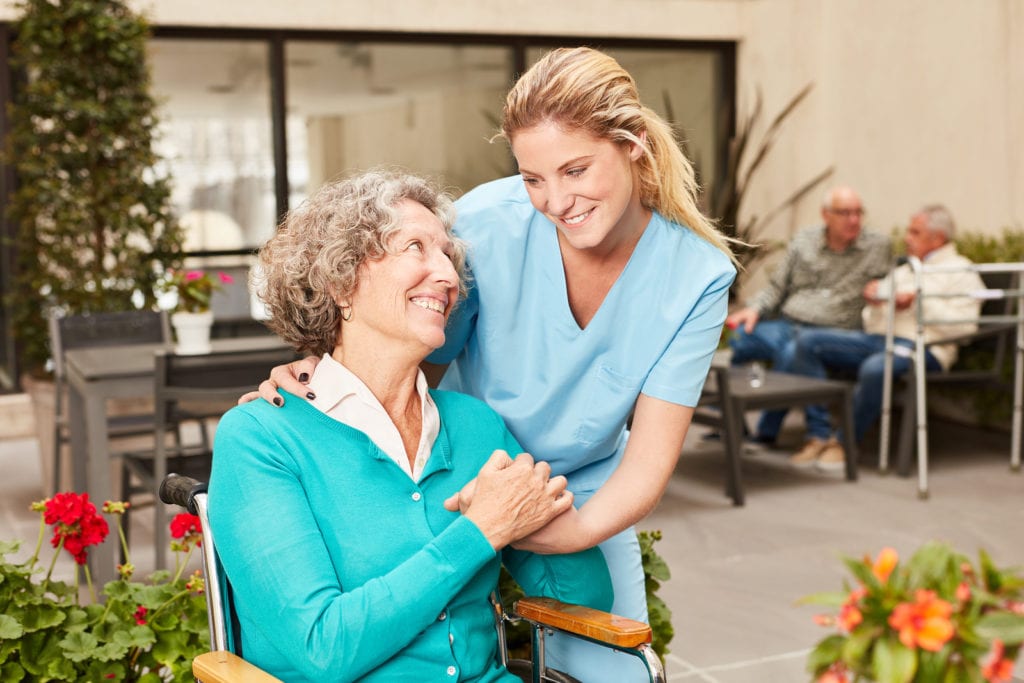 The preparation for practice as a Certified Nursing Assistant is as easy as it gets. In just 4 to 6 weeks, you can complete the required training and pass the competency exam to become a Certified Nursing Assistant. For most CNAs the challenge begins during practice as the role requires a strong commitment, lots of compassion, competence, and confidence. Success in practice requires these traits as much as the technical skills developed in the CNA program.
As a nurse aide, your primary duties will revolve around the personal care needs of the patient. Each day will bring new trials and rewards. Commitment to the patients will be evidenced by a decision to go above and beyond expectations and uphold the values of the profession. It will also mean improving your knowledge and skills – including pursuing further studies in the field. Many CNAs go on to become Licensed Practical Nurses or Registered Nurses to take a more active role in patient care.
The Nurse Aide Competency Exam evaluates potential candidates to determine their readiness for practice. However, real competency goes beyond the exam. It includes advocating for patients, being punctual, present, and professional, maintaining excellence even when others fall by the way, and using available resources to sharpen your skills to improve patient satisfaction and outcomes.  Compassion is essential for every healthcare worker, including CNAs. Compassion is the ability to empathize with the patient and deliver considerate care at all times.
After completing a CNA class, like those listed below, you must take and pass the Written and Skills components of the Oregon State Nurse Aide Certification Exam to engage in full-time, uninterrupted practice in a long-term care facility.
Lane Community College
Lane Community College admits new nursing assistant students every term. The program delivers the skills adults need to provide basic nursing care in long-term care settings. The Oregon State Board of Nursing approved course includes instruction in medical terminology, communication, basic nursing skills, basic growth and development, patient needs, body structure and function, range of motion, body mechanics, infection control, and other topics. Students must complete part one of the course – the classroom requirements – before progressing to the clinical rotation. The practical experience in a long-term care setting will be tailored to develop basic nursing skills, communication, and collaboration with the health care team. Upon successful completion of the requirements, students will be prepared to sit for the Oregon State Nursing Assistant Certification Exam. The program will be completed in one term. Morning and evening schedules are available. The morning session meet Mondays, Wednesdays, and Fridays from 8:00 am to 12:00pm in the classroom and from 6:00 am to 2:00 pm for the clinical rotations. The evening sessions meet Mondays, Wednesdays, and Fridays from 5:00 pm to 9:00 pm in the classroom and Tuesdays, Wednesdays, and Thursdays from 5:00 pm to 9:00 pm at the clinical site. Persons interested in enrolling in the program should attend an informational session before registration.
Admission criteria:
No application or pretest required
Tuition for the program is $639.
Website: https://www.lanecc.edu/ce/healthoccupations/nursing-assistant
Address: 4000 East 30th Ave., Eugene, Oregon 97405
Phone: (541) 463-3000
Dare 2 Care Learning Center
Dare 2 Care Learning Center offers a nursing assistant training program to prepares students for the state exam. Students are able to begin working on the day of graduation but must take the state exam to become a Certified Nursing Assistant. Students may receive job offers from the clinical partners. The program will include classroom instruction, lab practice, and clinical experiences in a long term care facility. Course topics include but are not limited to medical terminology, infection control, vital signs, anatomy and physiology, range of motion, basic nursing skills, communication, feeding and nutrition, patients' rights, the role and responsibilities of a nursing assistant, and hospice care. Classes meet Monday through Friday from 7:00 am to 3:30 pm for the first two weeks in the classroom. The clinical sessions are Monday through Friday from 6:00 am to 2:30 pm for the final two weeks. It is mandatory that students attend 100 percent of the sessions.
Admission criteria:
Provide valid photo ID and social security card
Complete a background check and drug screen from an approved vendor
Provide proof of immunization – MMR, Tdap, Hepatitis B, and Varicella
Pay the tuition in full
Attend a mandatory orientation  
Have AHA Basic Life Support or Healthcare Provider CPR certification
Provide a clear chest x-ray or TB blood test
Pay the non-refundable registration fee of $150
Tuition for the program is $980. A payment plan is available. Other expenses include State Certification Exam, drug screen, background check, scrubs, textbook, shoes, and gait belt.
Website: http://www.dare2care4cna.com/level-one-nursing-assistant.html
Address: 1050 Willagillespie Rd., Suite #6 (upstairs), Eugene, OR 97401
Phone: 541-688-4262
E-mail: dare2care4cna@hotmail.com
EMT Associates
EMT Associates Nursing Assistant (NA) hosts an Oregon State Board of Nursing (OSBN)-approved program to prepare students for entry-level employment in healthcare. The program will include 80 hours of instruction in the classroom and lab and 75 hours of clinical practice in a skilled nursing facility. Experienced instructors will cover communication and interpersonal skills, person-centered  care, infection control, safety and emergency procedures, personal protective equipment, activities of daily living, perineal care, feeding, solid and liquid intake, human needs, cultural awareness, restorative care, collaboration, observation and reporting, vital signs, end of life care, and patient transfers. Graduates will be eligible to sit the
to work in assisted living facilities, home health care, skilled nursing facilities, and intermediate care facilities.
Admission criteria:
Complete a background test at an approved vendor
Provide a copy of a government issued ID
Have valid health insurance
Provide a copy of vaccination records – Hepatitis B series, MMR, Flu shot, Tdap, Varicella
Provide a current TB skin test
Tuition costs $990 and includes the non-refundable registration ad scrub tops. Additional expenses include textbook, workbook, watch with a second hand, and American Heart Basic Life Support.
Website: https://www.cnawithemtassociates.com/
​Address: 1144 Gateway Loop, Springfield OR 97477
Phone: 541-844-1328
Avalon Healthcare
Avalon Health Care are now offers a state approved Nursing Assistant Training Program that will prepare students for the state exam. The curriculum features 172 hours of instruction including 88 hours in the classroom and 84 hours in a clinical setting. Instruction will cover basic nursing skills, restorative service, safety and emergency procedures, perineal care, communication, personal care, psychosocial needs, feeding and nutrition, and resident rights.  Upon successful completion of the classroom and clinical requirements, students will be eligible to take the state certification exam to become a Certified Nursing Assistant.
Admission criteria:
Be at least 18 years old
Obtain a clear criminal background check
Have a valid CPR card from the American Heart Association for Basic Life Support for Health Care Providers
Be able to read and understand English
Attend a scheduled interview
Tuition is free to students accepted to the program. Students will receive the course textbook and workbook and name badge. They must cover the cost of scrubs, CPR certification, closed toed shoes, and the state exam fee.
Website: https://www.avalonhealthcare.com/na/
Address: 1735 Adkins St., Eugene, OR 97401
Phone: 541-683-5032
Fax: 541-683-5085