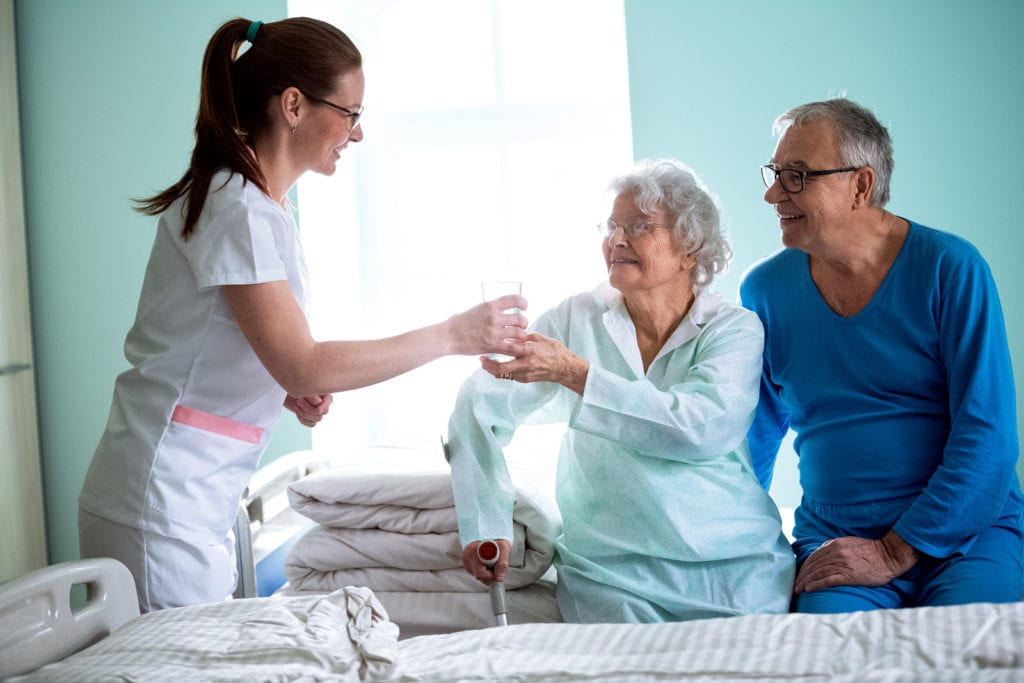 As health care demands increase, there's a corresponding increase in the need for caring, trained professionals. Nursing assistant training, when combined with your desire to help others, will help you to improve the quality of life for seniors, sick, injured, and disabled patients. It is the first step toward a rewarding career in health. Graduates will be prepared to work on the front lines of patient care as a vital part of the daily operations in long-term care facilities, clinics, hospitals, and patients' homes. As a certified nursing assistant, you must work under the supervision of a licensed nurse to assist patients with the activities of daily or perform any other task that the nurse deems necessary.
Common duties include assisting patients with eating, bathing, dressing, and mobility, take vital signs, answer call lights, maintain charts, report concerns, empty catheters, change bed sheets, assist with rehabilitative treatments. The majority of nurse aides work in long-term care facilities where patients receive rehabilitative or custodial care. The rise in assisted living environments also creates opportunities for CNAs. Community health centers, home health agencies, outpatient facilities, and physicians' offices are some other places where nurse aides will find rewarding opportunities. Nurse aides typically work round-the-clock, including holidays and weekends. According to the latest information from the U.S. Department of Labor, the median salary of CNAs in Illinois is $27,770. The growing number of seniors will create more demand for nurse aides to provide long-term care. This demand is reflected in the BLS's projected job growth of 11% between 2016 and 2026.
Jethro Healthcare School
The Basic Nursing Assistant course at Jethro Healthcare School comprises of 126 hours of theory and practical instruction. The curriculum allocates 80 hours for instruction in the classroom (includes 4 hours CPR) and 40 hours of clinical rotations and 4 hours of review in preparation for the board exam. Graduates will have the academic and practical skills to pass the written and skills evaluation components of the Certification Exam required by the Illinois Department of Public Health. Jethro offers evening and weekend schedules. Evening classes meet Monday, Wednesday, and Friday from 5:00 pm to 9:30 pm for six weeks. Weekend classes meet Saturday and Sunday from 9:00 am to 5:30 pm and on Sunday from 7:00 am to 3:00 pm for the clinical rotations. The duration of the weekend program is 10 weeks.
Admission criteria:
A high school diploma or GED
Pass an aptitude test
Provide copies of social security card and driver's license
Be 16 years or older – proof of age is required
Have a negative PPD or chest x-ray prior to registration
Pass a healthcare background check
Pass the medical exam
The total cost of attendance is $1,253. It includes the non-refundable registration, tuition, books, CPR, state exam, clinical uniform, gait belt, shoes, BP kit, fingerprinting, malpractice insurance, and TB test.
Address: 650 W Algonquin Rd., 2nd Floor Des Plaines, IL 60016
Phone: 847-258-5783
Oakton Community College
Oakton Community College prepares nurse assistant students for employment in variety of healthcare settings, including hospitals, patients' homes, and nursing care facilities. The curriculum emphasizes basic human needs and care of the elderly. It covers nine modules: Introduction to Health Care, Rights and Responsibilities, Infection Control, Emergency Procedures, Injury Prevention in the Health Care Setting, Care of the Resident, Fundamentals of Rehabilitation/ Restorative Nursing, End of Life Care, and Alzheimer's Disease and Dementia. Day, evening, and weekend schedules are available. Day classes meet Monday through Thursday from 9:00 am to 3:00 pm for 16 weeks plus five additional Fridays. Evening classes meet Tuesday, Wednesday, and Thursday from 4:00pm to 8:30 pm for 16 weeks. The weekend schedule requires attendance on Friday from 4:00 pm to 8:30 pm, Saturday from 8:30 am to 3:30 pm, and Sundays from 1:30 pm to 5:30 pm. Graduates of the Illinois Department of Public Health (IDPH) approved program will be eligible to apply to take the state's Nurse Aide Competency exam. They will earn a total of 8 credit hours from Oakton Community College.
Admission criteria:
Attend an interview with the BNAT program administrator
Take and pass an admission evaluation – reading, math, and listening comprehension
Provide the report of a current physical exam completed and signed by a physician or nurse practitioner
Submit to a background check
Have a valid social security number
Registration is only available to those accepted into the program.
Fees for the program cost approximately $240 and include lab, background check, uniform, CPR certification, graduation, and the state competency exam. Contact the school directly for a breakdown of the program tuition.
Address: 1600 E. Golf Road, Des Plaines, IL 60016
Phone: 847-635-1600
AVID CNA School
AVID CNA School's Basic Nursing Assistant Training program comprises of 120 hours of theory, hands-on lab, and clinical learning activities in a skilled nursing facility. The coordinated activities are directed by a licensed nurse instructor who will prepare students to deliver direct care under the supervision of a licensed nurse. Graduates will be eligible to sit the competency exam to become Certified Nursing Assistants. Course topics include the role of the nursing assistant, work ethics, communication, caring for senior patients, resident safety, prevention of falls, body mechanics, preventing infections, restraint alternatives, and human body structure and function. Other topics include collecting specimens, assisting with exercise and activity, assisting with personal hygiene, rehabilitation and restorative nursing care, wound care, mental health problems, care for dying patients, emergency care, and confusion and dementia. Morning and evening schedules are available.
Admission criteria:
Be at least 18 years of age
Have a high school diploma or GED certificate
Take and obtain a passing grade on a reading comprehension exam
Submit the results of a recent physical exam and TB test
Complete a criminal background check from the IL State Police
Provide documentation of health insurance coverage
Tuition and registration cost $999. Supplies cost an additional $469 and include textbook and workbook, uniform, equipment, laboratory fee, student liability insurance, and BLS.
International Career Institute
The Certified Nursing Assistant (CNA) Training Program at International Career Institute prepares students for a role as a nursing assistant in long-term care facilities and other healthcare settings. The program's duration is 4 to 10 weeks depending on the schedule. It includes lectures and demonstration in the classroom patient care activities in a real-world setting. In 120 clock hours, instructors teach communication, basic nursing skills, basic restorative skills, mental health and social services, patents' rights, personal care skills, medical terminology, legal issues, and observation. The classroom component requires completion of a full 80 hours. Students must also participate in the mandatory clinical comprising of 40 clinical hours. Graduates of the program are eligible to take the state competency exam to be added to the Nurse Aide Registry. ICI offers 4 different class schedules: a 4-week day course, a 5-week day course, a 10-week day course, and a 10-week weekend course.
Admission criteria:
Have a valid social security card
Undergo a criminal background check
Submit a drug test
Provide proof of immunization and negative TB test
Have a high school diploma or GED
Pass an admission assessment
Complete a physical exam
Tuition costs $650. Other costs include application fee, school identification, uniform, nursing kit, and practical lab fee.
Technology Center of DuPage
The Technology Center of Dupage's Illinois Department of Health approved Basic Nursing Assistant Training Program covers the basics of patient care to give students the confidence to work as part of a medical team. Graduates are eligible to apply for the state certification exam and may use the training as a stepping-stone to a career in nursing. The program includes theory and clinical instruction in the areas of infection control, basic emergency care, safety, bloodborne pathogens, basic emergency care, bathing, bed making, measuring and recording vital signs, nutrition and feeding, patient and resident hygiene, human growth and development, and common health problems, fluid intake and output, and body systems. Students must strictly adhere to the attendance requirements, maintain an 80 percent test score, complete the clinical hours, and demonstrate professional conduct in the classroom and clinical site.
Admission criteria:
Have a high school diploma or GED
Complete health screening and TB clearance
Complete criminal background screening
Technology Center of DuPage students will pay a participation fee of $100 for the program. The fee is separate from any fees that the home school will charge. The fee covers uniform costs, locks, textbook, workbooks, stethoscope kit, transfer belt, thermometer, and transfer belt.