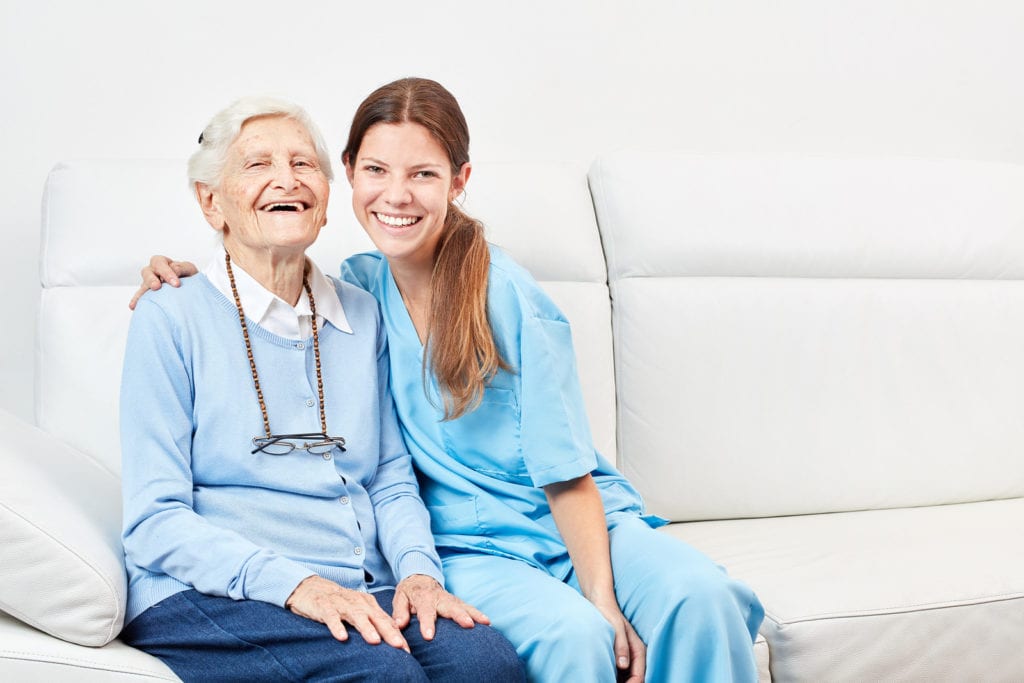 Certified Nurse Aides (CNAs) work in hospitals, nursing homes, and long-term care facilities to deliver care under the supervision of licensed nurses and physicians. They assist patients with personal hygiene, prepare and serve meals, check vital signs, record fluid intake and output, collect specimens for lab testing, monitor patients and relay information to supervisors, and assist with restorative care procedures. To prepare for this role, you must complete theoretical and practical instruction in a nurse aide training program. The state of Connecticut requires nurse aide candidates to complete a minimum 100-hour program and pass a written and skills exam. Certification in the state also requires fingerprint clearance from the Department of Justice. The nurse aide training covers all the material students need to pass the exam and function as competent members of the healthcare team. CNAs can enjoy a rewarding career caring for patients under the supervision of a licensed nurse or use their experience and certification to enroll in a nursing program and enjoy greater independence and a wider scope of practice.
Earning potential for a CNA in Connecticut is $32,970 – higher than that average of all states. The projected job growth for the profession is 11% from 2016 to 2026.
Enfield Adult Education
The Nurse Aide Training Program at EAE prepares adults with the entry-level skills to become certified nursing assistants. The program covers 100 hours: 50 hours in the classroom and 50 hours of clinical practice in a long-term care facility. Course topics include medical terminology, vital signs, infection control, anatomy and physiology, basic psychology, range of motion exercises, nutrition, personal care, safety procedures, communication, basic nursing skills, and hospice care. Graduates will be eligible to sit the state registry exam to become a certified in the state of Connecticut. The duration of the program is approximately eight weeks. Classes meet two evenings a week from 4:00 pm to 8:00 pm. The clinical times vary and will include evening hours and Saturday hours. The exact class times will be provided in the syllabus at the time of orientation.
Admission criteria:
Print the registration packet on EAE's website
Submit the completed packet with a deposit
Tuition for the program is $850 and includes the course textbook. Students must make a deposit of $200 at the time of registration.
Address: 124 North Maple Street, Enfield, CT 06082
Phone: 860-763-7032
Fax: (860) 763-7407
Asnuntuck Community College
Asnuntuck Community College hosts a CNA & CPCT/A program that prepares graduates to provide critical care for patients in various healthcare settings, including hospitals, long-term facilities, and nursing homes. The curriculum covers 190 instructional hours: 100 hours of CNA training and 90 hours for CPCT. Graduates will receive dual certification as a Certified Nurse Aide and Patient Care Technician. Students will learn theory and practical instruction in the calculation and recording of fluid intake and output, assisting patients with meals, recognition of physical and psychological changes associated with aging, the prevention of patient falls, recording of accurate vital signs, oxygen administration, body mechanics in the transferring of patients, assisting patients with bladder and bowel elimination, and collecting specimens for lab testing. They will also learn how to make open and closed beds, assist with restorative care, provision of end of life care, hygiene and grooming, and caring for patients with dementia, confusion, and mental health problems.
Admission criteria:
Be 18 years or older
Have a high school diploma or GED
Demonstrate the physical competency to complete the tasks of a CNA/PCT.
The total cost of the program is $1,419. It includes Basic Life Support and Essential Job Skills and Career Development.
American Red Cross
The Nursing Assistant Certificate program at the American Red Cross provides the information and skills that will enable adults to care for residents in long-term care facilities. Graduates will be eligible to take the state exam for certification as a Certified Nurse Assistant. The training includes traditional instruction in the classroom, quizzes and tests, lab demonstrations, and supervised clinical rotations. The clinical rotation will take place under the direction of a licensed nurse instructor and will allow opportunities to gain practical experiences in a real-world setting. Points of emphasis in the program include good communication, infection control, vital signs, the art of caregiving, CPR, first aid, range of motion exercises, teamwork, AED usage, and workplace safety. Caring and licensed professional nurses will guide students throughout the program to ensure their success on the job. Classes are available throughout the year. Daytime and evening schedules are available. Day classes meet Monday through Thursday from 9:00 am to 3:15 pm for the first three weeks and Monday through Thursday from 8:00 am to 2:15 pm for clinical work in the final week. Evening classes are seven weeks. Classes meet Tuesday through Thursday from 5:30 pm to 10:00 pm for the first six weeks and Monday through Thursday from 4:45 pm to 11:00 pm for clinical work in the final week of class. CPR/First Aid/AED classes are conducted on the second Friday for day classes and second Thursday for evening classes. The cost of the training is included in the total cost of the program.
Admission criteria:
Present a valid photo ID at the time of orientation
Submit to a National Criminal background check
Take an entrance assessment comprising of reading comprehension, writing, and basic math
Submit a completed ARC physical exam form and include the results of a TB test
The program fee is $1,250.00 and includes a non-refundable enrollment fee of $250, textbook and certificate.
Address: 140 Woodland Street 3rd Flr. Hartford CT 06105
Phone: 1-833-733-7763