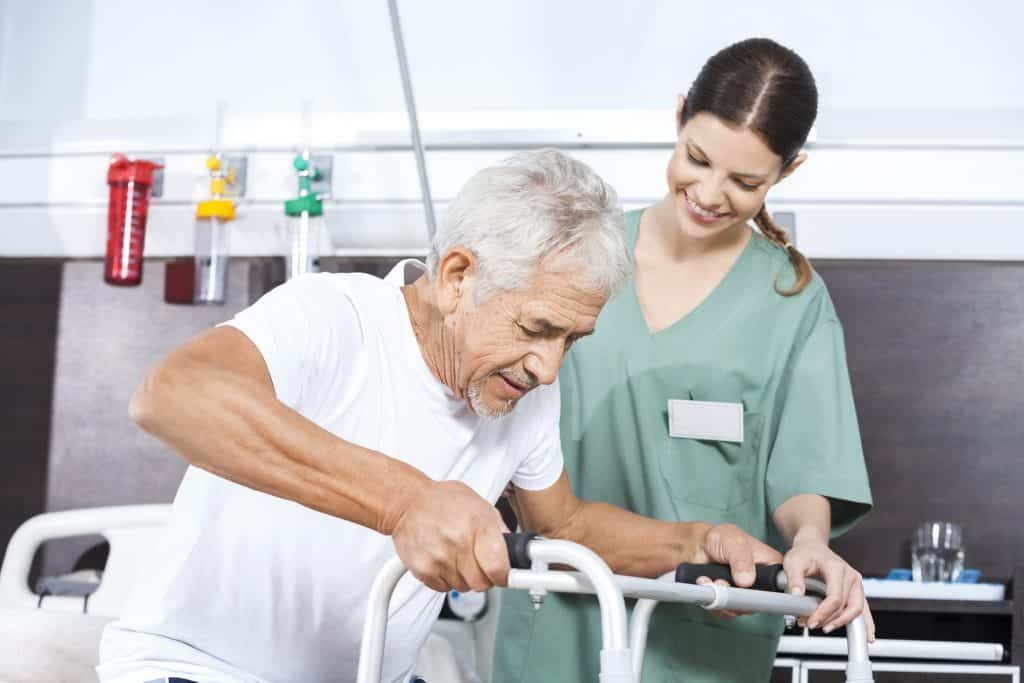 Patient care would grind to a halt without the direct care services that nursing assistants provide. These dedicated individuals improve the lives of the patients and residents they serve. Licensed nurses, who supervise and delegate appropriate tasks to CNAs, know, understand, and value the role they play in the delivery of patient care. Spending eight to 12 hour days assisting with bedside care, personal care, and completing many undesirable tasks, nursing assistants develop strong relationships with their patients and pass on vital information to doctors and nurses. To succeed in this entry-level nursing career, you should be an excellent communicator, possess emotional and physical strength, and be dependable and trustworthy. Since long-term care knows no boundaries, you must be available to work nights and weekends – although you may have your choice of shifts. To begin working in licensed long-term care facilities, you must be listed on the Illinois Health Care Worker Registry.
Prairie State College
To enroll in the eight-week Basic Nurse Assistant program at Prairie State College, students must attend a mandatory student orientation meeting, complete the health care worker background check, meet the health requirements listed on the Physical Examination Form and Drug Screening prior to commencing the clinical experiences, and purchase the uniforms, and textbook for the program. Health requirements include but are not limited to a TB skills test, annual influenza vaccine, Td, Hepatitis B vaccine, 10-panel drug screen, and a physical exam completed by a physician, nurse practitioner or health care provider. The program has a strict attendance policy that students must follow. To successfully complete the course and sit the state exam, students must earn a minimum 80% average on all exams.
Excelsior Healthcare Academy
The basic nursing assistant program at Excelsior presents the basics of bedside care as supplied under federal and state guidelines. Students who successfully complete the program will meet the requirements to sit the Certified Nursing Assistant Examination. The 120-hour program may be completed in 4 weeks. Students meet 5 days a week. All prospective students must attend a one-on-one career planning session, be at least 18 years old, have a high school diploma or pass a Basic Skills Test, complete an application for admission, and have a personal interview. A negative TB test, criminal background clearance, and physician's report are other course requirements. Tuition for the program is $850. Other fees include CPR training, background checks, fingerprints, uniform, books, stethoscope, board exams, and sphygmomanometer.
Morton College
The Basic Nursing Assistant course at Morton College is rigorous and demanding and requires students to have basic English communication and mathematical skills. The 9-credit certificate program equips students with the knowledge and skills to perform basic care services for patients in acute care or residents in long-term care settings. To complete the program, students must attend 93 hours of classroom lectures and perform 40 hours in a clinical setting. They must also demonstrate the 21 manual patient care skills. Upon satisfactory completion of the exam, students will be eligible to sit the IDPH written complete exam for state certification. Applicants must obtain placement test scores of 64 for English/Reading and 77% for Arithmetic, complete NUR 104 with a grade C or better, be 16 years or older, meet the healthcare requirements, and pass a criminal background check. At the conclusion of the program, students will be able to describe the roles of interdisciplinary healthcare team, identify the responsibilities of the RN, LPN, and CNA, apply nursing assistant theory to provide basic healthcare services, perform basic clinical skills, communicate effectively with members of the healthcare team, employ ethical and moral behaviors in practice, and perform tasks as delegated by a licensed nurse.
ELIM Outreach Training Center, Inc.
The Basic Nurse Assistant program at Elim prepares students for entry-level employment as a nurse aide. Graduates are eligible to sit the state competency exam and/or advance to other medical careers. The curriculum includes 120 hours of classroom lectures and practical training in the areas of ethics and laws, vital signs, medical terminology, disease process, CPR, wound care, infection and safety control, and anatomy structure and function. Other topics include communication, growth and development, mental health issues, Alzheimer/Dementia, and OBRA guidelines. The program is approved by the Illinois Department of Public Health (IDPH) and requires students to demonstrate mastery of the 21 clinical skills. Interested persons must have a high school diploma or GED, meet the health requirements, submit to a criminal background check and drug screen, and attend a personal interview.
Zurik Healthcare Institute
Students enrolled in the Basic Nursing Assistant program at Zurik Healthcare Institute gain the competencies to begin a career as a Certified Nursing Assistant. The program will encourage learning through hands-on opportunities in the lab and health facilities. Periodic assessments will help students stay on top of the content. The curriculum, comprising of 86 hours of theory and 40 hours of practical is based on the IDPH approved guidelines. It will cover the rights and safety of residents, nutrition and personal care, body functions and systems, care of patients with special needs, diagnosis and vital signs, and the role of the nurse aide. The duration of the program is 8 to 9 weeks depending on the schedule. It is available four times a year in the Fall, Winter, Spring, and Summer semesters. The total program cost is $850, including tuition, lab fees, handouts and supplies, registration, and uniform.
Prestige Nurse Aide Training Academy
Prestige conducts a Basic Nursing Assistant program with the full approval of the Illinois Department of Public Health IDPH. At the conclusion of 8 weeks of classroom lectures and practical learning opportunities, students are eligible to sit the State Competency Exam to become a Certified Nursing Assistant. Classes meet three days a week on Monday, Wednesday, and Friday. Day and evening hours are available. Applicants must be at least 16 years of age, have a high school diploma or GED equivalent, grant authorization for a fingerprint criminal background check, complete a physical exam with TB test, submit proof of health insurance or sign the liability waiver, pass a 10-panel drug screen, and submit immunization records. The cost of the program is $835 and includes tuition, CPR certification, textbook, lab fee, registration, and state exam review.