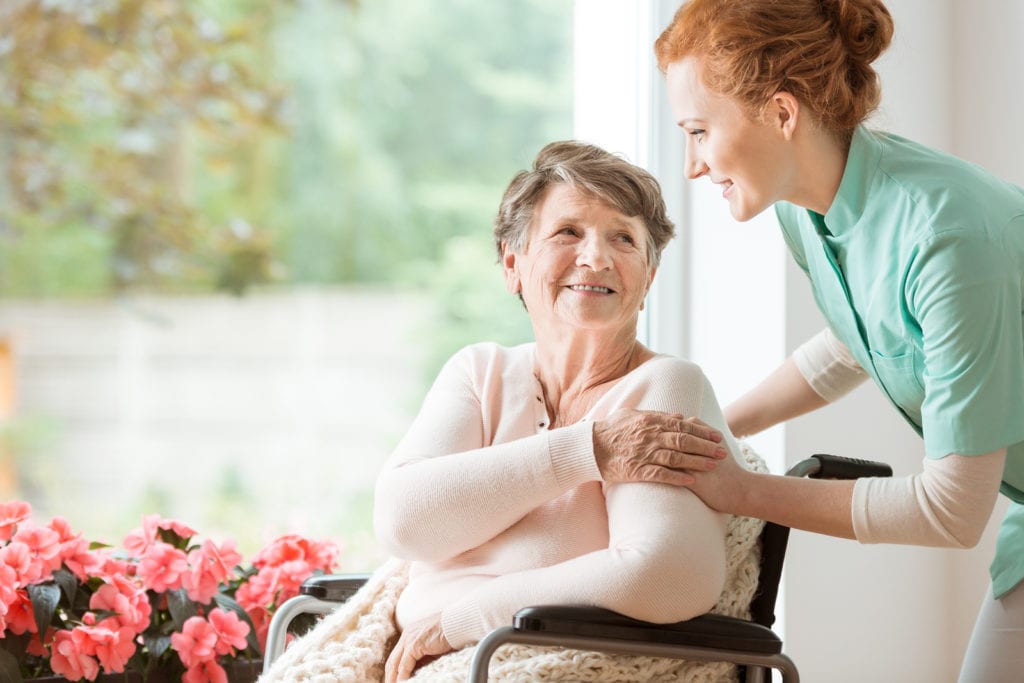 Nursing assistants render direct care for residents in long-term care facilities. They spend much time at patients' bedsides, offering constant physical and emotional support. While they typically work in residential care facilities, they may also work in home health care, hospitals, and other acute settings. They work under the supervision of a registered nurse or licensed practical nurse and must be able to take directions, work collaboratively, and use their initiative to ensure patient safety and comfort.
Nurse aide classes in Missouri cover at least 75 hours of knowledge-based learning and skills development in the classroom. These sessions provide the foundation for the clinical rotations designed to instill competence and confidence in patient care. The minimum requirement of 100 hours of direct care affords students the opportunity to put their skills into practice, work collaboratively with the health care team, and gain an understanding of the health care system. At the conclusion of the training, graduates are expected to write the Missouri Nurse Aide Exam to be listed on the Nurse Aide Registry.
CNAs assist patients with bathing and skin care, eating, bathing, mouth care, bowel and bladder care, and toileting. They also assess vital signs, make beds, turn and position patients, assist with range of motion exercises, set up medical equipment, collect samples, prep patients for medical exams, and update patient charts. The aging baby boomer population with their health care needs means there will always be a demand for Certified Nursing Assistants.
Hart Career Center
Hart Career Center prepares students for a career in health. The Practical Art program, combined with Medical Terminology, prepares students for CNA and CPR certification. Adults who have some experience in the health care field will have the opportunity to refine their skills and persons with no prior health care experience will develop knowledge and skills to provide safe and competent care in a long-term care facility. The program will cover health care delivery, hygiene and disease prevention, body mechanics, assessment of vital signs, patient care, medical terminology, laboratory procedures, legal and ethical guidelines, anatomy and physiology, and first aid and certification. The licensed instructor will use lectures, demonstrations, interactive discussions, role play, and multimedia in the classroom to aid learning. Upon completion of the theory and lab requirements, students will shadow health care workers and collaborate with other students and the health care team to care for patients. They will have the opportunity to practice in a long-term care facility, but may also complete their internship in a pharmacy, radiology, emergency department, clinic, dental office, rehab facility, medical lab, and surgical ward. The program is designed for grades 11 and 12 students who will earn 2 college credits.
Admission criteria:
Must be in the 11 or 12th grade
Pass a criminal background check
Provide documentation of a negative TB test
Submit documentation of up-to-date immunizations
Consent to seasonal flu shot – recommended but not required
Purchase scrubs for job shadowing and clinical experience
The free nursing assistant program is available to high school students only.
Address: 905 North Wade, Mexico, MO 65265
Phone: 573-581-5684
Moberly Area Community College
Moberly Area Community College offers Certified Nursing Assistant training through the Workforce Development Center. The CNA program prepares adults for state certification and employment in a long-term care facility, home health agency, physicians' offices, and other health care employment. The curriculum will deliver 180 contact hours of theory and practical instruction. Students will spend 80 hours in the classroom. Instructors will use lectures, discussions, seminars, multimedia, and hands-on simulations to cover the required theory. Course topics will include medical terminology, first aid and safety, role and responsibility of the nurse aide, patients' rights and independence, legal and ethical issues, basic nursing skills, anatomy and physiology, mental health, body mechanics, range of motion, nutrition and feeding, vital signs, observation and reporting, infection control, and rehabilitation and restorative procedures. Upon completion of the theoretical principles, students will participate in a supervised clinical rotation, which covers 100 hours in a long-term care facility. Students will work collaboratively with one another and other health care professionals to render safety and competent care to residents. Classes meet two days a week for 20 sessions. The class time is Tuesdays and Thursdays from 8:00 am to 4:0 pm at the Moberly Center. Classes may also be available in Mexico and Hannibal. Graduates will receive a Certificate of Completion and will be prepared to sit for the State Certification Exam to become a Certified Nursing Assistant.
Admission criteria:
Have a valid state ID and social security card
Provide documentation of immunization – MMR, Tdap, Hepatitis B, Varicella
Complete TB screening – a negative TB skin test or chest x-ray
Submit to a criminal background check
Pass a urine drug screen
A seasonal flu shot may be required – depending on the clinical facility
Tuition for the program is $995. Students must also purchase the course textbook, workbook, scrubs, nursing supplies kit, liability insurance, closed-toe shoes, and watch with a second hand.
Website: https://www.macc.edu/
Address: 959 West Reed Street, Moberly, MO 65270
Phone: 660-263-5865
Fax: 660-269-8957
Job Point
Students enrolled in the Certified Nursing Assistant class at Job Point will be prepared for entry-level employment as a nursing assistant in just 10 weeks. The curriculum includes 75 contact hours of theory in the classroom and hands-on skills lab, and 100 hours of supervised patient care experiences in a skilled nursing facility. Students will learn caring for the elderly, safety and emergency procedures, personal care, roles and responsibilities of the nurse aide, the work environment of the CNA, food service, elimination needs, nutrition, vital signs, medical terminology, and restorative skills. The skills lab and clinical rotations will help students develop the confidence to care for patients as they collaborate with the health care team. Graduates will be eligible to sit for the State Nurse Aide Exam to qualify for employment in assisted living facilities, home health agencies, nursing homes, and residential care facilities. Classes meet Tuesdays and Thursdays from 6:00 pm to 9:00 pm.
Admission criteria:
Must be at least 18 years
Submit a valid state photo ID and social security card
Pass a background check
Must be able to read at an 8th grade or higher
Obtain a negative TB test or chest x-ray
Pass a urine drug screen
Must demonstrate physical ability to perform the duties of a CNA
The program cost includes the fee for the state exam.