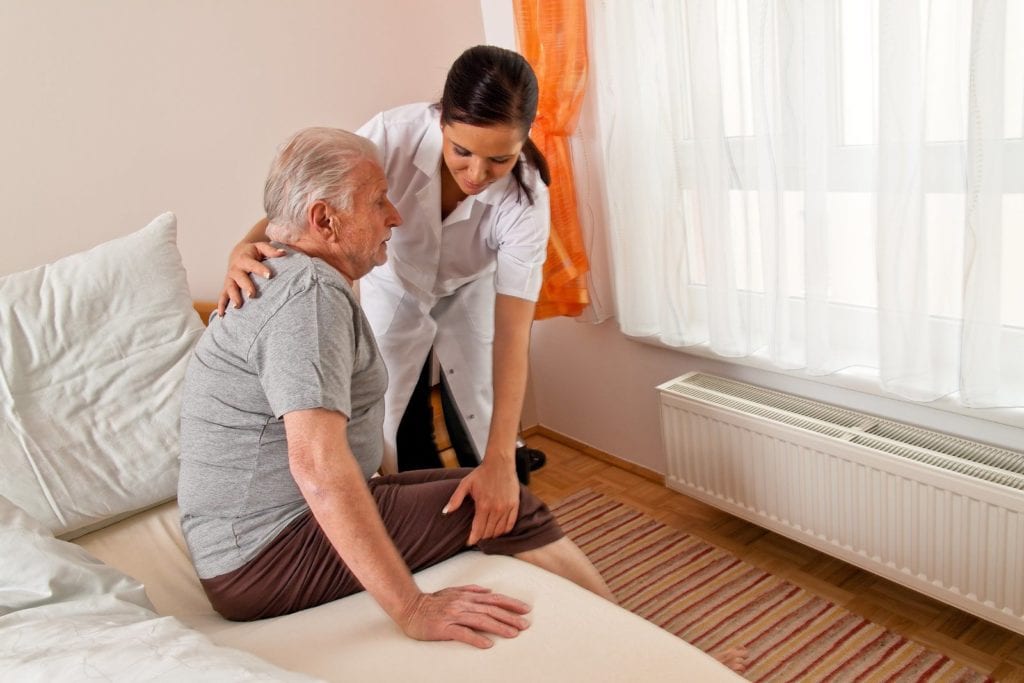 Personal care aides, home health aids, and nursing assistants top the Bureau of Labor Statistics' list of occupations expected to grow between 2016 and 2026. These health care professionals help clients – seniors- bathe, dress, eat and other activities of daily living in assisted living facilities, nursing homes, rehabilitation facilities, and group homes. The explosive rise in the baby boomer population has created a need for more than 1.3 million caregivers to meet the projected demand in the next decade. According to the Paraprofessional Healthcare Institute, the direct care workforce will become the largest occupation in the United States.
Nursing assistant programs train adults to provide direct care to those who are sick, injured, or disabled. The short-term training requires a 3 to 6-week commitment and provides hands-on training to students through supervised patient care experiences in skills nursing facilities. Upon completion of the program, graduates must take the New York State nurse aide exam for certification as a nurse aide for immediate employment. Many CNAs feel a sense of accomplishment from the meaningful role they play in the lives of residents. Others continue on a trajectory of career advancement and higher education.
Fulton-Montgomery Community College
The Certified Nursing Assistant and Home Health Aide Training at Fulton-Montgomery Community College provide an excellent opportunity for adults who want to pursue a career in healthcare. Program graduates who pass the NYS test will receive certification as both a Certified Nursing Assistant and Home Health Aide. In accordance with the state and federal training guidelines, the program includes classroom theory and practical experiences in a simulated lab and skilled nursing facility. Course content includes but is not limited to the role and responsibility of the nurse aide, law and ethics, anatomy and physiology, vital signs, infection control, patients' rights and independence, nutrition and feeding, personal care, basic nursing skills, and hospice care. Students will also learn resume building, computer skills, and job interview tips. The completion time for the program is 11 weeks.
Admission criteria:
Submit a completed application
Be 17 years or older
Provide proof of high school diploma or equivalency
Submit a completed Health Exam Form and physical exam – not older than 6 months
Be able to lift at least 50 lbs
Provide proof of TB test – not more than12 months prior to the program start date
Provide proof of MMR immunization or Titer certification showing immunity
Provide proof of date flu shot
Provide two forms of ID – one must be a government-issued photo ID, and the other must have a matching signature.
Attest to having a clear criminal record
Tuition costs $1,700. The program is not eligible for financial aid. However, there may be sponsorship opportunities that will offset the cost of attendance. Students must purchase a watch with a second hand, scrubs and closed shoes for the clinical training. Job placement assistance may be available.
HFM BOCES
The rigorous Health Careers program at HFM Boces is offered in collaboration with the Nathan Littauer Hospitals. High school seniors spend one year completing the rigorous program in preparation for a career in health. Instructors use traditional methods, such as lectures, discussion, research, and reading, and active participation in clinical rotations to provide opportunities for students to learn of various health professions, patient care, and treatments. Course content includes medical terminology, health careers exploration, diseases and disorders, professionalism, anatomy and physiology, clinical observation, medical ethics, and written and oral terminology. English 12 and Social Studies 12 are also included to provide students with brad and rewarding learning opportunities. High school students interested in enrolling in the program must speak with a guidance counselor.
Admission criteria:
Submit a completed application form
Maintain a minimum high school overall average of 85 percent
Demonstrate interest in health care
Be a high school senior
Must complete 3 years of science and math
Attend a personal interview at New Visions
Upon acceptance to the program, students must complete a physical exam, a Mantoux skin test, and provide proof of rubella immunity.
Website: https://www.hfmboces.org/
Address: 2755 State Highway 67, Johnstown, NY 12095
Phone: (518) 736-4681