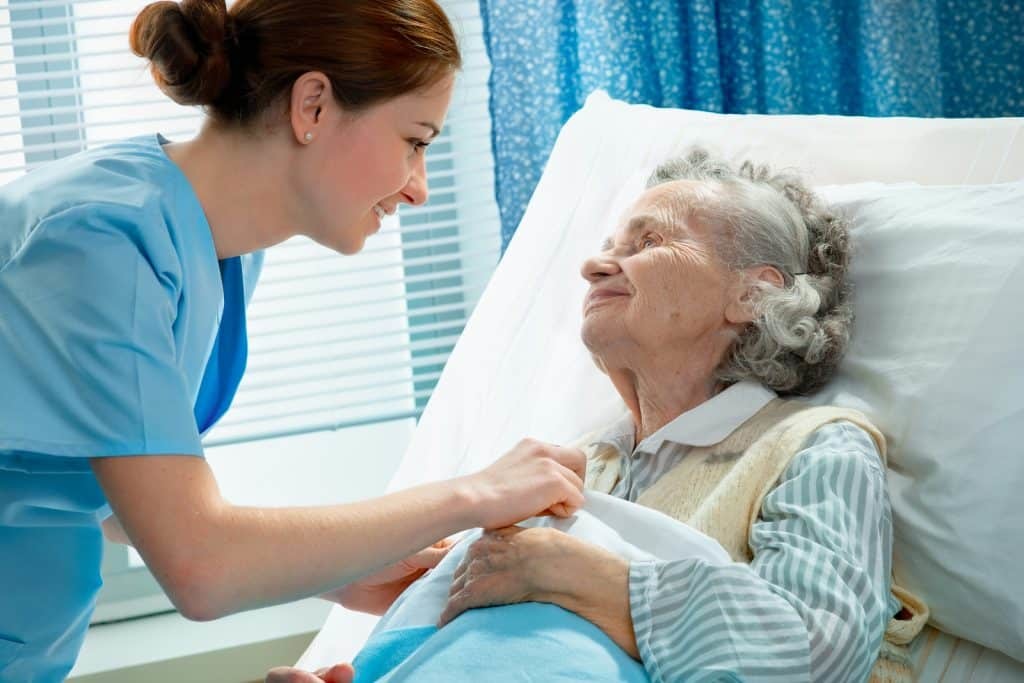 There's an explosive demand for CNAs to fill direct care positions in hospitals, long-term care facilities, nursing homes, private homes, hospice, clinics, and adult day care centers. A Certified Nursing Assistant (CNA) cares for sick, elderly, or disabled patients and is an important member of the healthcare team. As primary caregivers, CNAs spend more time with patients than other members of the patient care team and serve as the eyes and ears of doctors and nurses. They must have excellent observatory skills to monitor patients and report changes in the resident's condition. A knowledge of emergency procedures, commitment to providing quality care, and the ability to remain calm under stress are some other qualities for success on the job.
Goodwill Industries
The nursing assistant course at Goodwill Industries includes classroom and supervised clinical training to prepare students for a career in health. Instructors teach the fundamentals of safe caregiving and work readiness. The work readiness module covers workplace professionalism, resume development, work ethics, communication, basic computer skills, and financial management. Graduates are eligible to sit the South Carolina Nurse Aide Competency Evaluation and demonstrate the attitudes and skills of a competent caregiver. The daytime program includes 65 hours of lecture and lab and 40 hours of supervised clinical practice in a skilled nursing facility. Students also benefit from an additional 30 hours of work readiness training. Applicants must pass a criminal background check, be at least 18 years, be able to lift up to 70 pounds, obtain a negative drug screen and TB test, demonstrate the requirement math and reading levels, and possess a high school diploma. All applicants must submit an essay of intent. Those accepted into the program must attend an orientation and complete the work readiness curriculum become commencing the skills training. The class size is limited to eight students per cycle. In addition to instruction, Goodwill provides one set of scrubs, textbook and workbook, CPR textbook, AHA CPR, blood pressure cuff, drug and TB screens, stethoscope, and the State Board Exam.
Carolina Nursing Assistant Program Academy
CNAPA prepares students for the responsibilities they will assume as a certified nursing assistant. The course is available in convenient day, evening or weekend schedules to service students with various training needs. Day and evening classes meet Monday through Wednesdays for four weeks. New classes begin every month. In line with South Carolina's nurse aide requirements, the program includes 100 hours of training in the classroom, skills lab, and a supervised clinical at a local nursing home. The curriculum will cover basic nursing skills, acute and chronic illness, restorative car, medical math, medical abbreviations, vital signs, mental health, anatomy and physiology. Graduates are eligible to sit the SC nurse aide registry exam available at CNAPA's approved testing site. The cost of tuition is $945 including $225 for registration, state exam, malpractice fee, uniform, 2 CEUs, and basic blood pressure kit. A textbook is provided on loan. Lost or damaged books must be replaced.
Midlands Technical College
Students enrolled in the nursing assistant program at Midlands Technical College receive 107 hours of instruction in basic nursing care. The training hours include lectures in the classroom, practice in a simulated lab, and a supervised clinical experience at a long-term care facility. Graduates are prepared to sit the Nurse Aide Competency Evaluation Services Exam. Applicants must possess a high school diploma and complete a 2-step TB test by the first day of class. A background check and drug screen must be completed within 30 days of the start of class. Students must purchase white screens and closed-toe shoes for the classroom and clinical sessions. Tuition for the program is $909.
Caroline Medical Training Institute
The accelerated nursing assistant learning program at the Carolina Medical Training Institute equips students with the knowledge and skills to care for those in need. Applicants must be 17 years or older, pass a SLED criminal background check, be able to lift up to 70 pounds, pass an entrance exam, attend a class orientation, and be able to read and communicate proficiently in English. CMTI offers day, evening, and Saturday classes. Day classes meet Monday through Thursday from 8 am to 1 pm. Evening classes are 4 pm to 8 pm. Saturday classes are 8 am to 4 pm. Clinical times are from 8 am to 4 pm.