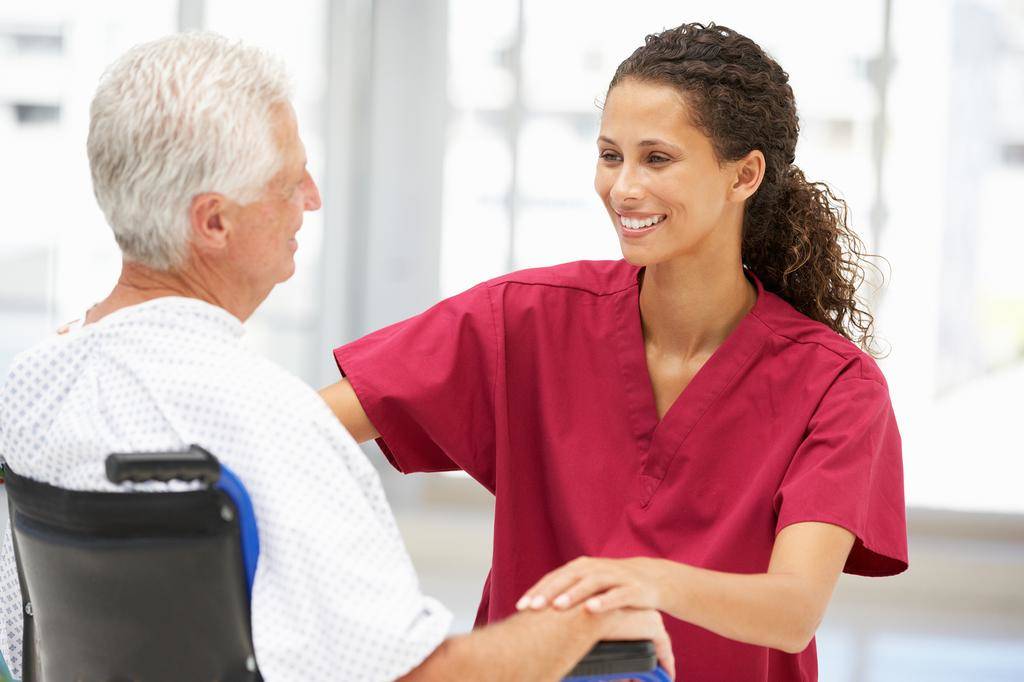 Certified Nurse Assistants provide basic nursing care to patients who are unable to care for themselves. They bathe and dress patients, take vital signs, answer patient calls, turn and reposition bedridden patients, supply empty bedpans, serve meals and help patients eat, monitor patients for adverse reactions to medications, change bedsheets, and provide emotional support. CNAs work closely with patients and often develop fulfilling relationships with them. Their constant contact with patients helps them serve as an effective conduit by communicating any issues to medical staff. The role and responsibilities aren't glamorous and will be challenging most of the times. However, the career could be a stepping stone to licensed practical or registered nursing, both of which provide a stable and rewarding position in the medical industry.
Tidewater Medical Training – Virginia Beach Campus
Tidewater Medical Training offers nursing assisting students the opportunity to train in their state-of-the-art lab and classroom. The facility boasts life-like mannequins, modern projection equipment, hospital beds, and medical supplies to prepare students for the real world. Approved by the State Board of Nursing, the curriculum covers the nurse assistant's role in health, communication and interpersonal skills, infection control, vital signs, body systems, legal aspects of practice, client safety, managing emergencies, body mechanics and range of motion, personal hygiene, CPR, mental health, death and dying. Instructors use videos, on-screen presentations, lectures, and interactive discussions to communicate essential concepts in the classroom. Supervised clinical experiences at a skilled nursing facility cover personal care, hygiene, and professionalism in the workplace. The curriculum covers 137 hours of instruction in the classroom and long-term facility. Upon completion of the program, students can take the certification exam at TMT's facility. The duration of the program is 4 to 6 weeks depending on schedule; part-time evening and day classes are available. Admission is on a first come, first serve basis.
Admission criteria:
Must have a high school diploma or GED
Complete a clear urine drug screen
Pass a criminal background check
Submit TB/PPD test results
Complete hepatitis B vaccination or signed statement declining vaccination
Must have current CPR certification
Attend an interview with an admissions representative – admission will depend on the outcome of a personal interview
Make the course deposit to secure a seat in the program
Tuition for the program is $700. Other costs include the non-refundable registration fee of $100, books and materials ($80), and criminal history check ($30).
Address: 1300 Diamond Springs Road, Suite 102, Virginia Beach, Virginia 23455
Phone: 757-320-1780
Tidewater Community College
The nursing assistant program at Tidewater Community College prepares students for entry-level employment in the healthcare industry. The curriculum comprises of 140 hours of classroom and clinical instruction. Classes meet three days a week in the state-of-the-art lab on the school's campus for didactic instruction. A 40-hour internship at a local medical facility gives students the opportunity to put their acquired skills to work. The state-approved curriculum prepares students for success on the Certified Nurse Aide exam available at TCC's facility. General education courses include written communication, critical thinking, information literacy, and cultural and social understanding. Core topics are communication and interpersonal skills, infection control, patients' rights, client independence, safety and emergency procedures, personal care skills, basic skills, individual client needs, basic restorative services, death and dying. Students will earn 25 credit hours upon completion of the training. The program is designed to be completed in two semesters.
Admission criteria:
Meet the general requirements for admission to TCC
Attend a mandatory information session
Complete and submit the Nurse Aide Application
Place into College Composition I (English III) based on the Virginia Placement test, high school test scores, or transcript
Must be at least 18 years old
Must have no history of criminal convictions
Submit documentation of a negative TB Test
Complete a criminal background check
Register for HCT 101 and HCT 102 and pay the tuition
Tuition for the 25-credit program is $4,633 for Virginia residents. The fee does not include expenses for textbooks, uniform, stethoscope, shoes, and criminal background check. The program is not eligible for financial aid.
Tidewater Home Care
Tidewater Home Care operates a nurse aide program with the approval of the Commonwealth of Virginia, Department of Health Professions, Board of Nursing. The hands-on curriculum covers 105 hours of classroom preparation and 40 hours of clinical experience at a state-approved long-term faculty. The courses covered include infection control, client rights, basic skills, personal care skills, management of conflict, occupation health and safety, communication and interpersonal skills, and skills for basic restorative services. Classes meet Monday through Friday from 8:30 am to 2:30 pm for 6 weeks,
Admission criteria:
Must be 18 years or older
Must be able to communicate in English
Be able to read and understand written training materials
Must be able to perform the tasks and duties of a nurse aide
Must purchase the required uniforms – grey medical scrubs
Must pass a criminal background check
Submit a current TB test report
Provide two forms of identification to register
The course fee of $880 includes textbooks, an apron, TB test, and a background check.