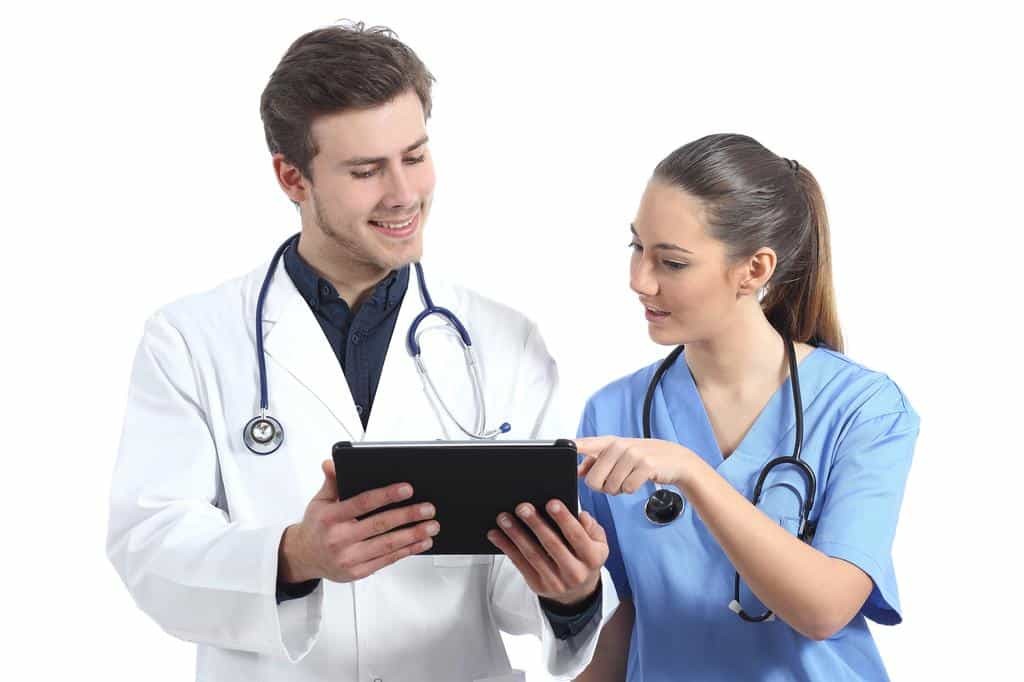 As an important member of the healthcare team, a nursing assistant provides direct care to patients in long-term care, acute care, and home health care settings. Working under the supervision of a licensed nurse, the CNA's role may involve assisting patients with the activities of daily living, collecting samples for lab testing, assisting with rehabilitative and restorative treatments, observing patients and reporting any adverse reactions to medications or treatments, answering patient calls, setting up medical equipment for procedures, moving patients from the bed to wheelchair and vice versa, and communicating with patients, their families, and other members of the health care team. In preparation for the roles and responsibilities of a CNA, the California Department of Public Health requires prospective nursing assistants to complete an approved training program and take the Nursing Assistant Certification exam administered by Pearson Vue or the American Red Cross.
American Red Cross
The American Red Cross prepares residents of San Bernardino and surrounding areas for an entry-level career as a nursing assistant. Licensed Vocational Nurse instructors teach students the skills necessary to provide basic care. Skills training includes feeding, dressing, monitoring, and bathing patients or residents in nursing homes, hospitals, and assisted living facilities. The curriculum includes 80 hours of class time and 100 hours of practical training in a long-term care facility and runs for 28 days. Applicants 16 years or older must attend a mandatory information session, possess a social security card and valid state ID, provide a copy of high school diploma or GED and pass a background check. Applicants who do not have a high school diploma or GED must pass the TABE test. On registration day, candidates must sign the enrollment agreement and pay the $250 non-refundable deposit, provide documentation of a physical exam, TB test, livescan fingerprint, and flu shot (during flu season). The program tuition of $1,900 includes textbooks, blood pressure cuff, two sets of uniform, CPR and First Aid certification (valid for two years), nursing supplies, shoes, stethoscope, and the exam fee for CNA certification. Graduates are eligible to take the state certification exam. The ARC assists all graduates with job placement through a job fair held at the close of each session.
Health Sciences College of California
The nursing assistant program at the Health Sciences College of California is a 168-hour program comprising of 56 hours of instruction in the classroom and 112 hours of practical instruction at a skilled nursing facility. The state-approved program runs for 8 weeks and gives students a solid foundation for a career in nursing. Graduates are eligible to take the state exam at HSCC – an approved testing site. Applicants do not need a high school diploma or GED. However, they must be able to read at an eighth-grade level and pass a fingerprint screen, TB test, and physical exam. The curriculum covers feeding patients and assisting with the ADL, bathe and dress residents, transfer patients from bed to chair, apply dressing, properly position patients, spot the warning signs of complications, document and report changes in patients' condition, and assist with restorative and rehabilitative treatments. HSCC graduates go on to specialize as home health aides, restorative nursing assistants, and acute care level II CNAs.
Summit College
Summit College's commitment to nursing assistant students is evident from the success graduates achieve in the nursing profession. Qualified instructors work tirelessly with students to ensure they acquire the skills to accomplish their goal of becoming a certified nursing assistant. The curriculum covers a range of topics, including communications, mobility, nutrition and hydration, basic nursing principles, patient safety, law and ethics, psychology of patients, and how to use medical equipment. Graduates are eligible to take the state exam to work in hospitals, retirement facilities, medical clinics, rehabilitation centers, and patients' homes. Tuition for the 6-week program is $1,395 plus $73 for books and supplies.
Chaffey College
The nursing assistant program at Chaffey College prepares students for the state certification exam and entry-level employment in a health care facility. The curriculum covers 63 theory hours and 108 hours in clinical practicum. Additionally, the program includes 24 hours of practice skills lab and 18 hours of professional development. Applicants must be 16 years or older and take a reading and English assessment at the College. A completed health form, immunization record, copy of social security card and driver's license, CPR card, and fingerprinting are also required for admission. Course topics include personal hygiene, nutrition and feeding, mental health, communications, anatomy and physiology, mobility, patient rights, safety and emergency procedures. Tuition for the program is $1000 and includes books, supplies, and uniform.
Victor Valley College
Victor Valley College prepares nursing assistant students for practice by teaching the nursing techniques and procedures they need to care for patients and residents in acute care and long-term care facilities. Apart from instruction in the classroom, students have opportunities to build clinical skills at a patient care facility. Requirements for entry include a grade C or better in English 6, a physical exam, criminal background check, drug test, current Healthcare Provider CPR card, TB test, liability insurance, and immunizations. The approximate cost of attendance is $544 to $659 and includes registration and tuition, books, supplies, and uniform, and liability insurance.