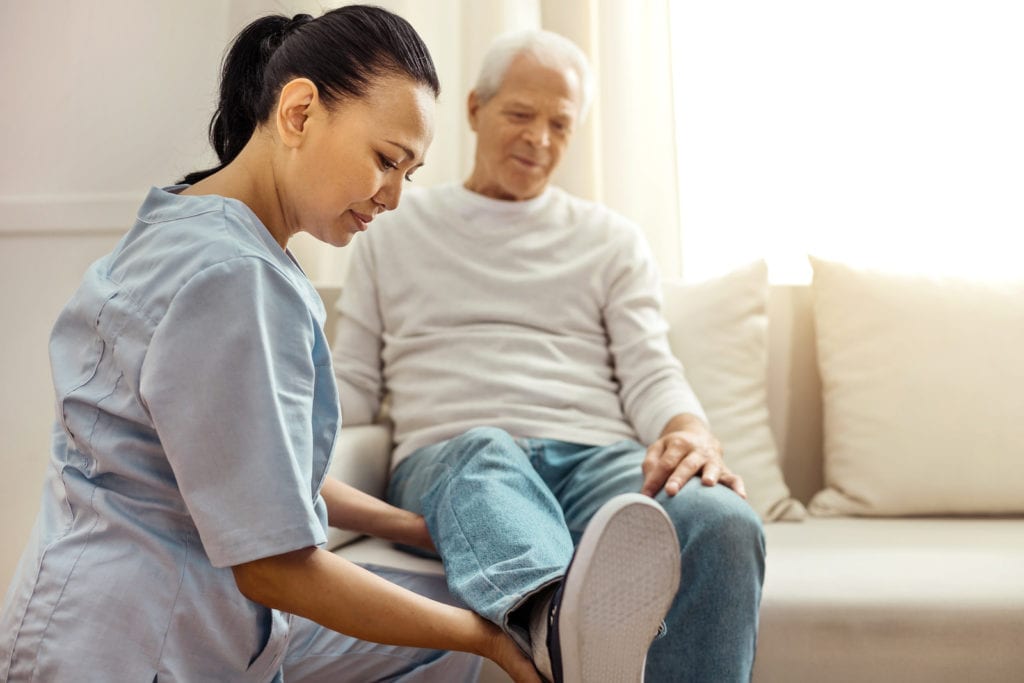 As an entry-level, health care professional, a Certified Nurse Assistant provides patient care under the direction of a Registered Nurse or a Licensed Practical Nurse. According to data from the Bureau of Labor Statistics, the demand for nurse aides, home health aides, and orderlies is expected to grow much faster than the average for all professions. With the use of medications and modern technologies, the average lifespan has been extended. However, the resultant elderly population has a greater need for long-term care that a CNA can provide. CNAs work in various health care settings where they assist with personal hygiene and grooming, meet the nutritional and elimination needs of residents, measure vital signs, record and report observations, maintain a clean and safe environment, assist with special treatments, and move residents from the bed to the wheelchair and back again.
San Leandro Adult
The Certified Nurse Assistant program at San Leandro Adult schools includes Home Health Aide (HHA) training. Students who successfully completed the programs are eligible to take the state certification exam pending clearance of a criminal background screen. The HHA training is available free for CNA students, but must be completed immediately following the CNA class. The program includes theory and practical instruction in basic nursing skills, infection control, vital signs, anatomy and physiology, communication, range of motion, personal care, grooming, fluid intake and output, and nutrition and feeding. Classes meet Monday through Thursday from 8:30 am to 1:30 pm for approximately 6 weeks. Tuition costs $895.
Address: 1448 Williams St., San Leandro, CA 94577
Phone: 510-667-6287
Fax: 510-357-8794
VIP Nursing School
VIP Nursing School's Nursing Assistant training program prepares adults to provide basic nursing care to seniors and chronically ill patients in long-term care facilities. The curriculum comprises of 16 modules that cover body mechanics, resident rights, vital signs, rehabilitative nursing, grooming and personal care, observation and reporting, Alzheimer's care, and other aspects of resident care. Students must complete 50 hours theory in the classroom and 100 hours of clinical training at an approved facility. Graduates are eligible to take the State of California Competency exam to become a Certified Nursing Assistant. VIP offers day and night classes. Day classes meet Monday through Friday from 8:00 am to 4:30 pm for 20 days (4 weeks). Night classes meet Monday through Thursday from 5:00 pm to 10:00 pm and Saturday from 8:00 am to 4:30 pm for 29 days (6 weeks).
Admission criteria:
Be at least 16 years old.
Complete and sign the enrollment form.
Provide proof of twelfth grade education or equivalent.
Complete a physical exam and TB clearance. The medical examination report must be signed by a physician or nurse practitioner.
Provide a copy of a California Driver's License or ID and social security card.
Pay the non-refundable registration fee of $100.
Complete Live Scan electronic fingerprinting.
The estimated total cost of attendance is $1,242. It includes the tuition ($800), registration ($100), and miscellaneous costs ($342).
Bay Area Medical Academy
The CNA program at Bay Area Medical Academy runs for 6 weeks. It includes a total of 200 hours of classroom lectures and clinical externship to equip students with the skills to care for patients in a long-term care facility. The Department of Public Health approved course includes a 4-week clinical externship. Students have the option to complete an 8-hour job readiness module that will support transition to the world of work. Classes meet Monday through Friday for 6 weeks. Classroom sessions occur in the first two weeks and the clinical sessions meet for the final 4 weeks. Interested persons must attend a mandatory orientation before enrolling in the program.
Admission criteria:
Be 18 years or older
Provide proof of high school graduation or equivalent
Pay the minimum deposit
Provide official, sealed transcript
Obtain a passing score of 70 percent or above on the English test
Attend an orientation session.
The estimated total cost for the program is $2,130.00. It includes tuition, textbooks, uniforms, class materials, offsite clinical externship, and career support services. A flexible payment plan is available. Funding may be available through the Workforce Innovation and Opportunity Act (WIOA).
Address: 1701 San Pablo Ave, Room 114, Berkeley, CA 94702
Phone: 415-217-0077
Niles College
The Niles College inspire nursing assistant students to conform to the professional and ethical standards of practice. Students will develop the confidence to provide optimal care to patients in acute and long-term health care settings. The program follows the NATAP curriculum standards and includes 50 hours of classroom lectures and 100 hours of clinical externship at an approved nursing facility. The duration of the program is 19 days. The curriculum covers 16 modules each containing lesson plans designed to develop graduates who will succeed on the state certification exam to practice as an entry-level worker in a long-term care facility. They will know how to provide competent and safe nursing care, meet patients' physical, spiritual, and psychosocial needs, and communicate effectively with patients, their families, and members of the health care team. The exam is conveniently offered at Niles College's facility.
Nightingale Healthcare Professionals
The goal of the CNA Training at Nightingale Healthcare Professionals is to prepare students for California Certification as a CNA. The curriculum includes nursing theory, laboratory and clinical experience to equip students with the knowledge and practical skills to function in a variety of health care settings. For the clinical component of the program, students will provide direct patient care under the supervision of a licensed professional at a skilled nursing facility. Students who complete the program and meet California requirements will be eligible to take the written and skills components of the state certification exam. The California State approved CNA curriculum covers 150 hours in the classroom and clinical setting.
Admission criteria:
Pass a criminal background check through Live Scan
Obtain TB test and clearance
Obtain a physical and a flu shot in flu season
Tuition for the program is $1,050. It includes the application and registration fee and training and instruction fee. Students must budget additional for the state competency test, CPR certification, and Live Scan. Other costs include uniform, shoes, stethoscope, and gait belt.
Address: 8105 Edgewater Dr, Ste 290 Oakland, CA 94621
Phone: (510) 553-1800
Quest Nursing Education Center
Quest Nursing Education Center is approved by the State of California to offer nursing assistant training. The program runs for 4 to 6 weeks, based on the schedule, and includes all the preparation students need to function efficiently in a long-term care setting. Graduates are eligible to take the state competency exam for certification as a CNA by the California Department of Public Health. The curriculum covers a total of 164 hours knowledge-based and practical training: 64 hours in the classroom and lab and 100 hours in a clinical setting. Students must attend all classroom and clinical sessions. Students may miss only one classroom and one clinical session. Those who miss repeated sessions will the withdrawn from the course. The missed clinical session must be made up. The cost of the 1-day make-up class is $200.
Admission criteria:
Be 16 years or older
Be eligible to work in the United States
Have a high school diploma or GED
Possess valid state ID and social security card
Non-native English speakers must take an English proficiency exam
Pass a medical exam and PPD test – completed by a physician, nurse practitioner, or physician assistant
Pass a criminal screening background test.
The cost of attendance is $1,250 and includes tuition, background check fee, registration fee, textbook, and course materials.