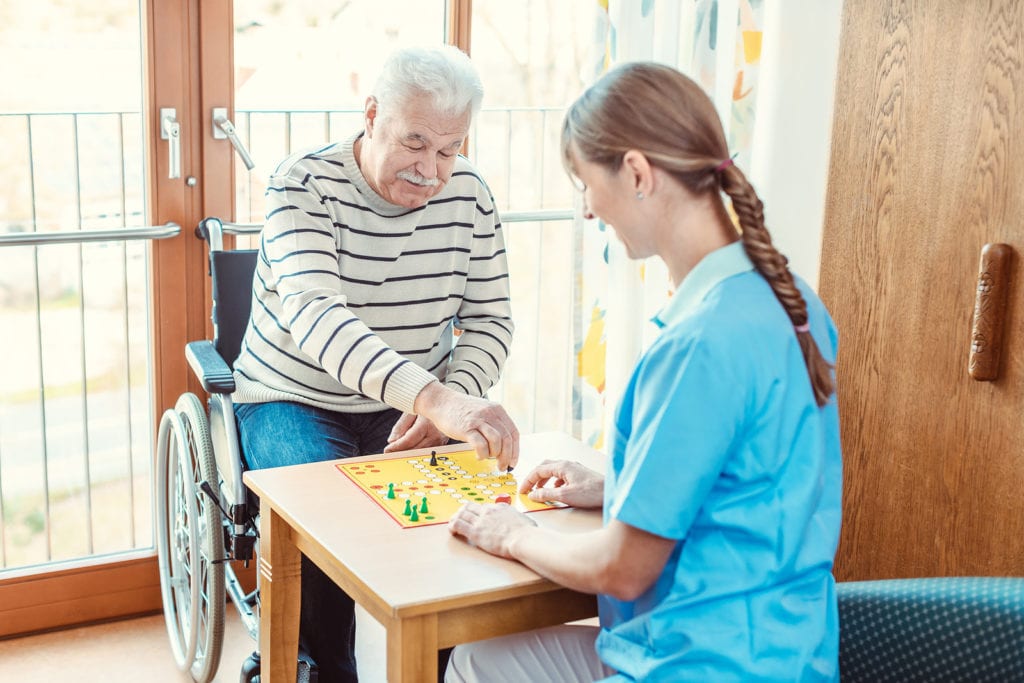 Estimated at 71.6 million by the US Census Bureau, the baby boomer population is expected to double in the next 2 decades. More than 75 percent of this population is over 65 and live with multiple chronic health conditions including diabetes, hypertension, and dementia. The health care needs of the nation's seniors place further strain on an over-burdened health care system, and in order to keep them out of hospitals and nursing homes, there has been an emergence of home health care. The shift to the management of care in-home creates demand not only for home health care aides but also for certified nursing assistants who supplement the care provided by family members. The majority of today's CNAs still maintain employment in assisted living facilities and nursing homes, but new opportunities are also available home health. In these settings, licensed nurses manage in-home care such as the administration of medication, monitoring patients' progress, changing catheters, and wound care while nurse aides assist them with daily living activities and personal care.
Vision Personal Home Care, Inc
The CNA classes at Vision Personal Home Care, Inc prepares adults for entry-level employment in acute and long-term care facilities. The state-approved program includes theory and practical instruction in the role and responsibility of the nurse aide and assisting residents of long-term care facilities with daily living activities. Course content includes medical terminology, basic nursing skills, anatomy and physiology, nutrition, vital signs, infection control, mental health, legal and ethical issues, patients' rights and independence, and hospice care. Graduates will be eligible to take the state written and skills exam administered by Pearson Vue. Classes meet Tuesdays, Wednesdays, and Thursdays from 9:00 am to 5:00 pm for 5 weeks.
Admission criteria:
Must be at least 17 years of age
Provide a negative TB skin test or chest x-ray
Pass a criminal background check – must not be older than 12 months
Submit a completed application and non-refundable registration fee of $50
The program cost of $650 does not include the non-refundable registration fee, books, uniforms, materials, and nursing supplies.
Health Tech of Georgia
The nursing assistant program at Health Tech of Georgia comprises of 140 contact hours of theory and hands-on training in preparation for the state exam. The program will emphasize the care of seniors in in long-term care. Areas of study include basic nursing skills, the role and responsibility of the nurse aide, body structure and function, recognition of common health programs and complications, medical terminology, nutrition, range of motion exercises, safety and emergency procedures, and Alzheimer's care. Student must attend all classes into the scheduled clinical sessions conducted at a long-term care facility. Students will receive CPR certification. Graduates will be eligible to apply for the state nurse aide exam to be added to the Nurse Aide Registry. Morning and evening class schedules are available. Morning classes meet Tuesdays and Thursdays from 9:00 am to 1:00 pm. Evening classes meet Tuesdays and Thursdays from 6:00 pm to 10:00 pm. The duration of the classes is 14 weeks.
Admission criteria:
Must be 18 years of age
Must be in good health
Must have a high school diploma or GED
The program cost of $794 includes tuition, application fee, insurance, and lab fee. A payment plan is available for all students. Plans are subject to an 8% financing rate.
Southern Crescent Technical College
The Nurse Aide, Technical Certificate of Credit offered by Southern Crescent Technical College requires students to complete a minimum of 13 credit hours for graduation. Theory and practical instruction prepare students to care for patients in various health facilities including nursing care facilities, medical and surgical hospitals, community care facilities for seniors, and home health care. Applicants must complete prerequisite courses – Introduction to Health Care, Medical Terminology for Allied Health Sciences, and Diet and Nutrition for Allied Health Sciences. The final module, Nurse Aide Fundamentals, introduces students to the role and responsibilities of the nurse aide. Topics covered include vital signs, nutrition and diet therapy, responding and reporting changes in a resident's condition, ethics and legal issues, observing, reporting, and documenting changes, mental health and psychological well-being of the elderly, and disease processes. Skills sessions will emphasize critical thinking, location and function of human body systems, basic patient care skills, personal care skills, and restorative care. The Nurse Aide module covers 75 lab hours and 60 lecture hours for a total of 135 contact hours or 6 credit hours. The duration of the program is one term. The program is offered in the Fall, Spring, and Summer semesters.
Admission criteria:
Submit a completed application for admission with the non-refundable application fee of $25
A high school diploma or GED is not required
Submit official final college transcripts for any transferrable credits
Provide proof of US citizenship and GA residency
Tuition costs $100 per credit hour – other fees may apply. Additional costs that must be covered by the student include criminal background check, CPR certification, liability insurance, medical exam and immunizations, equipment and supplies, uniforms, and certification exam.