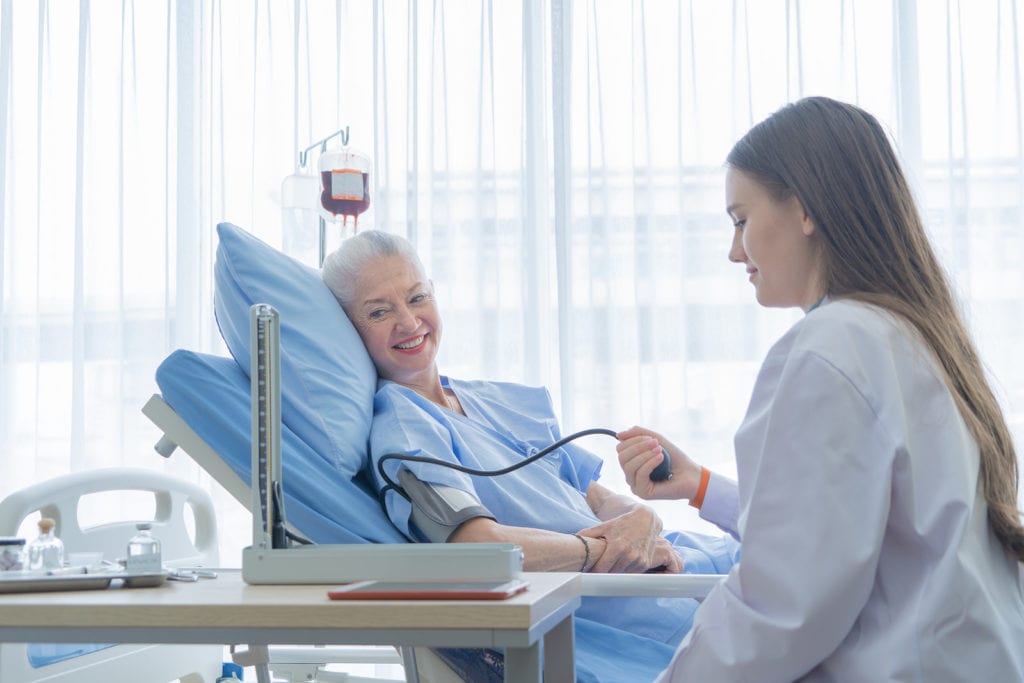 Certified nursing assistants (CNAs) provide basic patient care under the supervision of a licensed nurse. If you're compassionate and enjoy working with the elderly, the role of a nurse aide may be right for you. You must be able to communicate with patients, anticipate their needs, and collaborate with nurses to rehabilitate and restore health. Nurse aide classes emphasize the care of residents in long-term care facilities. Theory and hands-on training in basic nursing skills, communication, personal care, legal and ethical issues, nutrition, and mental health provide a foundation for a rewarding career as a caregiver and continuing health care studies. Your duties will depend on the type of facility. In patients' homes, you'll work as an extension of the patient's family to assist with personal hygiene, serve meals, provide social support, and keep patients' safe. In nursing homes, your role may be that of the main caregiver to measure and record vital signs, communicate concerns to nurses and physicians, turn and position patients, and housekeeping. These focused tasks enable CNAs to care for multiple residents at the same time.
Kirkwood Community College
The Nurse Aide program offered at Kirkwood Community college prepares adults for work in a long-term care facility. Students will learn how to identify the role and function of a nurse aide, methods for proper communication, the legal and ethical issues that guide practice, maintaining a safe environment, and body structure and function. Hands-on training will develop skills such as taking vitals, assisting residents with nutrition needs, measuring fluid intake and output, collecting urine specimens, assisting residents with personal care needs, medical asepsis, hand-hygiene, fire and disaster plans, range of motion, transferring residents, and use of restraints. Students must attend all program hours to graduate from the program. Graduates will be eligible to take the State Skills Test and Written Exam to be added to the Direct Care Workers Registry in Iowa.
Admission criteria:
Complete a physical exam including two TB tests within a year
Provide documentation of hepatitis B vaccine or signed waiver
Must be at least 16 years of age
Complete a satisfactory criminal background check at least 48 hours before the first day of class
Students with a history of back complications or those who are pregnant must obtain a release (from a licensed physician) stating no lifting restrictions
In addition to the tuition, students must pay for the criminal background check, books, uniforms, and closed-toe shoes.
Address: 6301 Kirkwood Blvd, SW, Cedar Rapids, IA 52404
Phone: 319-398-5411
Eastern Iowa Community Colleges – Scott and Clinton Community Colleges
The Certified Nursing Assistant program at Eastern Iowa Community Colleges prepares students with the skills to provide direct patient care in long-term care facilities. The curriculum features 80 hours of theory and practical instruction for the traditional class and 75 hours for the hybrid class. Classroom lectures, discussions, and clinical experiences in patient comfort, safety, mental health, social needs, and personal hygiene provide a foundation for entry-level employment and further studies in health care. During the mandatory clinical experiences, students will apply the 32 skills, gain a practical understanding of the psychological, social, and physical needs of the elderly, and learn the role and scope of practice of the long-term care Nurse Aide. Graduates will receive a certificate as confirmation of completing an Iowa state-approved program and eligibility to take the state exam to be included on the Direct Care Worker Registry. The Nurse Aide program is approved by the Iowa Department of Inspections and Appeals.
Admission criteria:
Must be able to read, write and speak English at the 6th-grade level
Must be at least 16 years old. High school students must secure a recommendation from a counselor
The applicant must have no lifting restrictions
Provide proof of negative TB Mantoux test results – not more than 12 months old
A photo ID and payment are required at the time of registration
Complete a criminal background check and an Abuse Registry check
The class fee of $610 includes tuition, books, handouts, and background check. Additional fees for uniforms and state exam must be covered by the student. The registration fee is $25.
Address: 101 West Third Street, Davenport, IA 52801
Phone: 1-888-336-3907
Hawkeye Community College
The HSC-168 Nurse Aide course at Hawkeye Community College prepares students for the state exam. The 3.5 credit program fulfills the training requirements for nurse aides in long-term care and gives students basic knowledge of nursing and patient care. Students must complete 32 hours of lectures in the classroom, 16 hours of lab, and 48 hours of supervised patient care experiences in a clinical setting. The clinical experiences will take place off-site, and students must arrange their own transport to and from the facility. Graduates must pass the written and skills portions of the Nurse Aide Competency Exam to practice as a Nurse Aide in a long-term care facility. Various class schedules are available. A hybrid option is available.
Admission criteria:
The nurse aide program requires Guest Student Registration
Provide a copy of photo ID and social security
Provide a copy of a negative TB test
Pass a criminal background check
Tuition costs $703.50. Additional fees for books, uniforms, background screens, tools, and state exam are not included.
Address: 1501 East Orange Road, P.O. Box 8015, Waterloo, IA 50704-8015
Phone: 319-296-2320