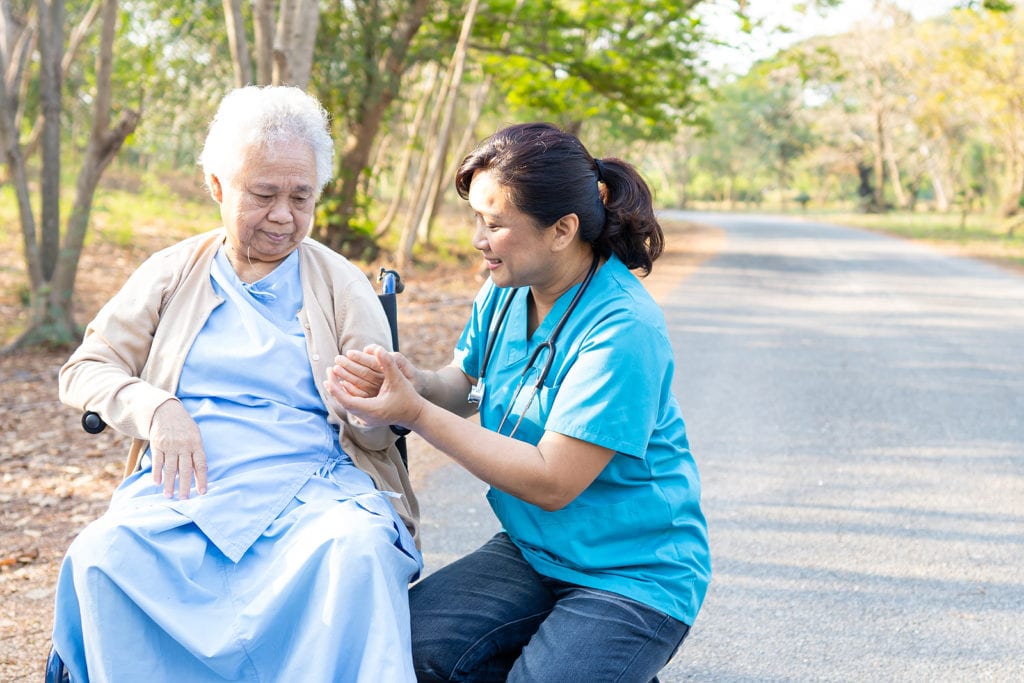 Nursing assistants provide physical care and emotional support to residents in long-term care. They assist with personal hygiene, mobility, nutrition, elimination, and much more. Nurse aide training may be an end in itself if you're content with working at the entry-level of the nursing team. The profession will offer numerous rewards if you like working as part of a team to bring joy and comfort to those who are unable to care for themselves. The training is also a vital step if you plan to enter other careers in allied health and nursing. CNA certification is a requirement for entry into most nursing programs.
The State of Illinois has specific requirements for nurse aide preparation. The training program must cover at least 120 hours of theory and hands-on instruction including 40 hours of clinical activities in a long-term care facility. Successful completion of the BNA program and the state competency exam will result in placement on the Illinois Registry of CNAs. Nurse aides work in mental health facilities, nursing homes, hospitals, residential care centers, and patients' homes.
Rock Valley College
The nurse aide program at Rock Valley College prepares students for entry into the health care workforce and serves as a pathway for entry into the other allied health careers and nursing. The curriculum covers 120 contact hours of instruction – 80 hours of classroom theory and 40 hours of clinical experience in a long-term care facility. Students must attend all scheduled days as mandated by IDPH. A final grade of 80% is required to pass the course. Graduates will earn 7 credit hours that are transferable to the AAS Degree in Nursing program. They will be eligible to take the Nurse Aide Competency Exam to carry the NA credential. The duration of the program is 8 weeks full-time or 16 weeks part-time. Morning and evening schedules are available for the 8-week cycle. Morning, afternoon, and evening schedules are available for the 16-week cycle.
Admission criteria:
Submit an application to Rock Valley College
Take and pass the placement test – reading and math
Attend a Tech Connect Session
Attend a mandatory admission prerequisite session – required for registration for the program
Complete fingerprinting and criminal background check. A social security number and photo ID. Students are responsible for the cost of the criminal background check.
Register for NAD-101
Complete a physical exam with no lifting restriction
Complete a 2-step TB test
Must complete seasonal flu vaccine
The program costs $1,480.85 including $1,163.50 payable to RVC. The estimate includes tuition, fees, liability insurance, TB test, state exam, physical, uniform, and shoes.
Address: 3301 North Mulford Road, Rockford, IL 61114
Phone: 815.921.7821
Toll-Free: 800-973-7821
AVID CNA School
The Basic Nursing Assistant Training Program offered by AVID CNA school covers basic nursing concepts designed to prepare students for entry-level employment in long-term care. The curriculum consists of 120 clock hours of coordinated theory, lab and clinical learning activities. Course topics include body structure and function, preventing infections, work ethics, communicating with the Healthcare Team, promoting safety, preventing falls, body mechanics, body structure and function, caring for persons with mental health problems, caring for persons with dementia, wound care, and elimination and fluids. Students who attend all classes and earn a final grade of C or above will receive a Certificate of Completion and be eligible to sit for the competency exam administered by Southern Illinois University of Carbondale (SIUC). The morning class meets Monday and Tuesday from 8:30 am to 2:45 pm for 7 weeks. A 5-week evening and 3-week winter break schedule is also available.
Admission criteria:
Must be at least 16 years old
Demonstrate reading comprehension proficiency at the 10th-grade level
Complete a physical exam including a TB test – must have been completed within the last 12 months
Submit to a background check initiated by the school
Provide a copy of health insurance coverage
Must have a valid photo ID and social security number
The cost of the program is $1,498. It includes tuition, registration fee, workbook, textbook, criminal background check, state exam, AHA CPR certification, and lab kit.
Sauk Valley Community College
The Basic Nurse Aide Program offered by Sauk Valley Community College meets the requirements of the Illinois Department of Public Health. The curriculum includes classroom and clinical activities with an emphasis on the role of the nurse aide in long-term care, basic nursing skills, communication, and patient safety. Areas of instruction include body structure and function, growth and development with an emphasis on aging, the role and responsibility of the nurse aide, personal hygiene, and patient mobility. The clinical activities will include measuring vital signs, nutrition, fluid balance and elimination, heat and cold therapies, discharge and post-mortem care, and special procedures. The program offers 8 credit hours. Graduates of the state-approved program will be eligible to take the nurse aide competency exam. The duration of the program is 8 to 16 weeks based on the schedule.
Admission criteria:
Must be at least 15 years old
Must demonstrate reading competency at the 8th -grade level – for applicants who do not have a high school diploma
Meet the health and immunization requirements after acceptance to the program
Complete a criminal background check
Must have current BLS CPR certification from the AHA
Tuition and fees cost $1,208 for in-district students and $3,010.08 for out-of-district students.
Address: 173 IL Rt. 2 Dixon, IL  61021
Phone: 815-288-5511
Career Options, Inc
The nurse aide program at Career Options, Inc fulfills the requirements of the Illinois Nursing Reform Act so graduates will be eligible to take the nurse aide competency exam for state certification. The curriculum will cover 120 hours (80 hours of classroom and 40 hours of clinical activities) in the role and responsibility of the nurse aide, basic nursing care for residents in long-term facilities, patient safety, and communication. Course modules are Introduction to Health Care, Resident Rights and Relationships, Infection Control in the Health Care Setting, Emergency Procedures, Injury Prevention in the Health Care Environment, Care of the Resident, Fundamentals of Rehabilitation/Restorative Care, End of Life Care, and Alzheimer's and Other Dementias. Students who complete the 120 hours of instruction, pass the state-approved performance skills, and complete the written competency exam will be eligible for certification and inclusion on the Nurse Aide Registry. The duration of the program is 5 weeks. The schedule includes 16 hours of theory and 8 hours of clinical practice each week.
Admission criteria:
Must be at least 16 years old at the time of enrollment
Demonstrate reading comprehension of 10th-grade level
Must have a valid photo ID and social security number
Submit a physical exam report completed by a licensed physician. It must include a negative TB test.
Submit to a criminal background check (fingerprint) initiated by Career Options with the IL State Police
Must acquire and maintain adequate insurance coverage throughout the program
The program cost of $990 includes tuition, lab fee, registration fee, books, uniforms, materials and equipment, certification exam fee, and CPR classes.
Address: 2644 E Dempster Street, Suite 116, Park Ridge, Illinois 60068
Phone: 847-297-3900
Fax: 847-375-1576
Americare Technical School
Americare Technical School's Basic Nursing Assistant Program provides students with theory, hands-on practice, and use of skills to care for patients under the supervision of a registered nurse. Experienced instructors will emphasize basic human needs and care of the elderly. Students will learn end of life care, professional work ethics, elimination, vital signs, the body system functions, the role and responsibility of the nursing assistant. Nutritional requirements, safety and infection control, exercise and activity, and admissions, transfers, and discharge procedures. Classes meet Tuesday and Thursday from 4:00 pm to 9:00 pm. The weekend classes meet Saturday from 7:00 am to 3:30 pm and Sunday from 8:00 am to 4:30 pm.
Admission criteria:
Submit a completed application form
Submit a copy of high school diploma or GED certificate
Must obtain a negative fingerprint-based Health Care Worker Criminal History Records Check
Obtain a negative TB skin test or negative chest x-ray completed with the last year
Tuition for the program is $800. Other costs include background testing, state registry exam, textbooks, uniforms, and equipment.