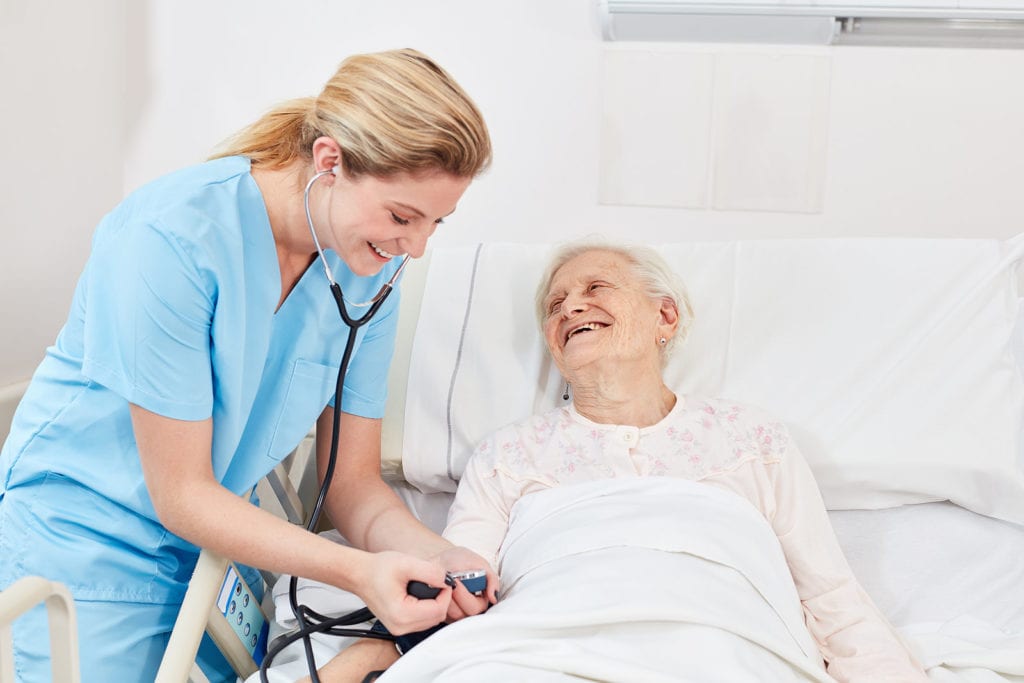 Across the country, Certified Nursing Assistants function as the eyes and ears of nurses, bringing relief and comfort to residents who cannot care for themselves. Caring for others is a calling that requires a genuine desire to help others, dependability, and compassion. Success in the profession also requires flexibility, good communication, and organizational skills, and physical stamina to bend, stand for extensive hours, and lift patients.
Nurse aide programs in Iowa cover the skills and competencies required for success on the state written and skills exam for listing on the Iowa Direct Care Worker Registry. According to the Bureau of Labor Statistics, job growth for CNAs is expected to be 8% through 2029. As of 2019, the median pay for nursing assistants was $29,640 per year.
Des Moines Area Community College
Des Moines Area Community College a Basic Nurse Aide and Advanced Nurse Aide program for adults who are interested in becoming a Certified Nursing Assistant. Theory and practical activities lay the foundation for the development of skills aimed at the care of older persons in long-term facilities. The curriculum covers 75 contact hours of theory and clinical activities in an approved nursing facility – 45 hours in the classroom/lab and 30 hours at the clinical site. The training will include extensive preparation for success on the state exam. The courses include college credits that meet the prerequisites for admission to the nursing program. Graduates will receive a Certificate of Completion and will be eligible to apply to sit for the state exam to be added to the Iowa Direct Care Worker Registry. Completion of the Basic Nurse Aide Program is required for admission to the Advanced Nurse Aide Program. The program accepts admissions several times a year.
Admission criteria:
Apply for admission to DMACC
Submit a completed Core Performance form
Complete the Criminal/Abuse Background Check Form
Complete the Immunization Form – a clinical site requirement
Provide proof of completing flu vaccine
Tuition costs $170 per credit. Other costs include TB testing, flu vaccine, textbook and handbook, uniform, shoes, equipment, class fee, and state exam. The approximate total program cost is $945.
Address: 1100 7th Street, Des Moines, IA 50314
Phone: 515-244-4226
Toll-Free: 1-800-362-2127
FAX: 515-248-7216
Signature Healthcare
Signature Healthcare's 75-hour nurse aide meets OBRA's requirements for nurse aides working in skilled nursing facilities. Students will acquire a basic understanding of the role and responsibilities of the nurse and how to meet these requirements as members of the health care team. The program is divided into segments – 30 hours of lecture, 15 hours of lab, and 30 hours of clinical experiences in an approved nursing facility. Hands-on labs begin the first week of class. The clinical experience will give students the opportunity to care for multiple patients under the direction of a licensed nurse. Graduates will demonstrate skills essential for the program of safe and effective care in nursing homes and other health care settings. They will receive a Certificate of Completion which will confirm their eligibility to take the state exam for State of Iowa certification.
Admission criteria:
Submit the completed application for admission
Complete the Criminal History Record Check Request Form for the school to initiate a background check
Provide proof of Hepatitis B vaccination and or declination
Provide a statement of good general health
Must be able to read and understand English
Complete a satisfactory 2-step TB skin test or chest x-ray
Tuition for the program is $600. It includes books and lab supplies.  Students must cover expenses for a criminal background check, physical exam, CPR certification, and uniforms.