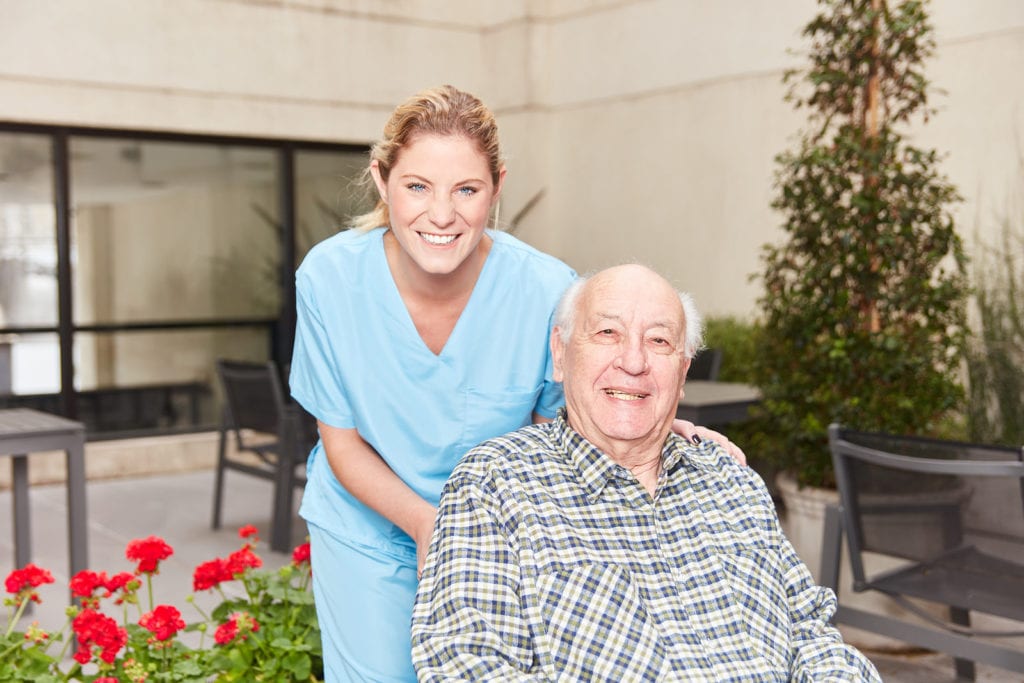 There is a high demand for certified nursing assistants in Massachusetts and across the United States. As entry-level members of the nursing team, CNAs attend to basic tasks related to patients' healthcare and personal needs and comfort. The work is demanding and requires physical stamina, emotional well-being, compassion, and excellent organizational and communication abilities. Nurse assistants work primarily with seniors who demonstrate the greatest need for personal, long-term care.
Nurse aide certificate training programs introduce healthcare concepts and real-world preparation for success on the Massachusetts Nurse Aide Exam. Topics such as patients' rights, medical terminology, safety and emergency procedure, basic nursing skills, and communication are essential parts of the program. Many programs on the list below also include home health aide training. The nurse aide exam is the final step to obtain certification and practice in approved healthcare facilities. CNAs work in clinics, hospitals, nursing homes, assisted living centers, and other healthcare settings.
Excel Training Institute
Excel Training Institute prepares students for a career in healthcare. The 120-hour Nurse Aide/Home Health Aide training program includes quality instruction in the classroom and lab followed by supervised patient care in a clinical setting. A registered nurse or licensed practical nurse instructor will teach in the classroom and at the clinical site, giving students the best training possible to achieve their career goals. The curriculum will cover the competencies required by the State of Massachusetts and includes preparation for the competency exam. Additional preparation for Home Health Care Certification is also included in the cost. Small class sizes ensure personalized instruction for each student. There will be no more than 10 students assigned to an instructor at the clinical site. Through established relationships with healthcare employers in the community, Excel Nursing Institute provides job placement opportunities for students who complete the program. Graduates are eligible to take the state exam to become a Certified Nurse Aide. The duration of the program is 4 weeks.
Admission criteria:
Must be at least 16 years old
Submit a completed application for admission
Submit a negative TB test result
Pass a CORI check
The program cost is $1,068. It includes tuition, administrative fee, and books. Additional expenses to be incurred by the student includes uniforms, PPB/Mantoux test, state exam, and CORI.
MassBay Community College
MassBay Community College prepares adults for the Nurse Aide Competency Evaluation administered by the Red Cross. The curriculum covers 120 hours of theory and practical instruction – 80 hours of lecture and lab and 40 hours of patient care activities in a long-term care facility. Students will learn how to assist residents with the activities of daily living and perform routine health care responsibilities. Some skills covered are checking and monitoring vital signs, communicating with the elderly, personal care, controlling infections, restorative nursing, use of assistive devices, work ethics as a member of the healthcare team, and managing a wide array of patients' needs. Graduates will receive a Certificate of Completion and will be eligible to take the state exam to become a Certified Nursing Assistant. The duration of the program is 8 weeks.
Admission criteria:
Attend an orientation session
Must be at least 18 years old
Have a high school diploma or GED
Submit completed CORI and SORI forms to initiate search of records for past criminal offenses
Must have reliable transport to the clinical site
Current Healthcare Provider CPR card
The program's tuition of $1,100 is due at the time or registration. Other costs include clinical uniform, name tag, watch with second hand, stethoscope, textbook, and Health Care Provider CPR certification. Scholarships are available for eligible students.
Address: 50 Oakland Street, Wellesley Hills, MA 02481
Phone: (781) 239-3000
Email: info@massbay.edu
Holyoke Community College
The Nurse Aide program facilitated by Holyoke Community College is targeted to non-native speakers of English who will prepare for the MA Nurse Aide Certification Test and also strengthen their language and math skills. The state-approved program includes theory and practical instruction. The theory may be delivered in hybrid format. Classes meet Monday through Friday from 8:00 am to 2:30 pm for 5 months. New classes begin a January and May of each year.
Admission criteria:
Must be an intermediate to advanced non-native English speaker
Must pass CORI/SORI background check
Be available for employment at the program's conclusion
Tuition is free for accepted students. The training is funded by Holyoke Community College, Holyoke Works, and the Massachusetts Department of Elementary & Secondary Education. Job placement assistance is available for all students.
The Fieldstone School
The Dual Certificate Nurse Aide & Home Health Aide program at The Fieldstone School prepares students to Massachusetts certification as a Nurse Aide. The curriculum includes 128 clock hours of theory and hands-on instruction in basic nursing skills and patient care that will help graduates qualify for employment in the healthcare industry. Morning and evening classes are offered. Morning classes meet Monday through Friday from 7:30 am to 2:00 pm for 4 weeks. The evening classes meet Monday through Friday from 5:00 pm to 10:00 pm for 4 weeks.
Admission criteria:
Submit a completed application and fee
Must have a high school diploma or GED
Submit negative TB test results or chest x-ray
Pass a CORI/SORI records check
The program costs $1,310. Students must pay a minimum of $800 upon enrollment. The cost includes textbooks, handouts, uniform, CPR certification, photo ID badge, study packet for the state exam, and professional development.
Peak Medical Academy
Peak Medical Academy's state-approved Nurse Aide Training covers 100 hours of theory and practical instruction. Experienced instructors will support students in the acquisition of knowledge and skills to care for residents in nursing homes, home health, and assisted living facilities. Lectures, video demonstrations, role-play activities, and practice in a simulated lab will cover basic nursing skills, principles of personal care, nutrition, positioning and turning, and patient safety. Emphasis will be on the five principles of care including independence, dignity, infection control, safety, and communication. Graduates will receive a Certificate of Completion to confirm their eligibility to take the State Nurse Aide Exam. Morning, evening, and weekend schedules are offered.
Admission criteria:
Must be 16 years or older
Submit an application online
Complete and sign the Enrollment Agreement
Submit a negative PPD report or normal chest x-ray – must not be older than one year
Complete a CORI check before the clinical part of the program
A payment plan is available for all students.
Quinsigamond Community College
The Nurse Aide Certificate program offered by Quinsigamond Community College trains students in various aspects of healthcare to qualify for entry-level employment in hospitals, nursing homes, and assisted living facilities. A part of the program may be delivered online. Students must make arrangements to get to and from the clinical site for the latter part of the program. Graduates will be prepared to function effectively as an entry-level nursing assistant, adhere to infection control procedures to protect patients and members of the healthcare team, observe patients and report concerns to healthcare workers, communicate effectively with patients and the interdisciplinary healthcare team. And use specialized job skills in practice.
Admission criteria:
A high school diploma or GED
Must be compliant with the immunization required by the Massachusetts Department of Public Health
Complete CORI and SORI plus national background checks
Fingerprinting and drug testing may be required
Take the College Placement Test to identify math and English levels
The cost of the Nurse Assistant Certificate program is $535. Students will need to budget for additional expenses such as books, uniforms, and supplies.
Address: 670 West Boylston Street, Worcester, MA 01606
Phone: 508-853-2300