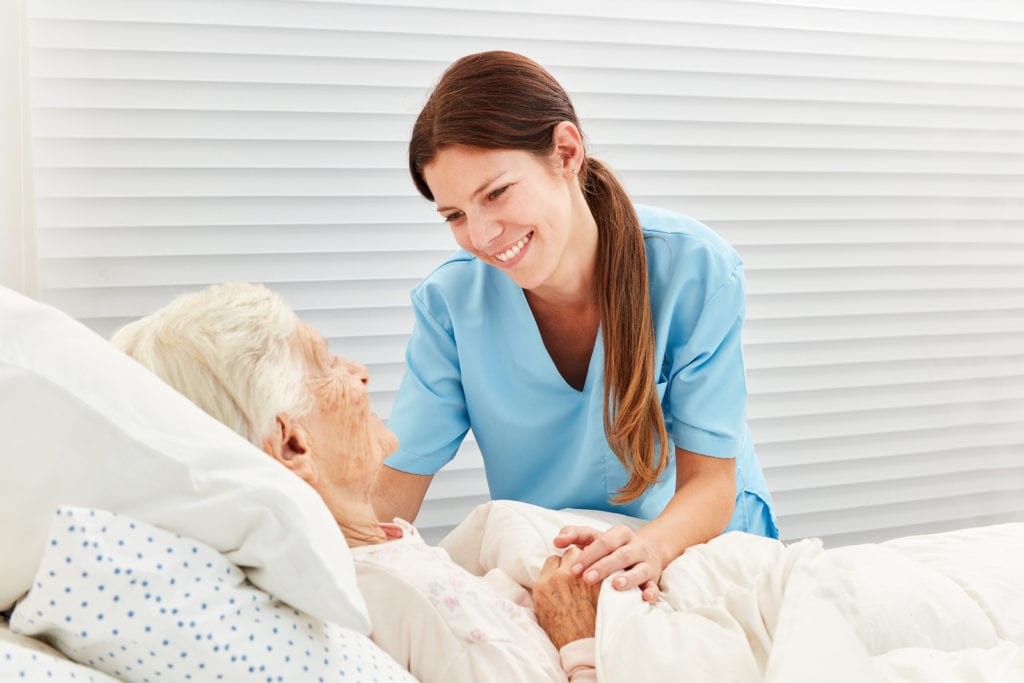 A Certified Nursing Assistant's responsibilities are not easy, but they can be extremely rewarding. CNAs operate on the front lines of patient care. They may not have the gloried titles and duties of a registered nurse, but they are just as essential to the delivery of patient care and the seamless operation of hospitals, clinics, and long-term care facilities. As a prospective nurse aide, you must be patient and compassionate to soothe those who may be stressed by disease and inability to perform basic duties for themselves.
CNA classes will prepare you with basic nursing skills, professionalism, communication, and technical skills to play a foundational role in patient-centered care. The training will also support the development of skills needed to pass the skills evaluation component of the Montana State CNA Certification exam. After receiving certification from the Board, you will be eligible to work in nursing homes and assisted living facilities where you will assist patients with daily living tasks under the supervision of a licensed nurse.
Job prospects for CNAs are expected to grow 12 percent through 2026 due to the rising health care needs of the aging population.
Helena College of Montana
The Nursing Assistant program at Helena College includes theory and practical instruction to equip adults with the knowledge and skills to provide holistic and competent care. The curriculum covers 75 contact hours – 48 hours in the classroom and lab and 27 hours in a clinical setting. Students will learn basic nursing skills, communication skills, end-of-life care, restorative care, patients' rights, safety and emergency care, infection control, and basic anatomy and physiology. The Montana State Board dictates the education hours for nurse aides, so uninterrupted attendance is mandatory. Absenteeism or tardiness will result in dismissal from the program. Graduates will be eligible to take the State Certification Exam to be added to the Nurse Aide Registry. Applications are accepted on a first-come, first-served basis.
Admission criteria:
Submit a completed application for admission
Pay the non-refundable deposit of $100 or pay the tuition in full
Immunization records must be presented for participation in the clinical rotation
Tuition costs $750 and must be paid in full within 5 business days before the start of the class. Students must purchase scrubs, blood pressure cuff, gait belt, stethoscope. A scholarship of $500 is awarded to one applicant every year.
Broadwater Health Center
Broadwater Health Center CNA Training offers the program on an as-needed basis. The Montana Department of Public Health and Human Services approved Training Facility includes 75 hours of classroom lectures, skills lab, and supervised clinical practice in a long-term care facility. Areas of study include basic nursing skills, range of motion exercises, communication skills, end-of-life care, restorative care, patients' rights, safety and emergency care, infection control, and basic anatomy and physiology. Attendance of all classes is mandatory. Students who successfully complete the requirements will be eligible to sit for the state exam to be added to the Montana Nurse Aide Registry.
Check the Center periodically to find out when new classes are scheduled.
Address: 110 North Oak Street, Townsend, MT 59644
Phone: 406-266-3186
Montana Tech
Montana Tech's Certified Nursing Assistant Certificate program covers 14 to 15 credit hours. Students will learn basic patient care skills, body structure and function, the role of the nursing assistant, the need for professionalism, caring, and effective communication, accountability and competence in care. Students must maintain a grade C or better in all courses to progress through the program. Modules include Developmental Writing, Basic Anatomy and Physiology, Nursing Fundamentals, and Introductory Algebra. The duration of the course is one semester. Graduates are eligible to apply for certification exam through the Montana Department of Public Health & Human Services. The program admits new students in the Fall, Spring, and Summer semesters. Students are accepted on a first-come, first-served basis.
Admission criteria:
Demonstrate proficiency by completing COMM 0102 and MATH 0101 or equivalent
Demonstrate the ability to assure patient safety and welfare
Have adequate visual acuity and hearing ability
Have a command of the English language to communicate effectively in verbal and written form
Documentation of Hepatitis B vaccination – series of three injections
Documentation of negative TB (Skin test or chest x-ray)
Tuition costs $296.79 per credit for resident students.