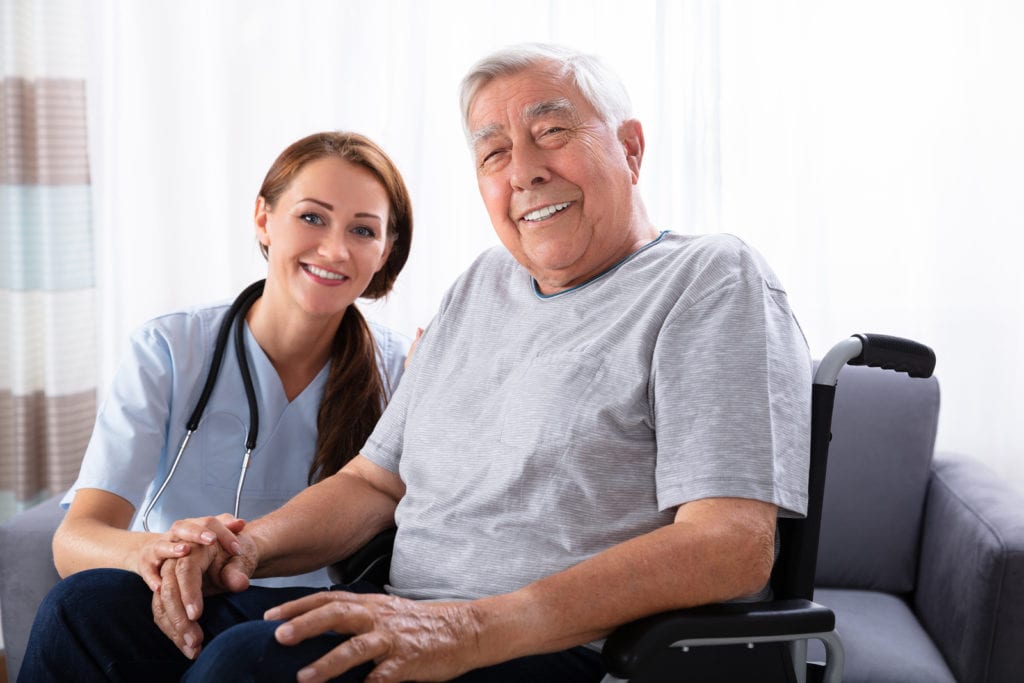 Certified Nursing Assistants care for different types of patients, primarily serving those in need of long-term care. The strenuous nature of the work can make it difficult to maintain compassion and empathy, but a successful nurse aide will know how to let their genuine care shine through. Apart from the acquisition of knowledge and technical skills gained in a nursing assistant program, a CNA must be able to positively respond to the suffering of others and be motivated to alleviate that suffering in the most effective way. The long shifts, strenuous duties, stress, and fatigue can quickly erode good intentions, which is why it is critical to have excellent organizational skills, be physically and mentally stable, and have a commitment to care and respect others in spite of circumstances. By spending more time with patients than any other member of the health team, CNAs have a unique opportunity to impact patients' lives and improve satisfaction and outcomes.
Edgecombe Community College
Edgecombe Community College hosts a Nurse Aide I training program that covers the knowledge and skills needs for caring for the elderly. The curriculum will include theory in the classroom and practical skills development in an approved medical facility to prepare students for the state evaluation. Training will consist of medical terminology, common diseases, nutrition management, mental, social, and physical needs of patients, providing and maintaining a safe environment, patients' rights and independence, elimination procedures, the role and responsibility of the nurse aide, communication and interpersonal relationships, and death and dying. The off-site training will be conducted in a real-world setting and will give students opportunities to apply the skills covered in the classroom and lab. Students must attend all the scheduled classes and clinical sessions to graduate from the program. Graduates will be eligible for the written and skills competency evaluation, (National Nurse Aide Assessment Program, NNAAP). Candidates who pass the exam will be listed as a Nurse Aide I by the N.C. Division of Health Service Regulation.
Admission criteria:
Must have a state-issued photo ID and social security card
Must be able to lift at least 50 lbs unassisted
Pass a TB skin test or chest x-ray
Obtain acceptable scores on the college placement test – SAT, ACT, ASSET, TABE, NC DAP, or COMPASS
Have a high school diploma, GED, or college diploma – a high school GPA of 2.6 is required
A drug screen may be required by the clinical site
Complete a background check through a vendor contracted with Edgecombe Communication College
Tuition for the program is $195.50. Students will need to allocate additional funds for the textbook, drug screen, background check, and uniforms.
Wilson Community College
The nursing assistant program at Wilson Community College is approved by the state to supply the educational preparation for aspiring nurse aides. In accordance with the state's requirements, the training will empthe hasize long-term care of patients or residents through classroom theory, lab practice, and supervised practical experiences in a medical facility. Areas of study include personal hygiene, communication and interpersonal relationships, patients' transfers, positioning and turning, the role and responsibility of the nurse aide, basic nursing skills, infection control, body structure and function, medical terminology, vital signs, safety and emergency procedures, and death and dying. CPR training is also included in the program. Students must attend 90% of all classes and maintain an average of 80% on all tests with a final score of 80% or more to complete the program. Graduates will be eligible to sit for the written and skills evaluation to be listed on the Division of Health Service Regulations' Nurse Aide Level I Registry. They also have the option to take the school's 170-hour Nurse Aide II program to provide more complex skills in health care facilities.
Admission criteria:
Must be at least 18 years of age
Submit a completed Nurse Aide I application
Have a valid email address
Have a high school diploma or High School Equivalency or Transcript
Have a valid government-issued ID and social security card
Provide proof of immunization – 2 TB skin test, 2 MMR, 3 hepatitis B, varicella, Tdap, and flu injection
Pass a background check
Purchase uniforms for the clinical experience
The registration fee is $224. Additional costs include textbooks (for nurse aide and CPR), uniforms, shoes, CPR certification, malpractice insurance, and background check.
Address: 902 Herring Avenue E, P.O. Box 4305, Wilson, NC 27893
Phone: (252) 291-1195
Fax: (252) 243-7148
Fast Track Career Prep, Inc.
The 5-week nursing assistant program at Fast Track Career Prep prepares students for state certification and entry-level employment in long-term care. The curriculum covers 136 hours of theory, including 57 hours completed online. The lab skills sessions will cover 47 hours and the supervised clinical sessions will cover the final 32 hours. The program is offered in hybrid format which will be completed Monday through Friday. Instruction will cover charting, observation and reporting, maintain a safe environment, communicating effectively, assisting nurses with diagnostic procedures and treatments, making beds and keeping rooms tidy, infection control, and Alzheimer's care. The clinical rotations will run for 5 consecutive weekends after completing the theory. Class times are Saturday and Sunday from 8:00 am to 4:30 pm. Graduates are eligible to take the North Carolina NNAAP exam to be listed as a Nurse Aide I on the NC Nurse Aide I Registry.
Admission criteria:
Complete the school's Application and Enrollment Agreement
Must have to forms of ID including a social security card
Complete a background check and drug test at an approved vendor
Complete a satisfactory TB test
Have a high school diploma or GED transcript
Provide documentation of immunizations or declination – Hepatitis B, varicella, MMR
Pass a drug test
Have current CPR certification
Pay the tuition in full or make arrangements for payment
The cost of the program is $620. A deposit of $310 is due at registration and the final payment of $310 is due at least 5 days before orientation. Additional costs include malpractice insurance, material kit, stethoscope, uniform, textbook, and blood pressure cuff.
Address: 3456 Airport Blvd., Wilson, NC 27896
Phone: 252-243-3276
Fax: 252-243-3930
Wayne County Community College – Workforce Continuing Education
The Workforce Continuing Education at Wayne County Community College offers a nursing assistant program to prepare adults to care for seniors in need of long-term care. The training will include instruction in the classroom, skills lab, and clinical rotations. Students will learn basic nursing skills, the role of the nursing aide, effective communication, common diseases and disorders, nutrition, personal care, patients' rights, and body structure and function. Graduates will be eligible to apply for the NC State Exam to be added to the NA I registry. Traditional and hybrid program options are available.
Admission criteria:
Must attend a mandatory information session
Have a high school diploma or GED
Pass a criminal background check or drug screen
Provide documentation of vaccinations – MMR, 2 Hepatitis B Series, and seasonal flu shot
Have a current TB skin test – within 12 months
A physician's note indicating no restrictions on the activities of a nurse aide – for pregnant candidates
A schedule of current information sessions is available on the school's website.
Address: 3000 Wayne Memorial Drive, Goldsboro, NC 27534
Phone: 919-739-6900