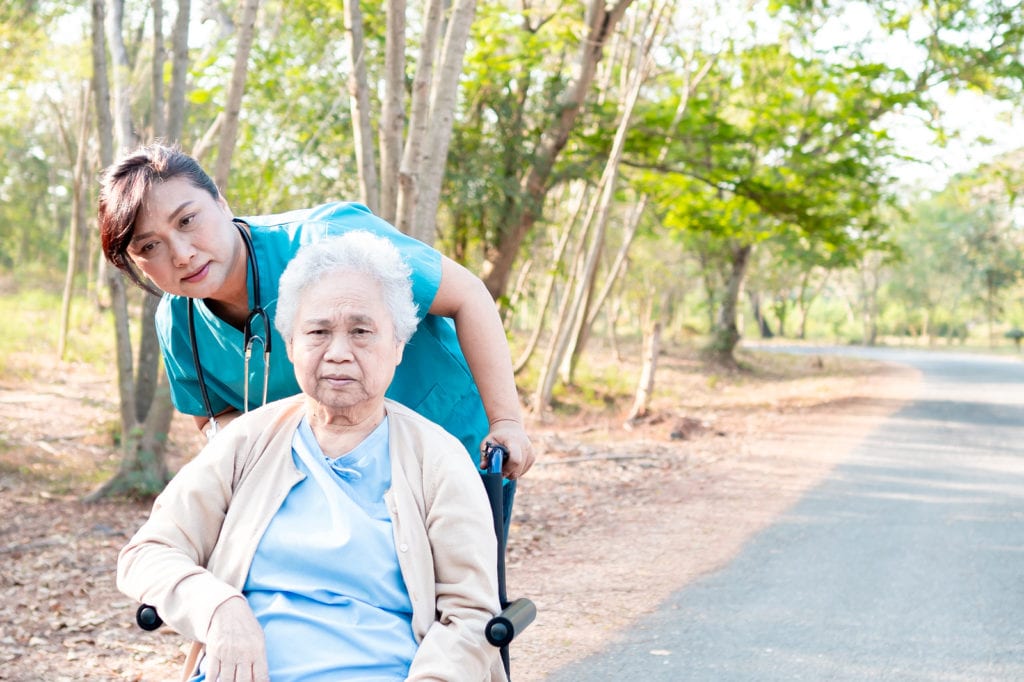 Certified nursing assistants function as a part of the nursing team to provide basic care to patients under the direction of a licensed nurse. Their duties include but are not limited to measuring vital signs, observing patients for physical and psychosocial changes and reporting to a supervising nurse, assisting residents with the activities of daily living, and assisting nurses with rehabilitative and restorative treatments. CNA classes in Texas must cover a minimum of 100 clock hours of theory and hands-on instruction. Programs that are approved by the state are listed on the Texas Health and Human Services' website.
The education and experience gained as a CNA are beneficial if you plan to pursue a career in nursing. Nursing offers a wide range of opportunities for growth and practice in a variety of settings. The higher-than-average projected growth rate of the profession also places graduates in a secure position right out of school. Beyond the position of a registered nurse, nurses can pursue an education in one of the many disciplines, earn a lucrative income, and join the ranks of the best-paid nursing specialties in the field.
Journey Medical Training Center
The Nurse Aide program offered by Journey Medical Training Center blends theory and practical instruction to equip students with the skills and abilities to render basic care to patients and residents in the health care system. The curriculum covers 106 clock hours of instruction (66 hours lecture and 40 hours of hands-on practice). Areas of study are Introduction to Long-Term Care, Personal Care Skills, Basic Nursing Skills, Restorative Services, Mental Health and Social Service Needs, and Clinical Practice. Students will learn how to communicate effectively, perform basic first aid, measure vital signs, use principles of basic nutrition to plan meals, and adhere to infection control principles. Graduates will be eligible to apply to take the Texas Nurse Aide Exam and obtain entry-level employment as a nurse aide in acute and long-term care facilities.
Admission criteria:
Be at least 17 years of age
Must have a valid driver's license or state photo ID and social security card
Must be proficient with written and verbal English
Must have completed a high school or a recognized equivalent
Pass a urine drug screen
Cannot be listed as unemployable on the Employee Misconduct Registry (EMR)
Cannot have been convicted of a criminal offense as listed in the Texas Health and Safety Code
Attend an admission interview with the Program Administrator or with an admissions representative
Provide up-to-date immunization records – MMR, Tetanus, negative TB screen, Influenza, complete Hepatitis B series
Current American Heart Association Provider Basic Life Support
The course fee of $1,049 includes tuition, books, insurance, and the State Exam fee. The application fee is $50. Students must cover the cost of the urine drug screen and CPR certification.
Website: http://www.journeymedicaltrainingcenter.com/
Address: 8668 John Hickman Pkwy, Suite 602, Frisco, TX 75034
Phone: 469-803-5575
Email: info@journeymedicaltrainingcenter.com
Collin College
The Nurse Aide Training course at Collins College delivers skills adults need to obtain employment as a nurse aide. The curriculum covers 128 clock hours of instruction including 80 hours of combined instruction in the classroom and lab followed by 48 hours of supervised clinical experiences in a state-approved long-term care facility. Students must attend all classes – complete all program hours- to graduate from the program.  Students who successfully complete the program will be eligible to take the National Nurse Aide Assessment Program Examination for employment as a nurse aide in nursing homes, hospitals, home health agencies, and rehabilitation facilities.
Admission criteria:
Complete a background check through Bluestar Diagnostics. The cost for the background check is $45
Submit for a drug test through Bluestar Diagnostics. The cost is $30
Submit documentation of vaccines to Bluestar Diagnostics for verification – MMR, Varicella, Hepatitis B, TB (negative skin test or chest x-ray), Influenza
Provide a copy of the Basic Life Support card. The course must follow American Heart Association guidelines and include a hands-on assessment
Copy of state ID
Must have liability insurance before the first day of class
Must not be listed on the registry as unemployable
The course fee for the classroom and lab components is $224. The non-refundable liability insurance fee is $5 to $13. Other costs include CPR certification, urine drug screen, background check, state exam, uniforms, and textbook.
Website: http://www.collin.edu/ce/healthsciences/CNA.html
Address: 3452 Spur 399 – McKinney, Texas 75069
Phone: 972-548-6790
Brightside Institute
Brightside Institute offers a professional nurse assistant program that prepares students to provide basic nursing care in long-term care facilities. Students will learn the principles and concepts to provide safe and competent care as part of the health care team. Classroom lectures cover the role and responsibility of the nurse aide, basic nursing skills, body structure and function, assisting residents with the activities of daily living, meeting the psychosocial needs to residents, communication and interpersonal relationships, collaborating with the health care team to improve patient outcomes, and use skills to report and record signs and symptoms to the supervising nurse. The laboratory simulations and externship experiences will give students opportunities to hone their skills in an off-site health care facility. Graduates will be prepared to take the State of Texas Nurse Aide Exam to become a Certified Nurse Aide.
Admission criteria:
Must be 18 years or older
Must have a high school diploma, GED, or college transcript
Provide a copy of a driver's license or state ID and social security card
Make a deposit of $100 – will be applied towards the tuition
Complete a satisfactory background check and urine drug screen
Purchase red scrubs for the clinical experiences
Tuition costs $700 for students who attend on the weekdays and $800 for the weekend class. A flexible installment plan is available to all students. Additional costs include textbook, materials, uniform, CPR certification, and state exam fee.
Website: http://bsinursing.com/
Address: 1301 West Parker Road, Suite 104, Plano, TX 75023-7342
Phone: (972) 646-1274
Email: info@bsinursing.com
Legacy Career Institute
Students enrolled in the CNA class at Legacy Career Institute will be prepared for certification as a CNA in Texas. The program is offered with the approval of the Department of Aging and Disability Services. Experienced instructors will deliver the content (theory and hands-on practice) in an interactive and engaging way that encourages retention and a love of patient care. Legacy has a 97% pass rate and holds the highest rate in the State of Texas. Courses include medical terminology, infection control, range of motion, nutrition, personal care skills, and basic nursing skills. A weekday, weekend, and accelerated options are available. The duration of the weekend class is 3 weeks. The weekend class will be completed in 6 weeks. The accelerated option is designed to be completed in two weeks.
Admission criteria:
Must be at least 16 years old
Provide a driver's license, state ID card, or passport and social security card
Submit a copy of a high school diploma or unofficial high school transcript, GED, or college transcript. Applicants with no high school diploma can opt to take and pass an English reading and writing admission test
Obtain a negative TB test
No immunizations are required to enroll
Pay the initial deposit of $300
Tuition for the weekday class is $850. The weekend and accelerated classes cost $950. Payment plans are available for all programs. Job placement assistance is available for all graduates.
Website: http://legacycareerinstitute.com/
Address: 2550 E. Trinity Mills Road, Suite 102 Carrollton, TX 75006
Phone: 469-312-8885
Email: info@legacycareerinstitute.com