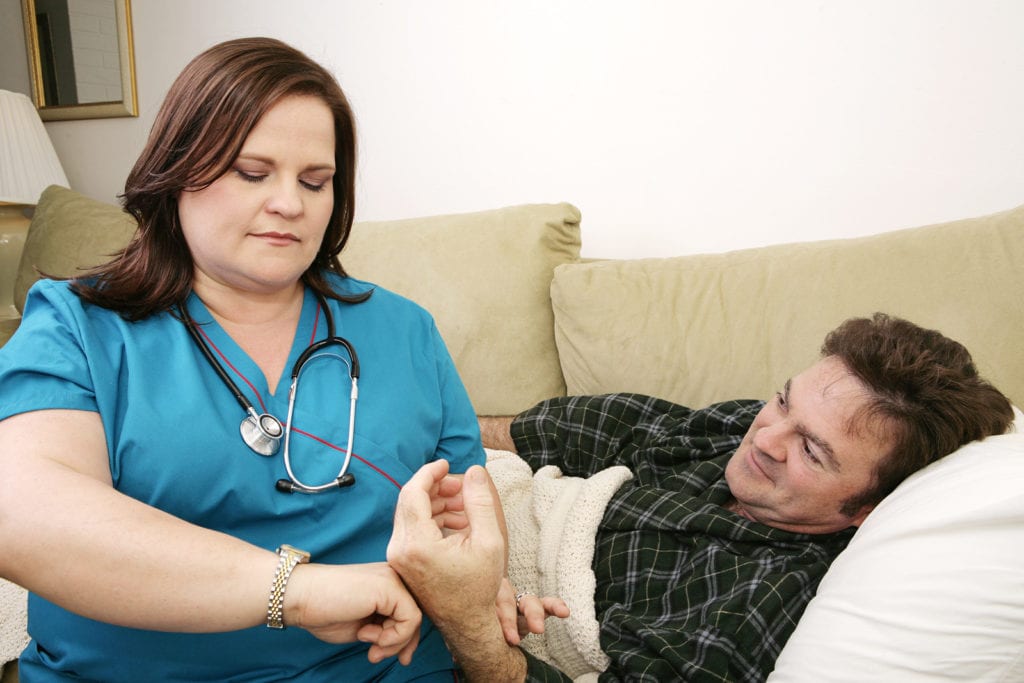 As a healthcare professional, a certified nursing assistant assists patients with various needs under the supervision of a licensed nurse or physician. CNAs work in various settings, including nursing homes, patients' homes, hospitals, adult care facilities, and assisted living facilities. They assist patients with the activities of daily living, listen and respond to patient concerns, measure vital signs and record the results, and tend to patient issues and problems. In general, the CNA's role centers on the patient and his needs. Nurse aide training programs in South Carolina include at least 100 hours of instruction in the classroom and practical training in a skilled nursing facility. Upon completion of the program, graduates will become eligible to take the state certification exam administered by Pearson VUE. Candidates who pass the program will be added to the Nurse Aide Registry provided that they meet all the state requirements for certification. According to the Bureau of Labor Statistics, nurse assistants in South Carolina earned a median annual salary of $24,590.
American Red Cross
The American Red Cross's Nurse's Assistant Program (NAT) equips students with the skills to play an important role in healthcare. The program is offered on a daytime and evening schedule. The curriculum covers lectures and hands-on practice in the classroom and simulated lab. Students learn positioning, dressing, vital signs, and personal care. Classrooms are equipped with hospital beds and medical equipment to give students multiple opportunities to practice. Evening classes meet from 6:00 pm to 10:00 pm on Monday, Tuesday, and Wednesday for 10 weeks. Clinical sessions meet for two Saturday classes. The curriculum exceeds the training standards set by the state. In addition to the training to become a certified nursing assistant, students will also learn life skills, such as interview techniques, health care communication, resume building, and working in teams. The course also includes CPR certification and First Aid & AED certification for two years. Applicants must attend a NAT orientation before submitting an application to the program. Tuition for the program is $1,250. Scholarships may be available for eligible students. Graduates are eligible to take the state exam to become a Certified Nurse Aide.
Professional Medical Training Center
Professional Medical Training Center's nursing assistant program covers the role and function of the nursing assistant to prepare students to provide safe and competent practice. The curriculum includes modules in infection control, patient rights, patient care procedures for adult and geriatric patients legal and ethical responsibilities, nutrition, patient privacy and confidentiality, and safety. Instructors use classroom lectures and practical session to prepare students for success on the State of South Caroline nurse aide exam. The program covers 100 hours of instruction in accordance with state requirements. The duration is 7 weeks: six weeks in the classroom followed by 5 days in a clinical setting. Morning and evening schedules are available. Evening classes meet Mondays and Wednesdays from 4:00 pm to 9:00 pm. Day classes meet Mondays and Wednesdays from 9:00 am to 2:00 pm. Graduates will receive a Certificate of Completion from PMTC to be eligible to take the certification exam administered by the SC Department of Health and Human Services. Applicants must 17 years or older and complete a PPD test, SLED background check, and have a current BLS/CPR card. The cost for the background check and PPD is included in the tuition. Tuition costs $749. A weekly payment plan is available. The tuition does not include CPR, textbook and workbook, scrubs, and the state board exam.
Florence-Darlington Technical College
The Nursing Assistant Certificate is a short-term program that prepares students for employment in the health care arena. Students must complete 26 credits to graduate from the program. They will develop the basic nursing skills that nursing assistants need to function competently in a health care setting. The method of instruction includes traditional classroom, online and hybrid setting, simulation and virtual reality, and practical instruction in a clinical. Course topics include medical terminology, computers in healthcare, health careers preparation, beginning nursing skills, general anatomy and physiology, ethics and law for allied health professionals, microcomputer application, and college reading. The program is designed to be completed in two semesters – two 8-week sessions. Tuition per credit for in-county students is $167.
Address: 2715 W. Lucas Street, Florence, SC 29502-0548
Phone: 1 (843) 661-8324
Toll Free: 1 (800) 228-5745