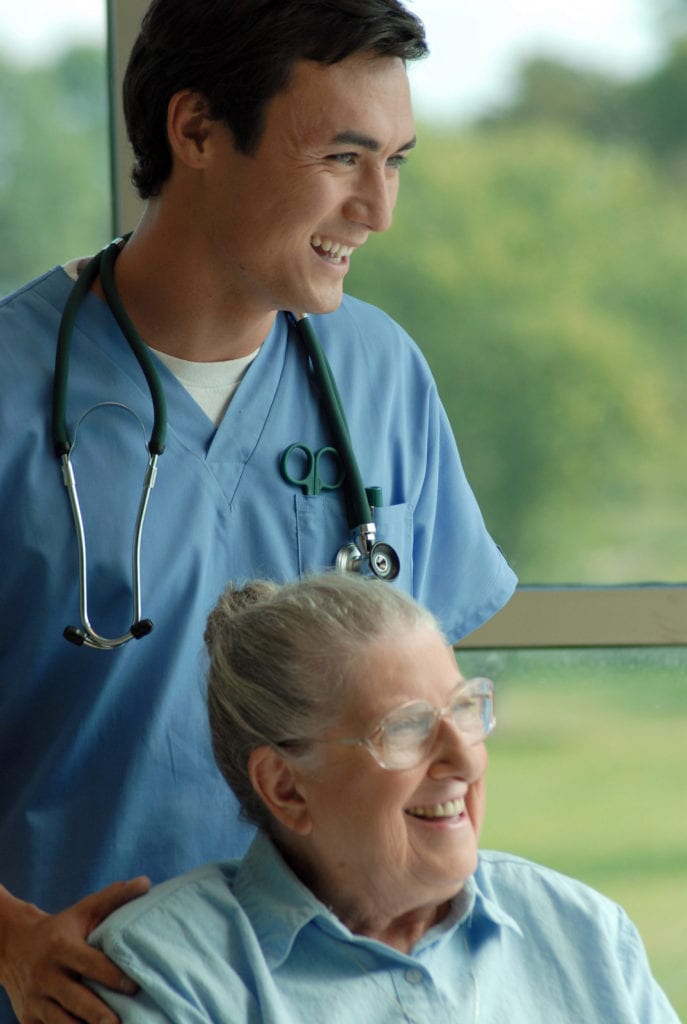 In order to be certified on the Tennessee Nurse Aide Registry, you must complete an approved nurse aide training program and pass the state competency exam within 24 months from completion of the class. The Office of Health Care Facilities makes provision for qualified candidates to challenge the Nurse Aide competency exam if they have received training equal to that of a Nurse Aide Training and Competency Evaluation Program (NATCEP). The challenge options allow the qualified candidate to apply to take the exam without completing a traditional NATCEP. The candidate must provide documentation that the training received meets the requirements for nurse aide training. Some candidates who are eligible to challenge the exam include registered and licensed practical nursing students, military training candidates, licensed candidates from other countries, qualified reciprocity candidates, qualified candidates who have received medical training, qualified candidates who are unable to register from their training facility, and temporary nurse aides.
CNA Classes in TN:
How to Apply for the Tennessee CNA Exam
A nurse assistant candidate is only eligible for certification after completing an approved nurse aide training program and passing the state competency exam – within 24 months of completing the class.
Student nurses (enrolled in an approved licensed practical nurse or registered nurse program), may apply to challenge the test after completing basic nursing fundamentals and skills and submitting transcripts as evidence of their coursework.
Nurse assistants certified in another state – except Georgia, Florida, and North Carolina – may apply for registration on the Tennessee Nurse Aide Registry by reciprocity. Only CNAs listed in active status with no derogatory or abuse information are eligible for reciprocity. Candidates from Georgia must verify their status and apply to challenge the test while candidates from Florida or North Carolina must retrain and retest in Tennessee to practice as a Certified Nurse Assistant.
A military trained medic may apply to challenge the test by submitting a copy to the DD-214 to the Tennessee Board of Nursing.
Once issued, certification is valid for 24 months. CNAs are eligible to recertify every two years after completing and submitting evidence of at least 8 hours of practice as a nurse assistant in the 2-year period.
Headmaster (D & S Diversified Technologies) has been selected by the Board to provide test scheduling, tests, and scoring services for Tennessee's Nurse Aide Testing. After completing the nurse assistant program, the training provider will enter in D&SDT-Headmaster's TestMaster Universe (TMU) software. You will receive a verification form during your training to sign after you review the data entered. Make sure your first, middle and last names exactly match the names on your government issued ID and social security card.
Before you can test, you must sign in to TMU using your secure Email or Username and Password and verify that your demographic information is correct.
Look out for your confirmation email from TMU© that your record has been created, then sign in to your record, update your password and verify your demographic information.
Completing your account serves as verification that:
You have never been convicted of abuse or neglect of a person in your care, theft from a person in your care or child abuse.
You are not currently under investigation for abuse or neglect of a person, theft from a person or child abuse.
If you have or are, you need to contact your trainer and let them know prior to completing your account.
Schedule your Exam
After completing your record in the TMU database, you may schedule your exam date online using your Email or Username and Password.
You may use a credit card of debit card to pay the testing fees, which must be paid before scheduling the exam.
You will be eligible to choose a test site and date after you pay the fees. Your initial knowledge and skill tests will be scheduled on the same day.
You will receive a test confirmation letter which will provide you with information regarding where you are scheduled to test (date, time and address).
Headmaster also accepts mail-in applications. Print the 1101 and 1402 forms from the website and answer all the questions. Mail or fax the completed forms with a copy of your training certificate. A fax fee of $5.00 applies to all faxed applications.
The Tennessee Department of Health and Headmaster provide reasonable accommodations if you have a limitation or disability that affects your ability to take the Nurse Aide Competency Exam. You must complete form 1404TN to request appropriate accommodation for the exam.
You may reschedule an alternative date, one time, during the three-attempt testing cycle. There's no charge to reschedule if you request a new date up to 24 business hours prior to the test time. The new date must occur within 60 days of the previously assigned test date. A reschedule fee of $35 will apply if the reschedule is not within 60 days.
Cancellations are accepted if you contact Headmaster at least 24 business hours before the test date. A full refund will be issued minus the $25 cancellation fee.
Exam Costs
The established testing fees in Tennessee are as follows:
Knowledge test or Retake – $30.00
Oral Knowledge test or Retake – $30.00
Skills test or Retake – $68.00
When taking the exam for the first time, you must schedule both the written/oral and skills test at the same time.
Headmaster accepts cashier's check, money order, Visa or MasterCard only. Personal checks are not accepted. However, checks from a facility are accepted. Do not pay for the test if you're employed in a long-term care facility. Instead, you should fill out your employer's name and address and obtain a signature from your supervisor.
CNA Exam Overview Tennessee
Candidates for nurse aide certification in Tennessee must take the Written and Skills test and successfully pass both components of the exam. The passing score for the Written Exam is 75%, and the passing score for the skills exam is 80% for each skill. If you fail one part of the exam, you must reapply to retake the entire exam. If you pass both components of the exam, your name will be added to the Tennessee Nurse Aide Registry.
The Written Exam
A Test Proctor will hand out the test materials and give guidelines for the Written Test. There will be 75 questions on the 90-minute exam. The proctor will indicate when 15 minutes remain. The written test is available in English or Spanish format. You must select your language of choice when you apply for the exam. If you opt for the Spanish test, you will need to successfully complete an English comprehension component of the exam, comprising of 10 questions, to pass the Written exam. You must score 75% or more on the Written exam to pass.
The written test will be available in electronic format. At the test centers, you'll need to complete ten practice questions and other questions related to taking the test before the actual exam begins.
All candidates have the option to answer some additional questions that will be used to gather statistical information for future tests. Responses are voluntary and do not affect the final score.
There are twelve subject areas covered in the Written exam. Some of them include infection control, disease process, aging process, basic nursing skills, mental health, data collection, and personal care.
The Oral Exam (Alternative)
Candidates have the option to take the Oral test in conjunction with the Written test if they indicate it on the application. For TMU electronic tests, you will hear the questions through headphones/ear buds plugged into the computer and have control buttons on the computer screen (play, rewind, pause etc.). For the paper test, the questions are read to you, in a neutral manner, from an MP-3 player, with control buttons for play, rewind, pause, etc., in addition to having the knowledge test and scan form for the paper test.
The Skills Exam
The Skills Test is designed to assess your ability to perform a subset of nurse aide tasks covered in the nursing assistant program. A complete list of 27 skills is available in the Candidate Handbook. Handwashing will always be one of the assigned tasks. The other four skills will be selected randomly from the Skills List. You must score at least 80% on each skill to pass the Skills Test. Also, it is essential that you do not skip any of the key steps (highlighted in bold). If you fail a single task, you must reapply for the skills exam where you'll have to perform the one you failed.
A Test Proctor will read five scenarios related to your five assigned tasks immediately before you begin the task. You'll have 35 minutes to complete all five tasks. If you make a mistake, inform the Test Proctor and then repeat the task or step you performed incorrectly. Get answers to all your questions before the test begins.
What To Bring To The Exam
You should arrive at the confirmed test site 20 to 30 minutes before the scheduled time. Take the following items:
A signed, current, photo ID – issued by the U.S. government. Examples include a driver's license or passport.
Your social security card.
Your original ID must exactly match the name used to apply for the test. No photocopies or faxes will be accepted. If your name changes, you must submit legal documentation of the name change to the Office at least 48 hours before the scheduled test date.
Dress appropriately for the exam in full clinical attire and shoes with your hair pulled back. Clinical attire is mandatory, and you will not be allowed to take the test if you're dressed inappropriately.
Wristwatches are not permitted in the exam room.
Receiving Your Scores
After you have completed both the Knowledge Test and Skill Test components of the competency exam, your test results will be officially scored and double checked.
You may sign in to your TMU record after 6:00 pm the business day after your test to view your official test results.
D&SDT-Headmaster does not send postal mail test result letters to candidates.
After you have successfully passed both the Knowledge Test and Skill Test components of the nursing assistant exam, your test results will be sent electronically to the Tennessee Board of Nursing by D&SDT-Headmaster. You will be placed on the Tennessee Nurse Aide Registry and issued a certificate.
Your certification card from the TN Nurse Aide Registry will be sent to you within 4-6 weeks after you successfully pass both components of your exam.
If you failed the knowledge and/or skill portion of the examination, you will be provided with detailed test diagnostics in your test results. You will have to retake the portion you failed. You will need to reapply and repay for the portion that you failed before you can schedule an exam date.
Contact the Registry
Tennessee Nurse Aide Registry
665 Mainstream Drive, 2nd Floor
Nashville, TN 37243
(615) 532-5171
Fax: (615) 248-3601
D & S Diversified Technologies LLP
333 Oakland Avenue
Findlay, OH 45840
Toll-Free (877) 201-0758
Fax (412) 422-8328
Website: www.hdmaster.com