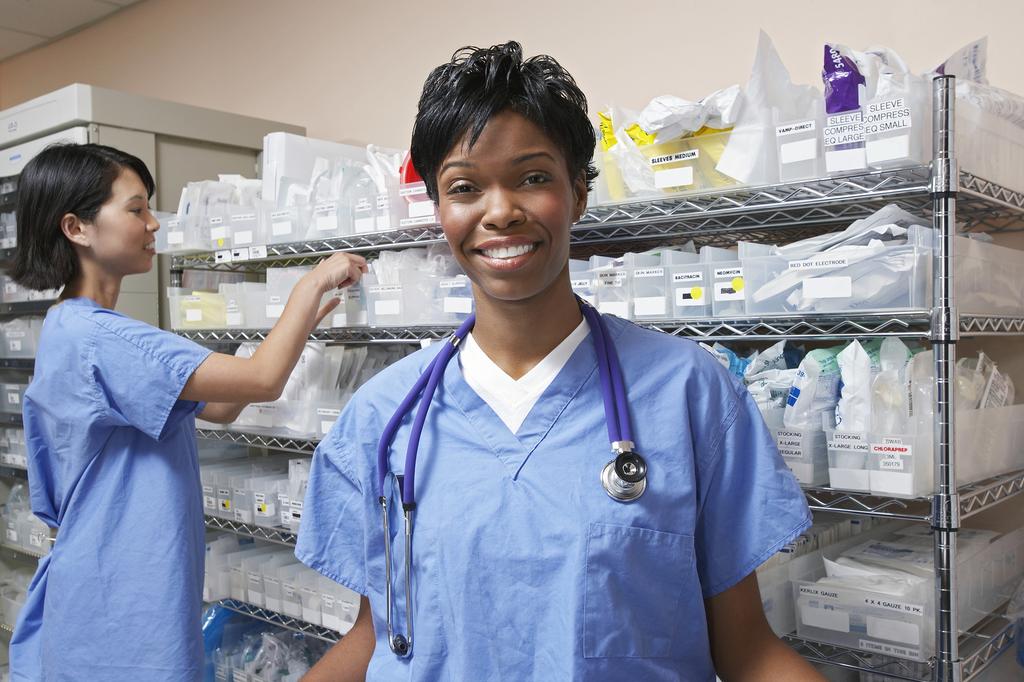 If you're interested in a career as a nursing assistant in the rapidly growing medical industry, you need to pass the District of Columbia CNA exam administered by the American Red Cross. There are several eligibility routes to qualify for the exam. However, the most common route for new nurse aides is through successful completion of a state-approved nursing aide training program. Programs are available at community colleges, universities, nursing homes, skill centers, private schools and assisted living centers. To enroll, you must be 18 years old with a high school diploma or a GED, pass a criminal background check and be fluent in English. Every program includes at least 45 hours of classroom instruction, 45 hours of hands-on clinical practice and 30 hours of laboratory practice.
CNA Classes in DC:
How to Apply for the NNAAP Exam District of Columbia
There are six eligibility routes for nurse assistant (nurse aide) in the District of Columbia.
E1 – New Nurse Aid Candidates
If in the last 24 months you have successfully completed a training program approved by the DC Board of Nursing, you can use this eligibility route. You cannot be currently listed on the DC Registry for Nurse Assistant or on the registry for another state.
E2 – LPN/RN Candidates
You are eligible if you have finished, in the U.S., the Fundamentals of Nursing course for practical or registered nursing, which includes a clinical component. You need to include a copy of your school transcript when you apply to take the exam. In Section 4 of the application, type in 99994.
E3 – Licensed LPN/RN
If you are currently licensed in the District of Columbia as an LPN or RN, you are eligible to apply. You need to include a copy of your license as an LPN or RN and enter 99990 in Section 4 of the application.
E4 – Out-of-the-U.S. LPN/RN
If you have completed training as an LPN or RN outside of the United States, you can apply. Include a copy of your foreign credentials certification. Type 99910 in Section 4.
E5 – Nurse Aide Lapsed Less Than 24 Months
You are eligible if your current certification has expired less than 24 months prior to the application. Include a copy of your expired certificate. Type 99995 in Section 4 of the application.
E6 – Nurse Aide Lapsed More Than 24 Months
You are eligible if your current certification expired more than 24 months if you have completed a new training program. Include a copy of your expired Registry Certificate and the certificate for your current training program. Enter your Registry Certificate number in Section 1 of the application.
After you have chosen your eligibility route, you need to follow these guidelines for scheduling your exam:
Obtain a registration form from your nursing employer, your training program, the American Red Cross or download it from the Pearson VUE website.
Complete the form. If you have questions, ask your training instructor or employer. You can also contact the American Red Cross Customer Service Representative at (888) 399-7729.
If you choose to take the Oral Examination, it is necessary to check box #2, marked "Oral," on the registration form.
Be sure to include the proper fees and a valid copy of your training certificate.
In one envelope, mail the registration form, any documents that are required and the fee to American Red Cross Competency Evaluation Program, P.O. Box 5875, Harrisburg, PA 17110.
When the American Red Cross receives the registration form, documents and fees, you will be scheduled for the exam. All the required materials must be received before you're scheduled. You will receive an Admission Letter to the address you put on your registration form two to five business days after they receive the necessary material.
The Admission Letter contains the date you are scheduled to take the exam and the location. If you don't receive the letter within 10 business days after mailing it, call the American Red Cross at (888) 399-7729. Lost, delayed or misdirected mail is not the responsibility of the American Red Cross.
If you need to cancel your test date, call the American Red Cross at least three business days before the exam. If you don't notify them at least three business days before the exam and don't show up, your fee will not be refunded and cannot be transferred to another exam date. Your exam date is not transferable to another person.
If you do notify the American Red Cross at least three business days ahead of time, you can transfer the exam fee to a new date. If you do not show up for the exam on the date you are scheduled, you will be listed as a "no-show." This will count as one of your three attempts allowed to pass the exam.
Certain unexpected exceptions are allowed, including your own illness or that of a close family member, a death in the family, a traffic accident that caused injury, jury duty, a court appearance or military duty. A request for an excused absence must be submitted to the American Red Cross at least two business days before the exam or one day after the exam.
To reschedule your exam, call the American Red Cross at (888) 399-7729 between 8:30 a.m. and 5:30 p.m. on a weekday.
Exam Costs
The following is a list of established fees for the NNAAP in the District of Columbia.
Written Exam and Skills Evaluation – $117
English Oral Exam and Skills Evaluation– $127
Spanish Oral Exam and Skills Evaluation – $127
Written Examination and Skills Evaluation retest – $105
English Oral Examination and Skills Evaluation retest – $115
Spanish Oral Examination and Skills Evaluation retest – $115
Written Examination only – $40
English Oral Examination only – $50
Spanish Oral Examination only – $50
Skills Evaluation only – $65
A first-time test fee is $12 and includes a Registry Placement fee. You must register for both parts of the test if you're taking the nurse aide competency for the first time.
Certified checks, company checks, or money orders must be made out to "American Red Cross." Personal checks are not accepted. Beginning January 1, 2016, MasterCard or Visa credit cards will be accepted but there will be a small surcharge for processing the payment. No refunds will be issued once ARC receives payment.
Under federal and state laws, a nursing home employer must pay for your NNAAP exam including exam retests.
NNAAP Exam Overview District of Columbia
The District of Columbia is one of over 20 states that use the NNAAP certification program. The NNAAP topics are similar in participating states. You should have knowledge of mental health, personal care, infection control, communication techniques, residents' rights, basic nursing skills, the role and responsibility of nurse aides, and adult growth and development in preparation for the exam. Online practice tests based on the NNAAP standards are a good way to develop your timing and test your readiness for the exam. Upon successful completion of the Written or Oral exam and the Skills Evaluation, your name will be added to the District of Columbia Nurse Aide Registry.
The Written Exam
The NNAAP's Written test is a two-hour exam based on the standard nurse aide curriculum. The multiple-choice questions, 70 in total, will test your knowledge of the concepts covered in the nursing assistant training program. Ten out the 70 questions will be pre-test (non-scored) items that the evaluating service will use to accumulate statistical data. A state-appointed Registered Nurse Evaluator will supervise the exam and provide instructions at the beginning and an alert during the final fifteen minutes of the exam. You'll receive a test booklet with the questions and an answer sheet to indicate your selections. Markings in the test booklet do not count. Multiple selections for one question are not valid. The new test outline, developed from the findings from 2014 Job Analysis and Knowledge, Skill, and Ability Study of Nurse Aides divides test questions into three main categories. Namely, physical care skills, psychosocial care skills, and the role of the nurse aide.
The Oral Exam
DC gives qualifying test candidates the option to take the Oral Exam in English or Spanish audio format. If your comfort level with the English language is better in audio format than written format, then you should select the Oral exam during registration for the exam. If you're undecided, the Reading Assessment in the Candidate Handbook is a good starting point to help you decide if the Oral Exam is the right choice. The content outline for the Oral alternative is similar to the Written Exam – with 70 questions that candidates must complete in two hours. However, there are two parts to the Oral exam. Part one contains 60 multiple-choice questions. The second part contains 10 reading comprehension questions that test your understanding of basic English terms used by CNAs. A Nurse Aide Evaluator will provide a headset and MP3 player at the testing center that you'll use to listen to the questions and record your answers on the provided answer sheet.
The Skills Exam
Through your performance of five carefully selected skills, state administrators will determine your readiness for patient care. Infection control is always important, so Handwashing will be included in your list of five skills. Recording a measurement is another essential task CNAs must perform, so at least one the skills will be recording blood pressure, respiration, or fluid intake or output, and related measurements. It is recommended that you perform the skills in the order they're listed on the card. The Nurse Aide Evaluator will provide instructions and point out equipment before your evaluation begins. Another candidate will play the role of the resident actor. You should treat the candidate just as you would an actual client. The Critical Element Steps are an essential part of the skills test that could make or break your success. These steps are highlighted in bold type in the Candidate Handbook. Dress appropriately for the exam in scrubs or uniform (preferably loose-fitting clothing) and enclosed shoes.
What To Bring To The Exam
Your two forms of identification are your ticket to entering the test center. One ID should be a valid photo ID, such as a driver's license or passport. You should also take another signature bearing ID. Both IDs should have your name exactly as it appears on the registration. False IDs, tampered IDs, and photocopies of an ID are not acceptable. Testing centers have strict policies as it relates to electronic devices, study aids, tardiness, visitors, and eating, drinking, and smoking. Therefore, you should find out what they are before the exam day. Electronic devices must be switched off during the exam. Personal items, books, and study aids are not allowed in the exam room. If you arrive late, you might not be permitted to take the exam and your fee will not be transferred to another date.
Apart from your identification, you should have pencils and an eraser for the written exam and a watch with a second hand for the clinical skills evaluation.
Receiving Your Scores
The answer sheet for the Written or Oral exam will and the Skills Evaluation will be faxed for scoring immediately after each exam. The official score report will be available a few minutes later. Technical difficulties may prevent the proctor from faxing the answer sheets for scoring. In this instance, the official score report will be mailed to your address within 5 to 7 business days. The report will indicate whether you passed or failed the exam. If you fail one or both parts of the exam, the report will highlight the areas for improvement and guidelines for retesting. You must pay another fee each time you retest. You must pass both exams within three attempts and 24 months of completing nursing aide training.
Contact the Registry
DC Department of Health
Board of Nursing
899 North Capitol Street, NE
Suite 200
Washington, DC 20002
(877) 672-2174
American Red Cross
Competency Evaluation Program
1804 North 6th Street
Harrisburg, PA 17102
(888) 399-7729
Fax: (866) 257-6506
Pearson Vue
District of Columbia NNAAP
PO Box 13785
Philadelphia, PA 19101-3785
(888) 274-6060